Rocking The Clubs
Karaoke From Hell
How a gritty cover band set the standard for nightlife in Portland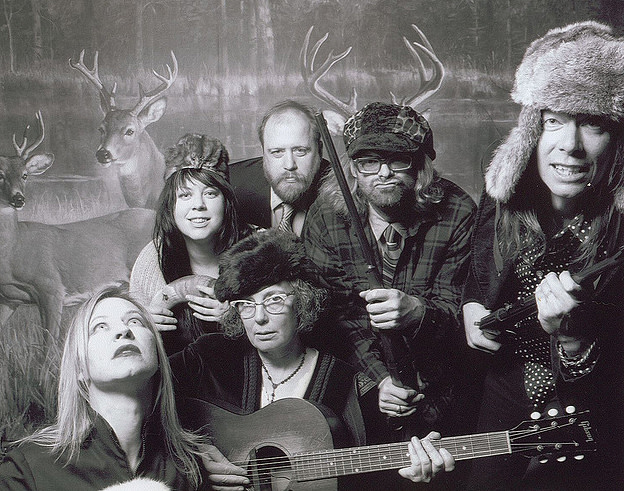 I love karaoke and and I can sing the heck out of moldy oldies like "Radar Love" and "Everybody's Talkin'". But in this town you can't claim any serious karaoke cred—or indulge in any kind of meaningful rock star fantasy—unless you've jumped onstage with Karaoke From Hell (that's the band handle as well as the name of the twice weekly event) and channeled your inner Iggy while being backed by a razor-sharp band of Portland musicians. "We know over 500 songs, if you count Christmas carols," says rhythm guitarist and backing singer Dawn Panttaja.
Panttaja founded the group 20 years ago this Memorial Day, and since that time more than 50 local musicians have passed through the revolving door as band members. "Our earliest gigs were at Satyricon, and for the first several shows we had a different band each time," she recalls.
Doesn't that make it hard to rehearse? "We never rehearse. We just send around the charts and MP3s," she explains.
The group holds court twice a week; Mondays at Dante's and Thursdays at the Tiger Bar, with a now steady rotation of 12 band members. Monday nights at Dante's are usually orchestrated by local bon vivant and Voodoo Donut impresario Tres Shannon, who sings, plays harmonica, kazoo, and assorted percussion instruments while ordinary working stiffs get a chance to front the band, singing everything from Abba to the Zombies. Not that the occasional celebrity doesn't happen by. "Pink sang 'Me & Bobby McGee,' Deborah Iyall from Romeo Void did 'It's My Party,' and one of the guys from Insane Clown Posse covered 'Tracks of My Tears'. The bigger the star, the more likely they are to sing some old standard," Panttaja notes.
In recognition of 20 years of quality entertainment, Karaoke From Hell is currently running a $1000 Karaoke Contest, which will harvest five finalists from each of three consecutive Monday night preliminary performances at Dante's for a final showdown at Star Theater on Friday, April 27. This coming Monday, the competition will begin at 10 p.m. as there's a separate concert starting at 8 p.m. "So don't arrive early for Karaoke From Hell, because you probably won't get in before that," warns Panttaja.
A side note: One of the "celebrity" judges at next Monday's shindig will be yours truly. Stop by and say "Hi!" if you're in the house. And if you are, you might want to dress sharp, since Chip Mabry's film crew has been following Karaoke From Hell for the last year and a half. You may know Mabry for his gutsy 2010 documentary Brutal Beauty: Tales of the Rose City Rollers. In any case, try not to embarrass yourself or me. "Shows like American Idol and The Voice, make normal people the focus of our entertainment. I think more people should get up and sing, because they channel something amazing when they do," Panttaja says. Just ask Pink or that dude from Insane Clown Posse.