FOOD AND DRINK EVENTS
Last Minute Planning: Baristas, Battles, Beers, and Bitterman
Still don't have plans for the weekend? Here are a few great reasons to get out of the house.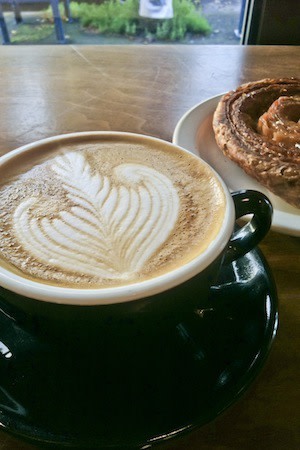 Baristas: The coffee-loving world is descending on Portland this weekend for the mega-caffienated Specialty Coffee Association of America convention and United States Barista Championship, which has kicked off at the Oregon Convention Center (presumably with some really schmancy latte art). In conjunction with the big event, Portland Roasting Coffee Company will be throwing a Coffeelandia block party on Friday, April 20 from 7 to 11 pm, at their headquarters on SE 7th Avenue. The "who's who in coffee" block party will raise funds to support a water stewardship project in Honduras to be implemented by Portland Global Initiatives and will feature local food carts, live music, craft beer and spirits, and an "adult-approved bouncy house." (21+ only, $10 suggested donation, open to the public.)
Battles: The 11th annual Portland Iron Chef is taking place on Friday, April 20th at the Portland Art Museum. Chef Adam Higgs of Acadia Bistro and three-time Iron Chef champion Adam Sappington of the Country Cat will go head-to-head for the title. In the People's Choice competition, chefs Rick Widmayer of Screen Door, Gavin Ledson of Davis Street Tavern, and Anthony Caffiero of Tabla will compete for the chance to battle this year's Iron Chef in the 2013 competition. There are still seats to this event for a great cause (proceeds benefit the Children's Relief Nursery), and you can buy tickets here.
Beers: Seattle's Elysian Brewing will release their Peste Chocolate Chili Ale on Saturday, April 21st from 6 to 9 pm at Northeast Killingsworth's Concordia Alehouse. Peste, the 4th beer of Elysian's 12 Beers of the Apocalypse series, is a blend of Peruvian cocoa, Ceylon cinnamon, and chipotle, gaujillo, pasilla, ancho and cayenne peppers (whew!). The sweet and spicy brew will be available on tap and by the bottle.
In other beer events, Portland's Cheers to Belgian Beers is taking over North Tillamook's Metalcraft Fabrication building this weekend on Saturday April 21st from noon to 9 pm. Admission to the event is free (21+ only) and tasting tickets are $15 for five or $20 for 10. Additional tastes are $1 and can be purchased at the festival entrance. Check out more info here.
Bitterman: The Heathman's chef Michael Stanton has teamed up with award-winning author and local selmelier Mark Bitterman for a salt-inspired dinner on Monday, April 23rd at 6:30 pm. The multi-course meal ($70, $20 for cocktail and wine pairings) will feature hors d'oeuvres passed on "Salt Plates", hamachi crudo with breakfast radishes and pickled ramps finished with local Garibaldi salt, poached duck eggs over frisee with bacon finished with Maine Hickory smoked salt, roast loin of Oregon lamb with Piran sel gris, and a sumptuous Banana Custard with amacadamia nut crust, malted milk topping, and Lemon Flake sea salt. Bitterman's James Beard Award-winning book Salted, a Manifesto on the World's Most Essential Mineral will be available for purchase before the event. For reservations or more information, please call the Heathman Restaurant at 503-790-7752.