OPENING WATCH
Opening Day: Caffe Vita
Seattle import Caffe Vita has launched a second Portland location on SW 3rd and Ankeny, adding some caffeine to the stretch of car-free restaurants and bars along the alley famously home to Voodoo Doughnuts.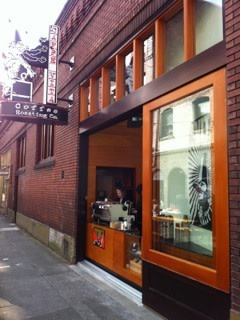 This just in: Caffe Vita Old Town opened it's doors today on SW 3rd and Ankeny, adjacent to Via Tribunali and across the car-free alley from Voodoo Donuts.
The downtown coffee shop is the second Portland location of the Seattle-based coffee company, which also launched a location in NYC's Lower East Side last month. Both Caffe Vita and Via Tribunali are products of Seattle restaurateur Michael McConnell, so watch out, Portland. Seattle may be trying to take over one of your downtown blocks.
McConnell had originally leased the current Via Tribunali pizzeria space to open a large Caffe Vita location, but the classic brick architecture of the building didn't match his sleek and modern design concept. Instead, he joined forces with local restaurateur extraordinaire Bruce Carey to open the popular Neopolitan pizzeria, reserving space along the car-free stretch of Ankeny for a small coffee shop window.
The tiny space features glass doors that slide open to reveal a walk-up coffee counter, just in case you have some doughnuts that need dunking. Caffe Vita Old Town will be the chain's tenth location nationwide, with another set to debut in Los Angeles this year.
Caffe Vita Old Town
36th SW 3rd Ave.