DATE NIGHT CONFIDENTIAL
Plan Your Conquest at The Conquistador
This new neighborhood favorite is half dark-and-comfortable dive, half dreamy vegetarian darling nestled on the one-way stretch of SE Belmont, serving up South American-inspired fare with cocktails that will aid your date night conquest.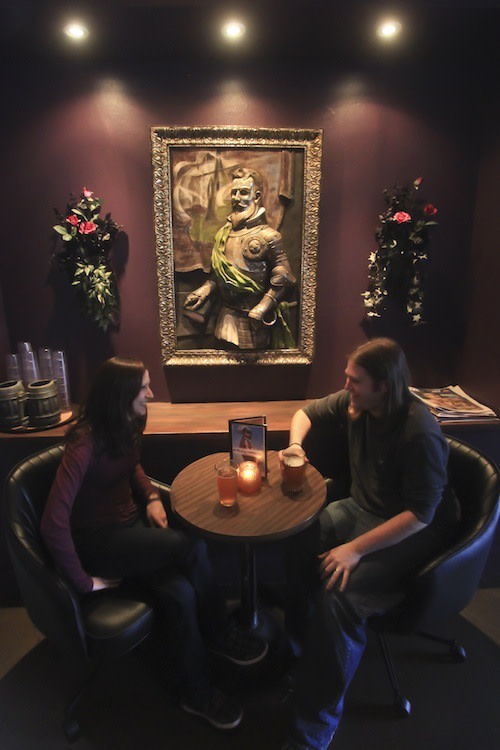 Fresh out of ideas for date night? Eat Beat's got your back – we're tracking down and sharing some tried and tested bars and restaurants guaranteed to get the night off to a sexy start. Our patented Date Night Confidential rating system will help you find the perfect spot to snog your sweetie over dinner.
Next up, Southeast Belmont's cozy quixotic hideaway The Conquistador. This super-affordable neighborhood spot from the owners of West Burnside's The Matador serves up fresh vegetarian spins on Latin flavors with plenty of creative cocktails to match.
The decor is mid-century-modern meets colonial Spanish chic, and the space is broken up into several areas to match your current date night mood from a classic bar to cozy tables overlooked by one of the namesake conquistadors.
Menu standouts include thick-cut plantain chips, nachos fit for sharing, empanadas—packed with savory sauteed mushrooms, molasses black beans and rice, and queso fresco—that are fired crisp but never oily, and arepas, delicious stuffed cornmeal sandwiches. The portions are large, and every entree comes with rice, beans, a perfectly dressed green salad, and one of the kitchen's signature sauces like salsa verde, just-smashed guacamole, flavorful hot sauce, and cooling cilantro crema.
Insider tip: order the whole array of sauces (additional servings are just fifty cents), and get the full array of flavors for your empanada-dipping pleasure. Vegan and gluten-free menus are available by request, and come better weather, these colorful veggie-powered dishes can be enjoyed on the eatery's front patio for sun and salsa.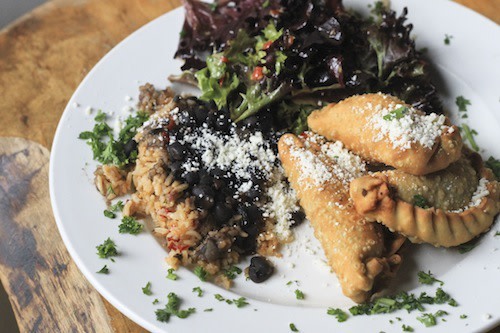 If those fresh vegetarian dishes get you hungry for the offerings from the bar, you won't be disappointed. It may look a little dive-y from the street, but this bar serves up carefully crafted cocktails like the El Chupacabra with mezcal, ginger beer, pineapple juice, and cucumber water and offers eight beers on tap. From 4 to 7 pm daily, Happy Hour well drinks are $3.25 and you can get pints of micro-brews for just $3.
The Date Night Confidential Low-down
Noise Level: An old-school free-play juke box at the front of the bar pumps out choose-your-own-tune grooves, so you can play your song and still hear it over the cheers from the pool, shuffleboard, and pinball players at the back. This may not be the place for quiet conversation, but the pleasant din provides a comfortable backdrop for a casual and playful night out.
Lighting: The lights are low, with candles on each table and several colored glass lanterns highlighting some extra-cozy tables. Light does come in strongly through the front windows before sundown, so grab a seat in one of the high-backed booths for more mood lighting.
Physical Proximity Potential: With plenty of cozy booths, you can scoot right next to your honey and sip from the same margarita.
Privacy: This is an ideal spot for under-the-radar couples—you can sneak off to a booth near the back and be undisturbed by eyes from neighboring tables. Want to truly hide away? Try the loft above the bar with its cozy couches perfect for a late-night snog.
Shareability: Nothing on the small-but-mighty menu is over $10, which means you can order like a Conquistador and conquer most of the menu for far less than the price of one tasting menu meal elsewhere.
Overall Date Night Score: 4/5
The Conquistador
2045 SE Belmont St; 503-232-3227
Open seven nights a week, 4 pm to 2:30 am.