OPENING WATCH
Ruby Jewel to Open New Scoop Shop
The sweet team of sisters behind Portland's favorite ice cream sandwiches will open Ruby Jewel Scoops on SW 12th and Washington in June, just in time for summer.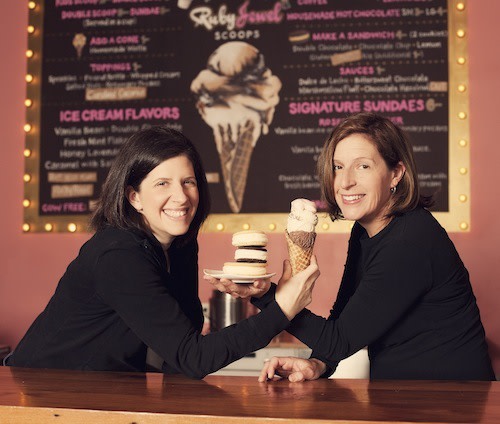 This just in: Lisa Herlinger-Esco and Becky Burnett have jumped on the West End bandwagon. The sisters and co-owners of Portland's Ruby Jewel Treats are set to open a new scoop shop to offer their gourmet ice cream sandwiches and other sweet treats to the rapidly blossoming corner of downtown.
The 1600-square foot sweet shop, dubbed Ruby Jewel Scoops, will take over the former Betty Ford Lounge space on SW 12th, across the street from Christopher Israel's upcoming Corazon.
In addition to their famously cool cookie sandwiches, the shop will offer classic soft serve, an old-school soda fountain with counter seating, communal tables for large groups, and plenty of small nooks (perfect for date night).
The sisters will also debut a line of candy made in house—think marshmallows, house made fluff, candied nuts, brittles, toffees, and sauces to deck all those sundaes. For fans of the new confections, Ruby Jewel Scoops will feature a retail section of ice cream pints, sandwiches, and bagged candy available to go.
Because this is Portland, Ruby Jewel Scoops will be a "100% waste free business", prioritizing composting, recycling, and reusing throughout the shop. All the milk used in Ruby Jewel's sweet treats is hormone free, and the Ruby Jewel team prides itself in sourcing sustainable ingredients from our region.
The scoop sisters got their start in 2004 by selling gourmet ice cream sandwiches at the Portland Farmers Market, and rapidly racked up accolades for creative flavor combinations like lemon with lavender and espresso sandwiched between cinnamon chocolate cookies. With the opening of their first brick-and-mortar scoop shop in 2010 on North Mississippi, the team truly became a household name in Portland.
Ruby Jewel Scoops is set to debut this June. Stay tune for more scoops right here on Eat Beat!
Ruby Jewel Scoops
428 SW 12th Avenue