FOOD NEWS
Salt & Straw NW will open April 27
Cancel your plans and grab your cones, because Portland's buzziest scoop shop is ready to launch their second location.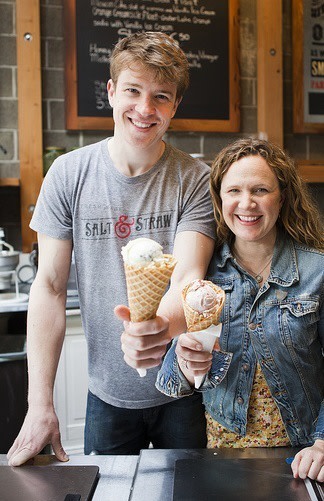 After months of anticipation, the team behind Salt & Straw ice cream is ready to open the doors of their second scoop shop.
Located on the corner of Northwest 23rd and Kearney in the historic Esquire Theater building (built in 1912), the new Salt & Straw will debut on Friday, April 27th at 7 am. Regular operating hows will be 7 am to 11 pm daily.
In addition to the sweet shop's popular scoops, sundaes, shakes, and sweets, the new location will feature full coffee service and pastries along with more seating along the food traffic-heavy street.
Salt & Straw's first scoop shop debuted on Northeast Alberta in August 2011, and owner Kim Malek and head ice cream maker Tyler Malek earned regional and national attention for their quirky gourmet ice cream flavors and collaborations with local culinary artisans.
Stay tuned for photos of the shop and a special sneak peak of new flavors and menu items next week, right here on Eat Beat.
Salt & Straw
838 NW 23rd Avenue
Open daily 7 am to 11 pm starting April 27.