MARKET EATS
2012 Chef in the Market Lineup
This year's summer series of free cooking demonstrations at the PSU Portland Farmers' Market features dozens of Portland's top chefs.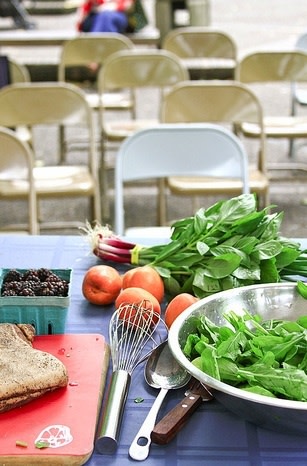 Saturday is my favorite day of the week. I know I'm not alone in that, but the first day of the weekend holds a particular significance for yours truly.
It's the day I get to wake up early for the Portland Farmers' Market at PSU, plug in a headset microphone, and host a fun, free cooking demo with one of Portland's best chefs in front of a crowd of market enthusiasts. I've been MC-ing Chef in the Market for four seasons, and this year I'm so excited to feature previews of our demos here on Eat Beat before they happen.
Each week you'll get the inside scoop on why chefs love their local markets, what dishes are hyper-local right now, and what Portland's chefs are snacking on while they're sorting through radishes and greens at the market. Hint: at 10 in the morning after a busy Friday night, it usually includes coffee. Plenty of coffee.
Here is this year's fantastic lineup, and I look forward to seeing you there! Remember, you can always sleep in on Sunday…
June 2nd: Kathryn Yeomans (The Farmer's Feast)
June 9th: Michael Uhnak (Besaw's)
June 16th: Cathy Whims (Nostrana and Oven & Shaker)
June 23rd: Scott Ketterman (Crown Paella)
June 30th: Eric Joppie (Bar Avignon)
July 7th: Dustin Clark (Wildwood)
July 14th: Carrie Craggs (Legacy Health System will share Meals that Heal)
July 21st: Dax Erickson (Multnomah Athletic Club)
July 28th: Gregory Gourdet (Departure)
August 4th: Leena Ezekiel (local Indian food expert)
August 11th: Courtney Quinn (American Lamb Board)
August 25th: Matt Christianson (Urban Farmer)
September 1st: Billy Schumaker (Food in Bloom)
September 8th: Ken Gordon (Kenny & Zuke's)
September 15th: Jenn Louis (Sunshine Tavern and Lincoln)
September 22nd: Paul Folkestad (Le Cordon Bleu)
September 29th: Gabe Rosen (Biwa)
October 6th: Olympic Provisions (whole hog butchery demo)
Chef in the Market 10 am, FREE, in the middle of the farmers' market at Portland State University in the South Park Blocks between SW Hall & SW Montgomery.