INTERVIEW
5 Questions for Exiting Bent Brick Bartender Adam Robinson
The passionate Bent Brick and Park Kitchen bartender will take over as bar manager at east-side hot spot Rum Club in June, and we've got the exclusive exit interview.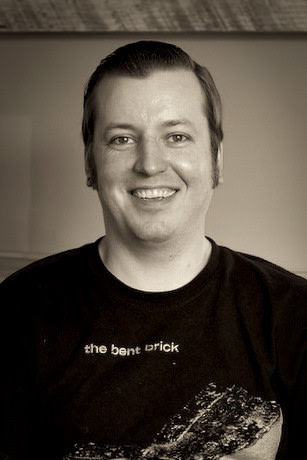 After two and a half years shaking up creative cocktails on the west side, bartender Adam Robinson is on the move. He's been moonlighting at Rum Club since early April, and will jump over the river to become bar manager of the east-side industry favorite in June.
In 2009, Robinson left New York City for Portland with a bit of resumé gold (having tended bar at David Chang's Momofuku Ssam Bar). Upon arriving in the City of Roses and craft cocktails, he took over the bar program at Scott Dolich's Park Kitchen before moving to the restaurant's sister eatery last summer.
At the Bent Brick, which opened in June 2011, Robinson earned accolades for his fiercly domestic beverage program featuring local spirits and house-made infusions (we featured his stinging nettle-infused Pins & Nettles cocktail in our April issue). His talents and easy camaraderie with the Bent Brick team are evident to anyone who's stepped into the ivy-clad eatery, but Robinson has missed the energy of the late-night cocktail scene and couldn't resist the chance to manage his favorite bar in town.
The Bent Brick's new bar manager Connor Mansager, a young mixologist from Tucson, Arizona who earned his shaker face at the city's finest cocktail bar, Scott & Co. Mansager has been working at the Bent Brick since January, and will continue the tavern's domestic cocktail program with gusto.
I sat down with Robinson to chat about the difficulties of sourcing locally at Bent Brick, the future of the Rum Club menu, and the differences between making cocktails in fine dining restaurants and bars.
1. You had a pretty ambitiously domestic bar program at the Bent Brick. What did you learn from your efforts to source solely American ingredients?
It was fairly easy to source most base spirits as there is no shortage of domestic vodka, gin, and whiskey. Rum was a bit more difficult, there are a few decent lightly aged rums, but totally lacking when it comes to rums that you would want to sip on. The real lack of available product came when looking for what are referred to as 'modifiers', typically meaning fruit cordials, herbal liqueurs, Vermouth, Amari, etc…. Many of these products have been produced in the same manner for decades and sometimes even hundreds of years, products like Chartreuse, Benedictine, and Fernet-Branca. Several domestic producers are currently releasing similar products, but because of the difficulty of dealing with the OLCC, many small craft distillers shun our great state. The domestic limitation forced me to make a lot of things in house, like fruit cordials, shrubs, along with herbal and bitter infusions, which has been a lot of fun, with a lot of trial and error.
2. What's the biggest difference between tending bar in a fine dining establishment and at a bar?
The major difference is the hours, especially in Portland. Portland is not a big city and tends go to sleep early. There are only a few spots where you can get a great high end meal after 10 pm, which has always been one of the things I have missed about NYC. The other difference is the average customer and the general vibe. At restaurants like The Bent Brick the patrons are coming in for the food and to see the chef. While I have many great regulars and people do often come in just for drinks, let's be real, at a restaurant the main focus is food. In a place like Rum Club, on the other hand, the focus is on the drinks. I have been working both spots for the last few weeks, and on my iPod I have Bent Brick playlists and Rum Club playlists. If you look at the kind of songs on each, you can literally hear the difference.
3. What sets the Rum Club apart from other cocktail joints in PDX?
I have been a regular at Rum Club since they opened and it is one of my favorite bars in town. When people ask about the new job I often joke that I was spending so much time at Rum Club, I may as well get paid for it. The atmosphere at Rum Club is a bit more relaxed than some of the other cocktail bars in Portland. Part of that is simply the fact that it is on the east side and not downtown. You can see it in the dress code, I highly doubt that you will ever walk into Rum Club and see anyone wearing a vest, suspenders, tie, arm garters etc… don't get me wrong, I enjoy dressing up in my mixologist costume from time to time, but clothes don't make the drink taste good, the bartender does.
4. How soon can we expect to see Adam Robinson originals on the Run Club menu?
Fairly soon, with in the next couple of weeks for sure. I am very excited to put my stamp on the menu, but the drink list will never consist of entirely my cocktails. The Rum Club menu is and always will be a collaborative effort between owner Mike Shea, whoever is bar manager at the time, and the other bartenders on staff. I am currently working on a replacement for the Souracher (Rye, Sweet Vermouth, Campari, Lime, and Ginger Beer). Although the Souracher is a wonderful drink, it is a Dave Shenaut drink. He's now running the show over at Riffle NW, where the Souracher is now on the menu, so that will be the first to go. We are also going to start running a "Classic Cocktail of the week" chalkboard special.
5. Was making the move away from the Bent Brick an easy decision?
Yes and no. For what I want to do career-wise over the next few years, it made perfect sense. I have been itching to get back to more of a bar setting, and having worked mainly in restaurants the last few years it will be a nice change of pace. However, when Mike Shea approached me, it took me over a week to make a final decision. I have nothing but love and respect for Scott Dolich, chef Will Preisch, General Manager Anna Josephson, and the entire staff at The Bent Brick. Scott has been my only employer for the last two and a half years. He is without a doubt the best boss I have ever had in this industry.
The Bent Brick 1639 NW Marshall Street, 503-688-1655
Rum Club 720 SE Sandy Blvd, 503-467-2469