INTERVIEW
5 Questions for John Gorham
The culinary top dog behind Toro Bravo and Tasty n Sons lets us peek behind the scenes of running two ultra-successful Portland restaurants and reveals his tips for the ultimate tapas dinner.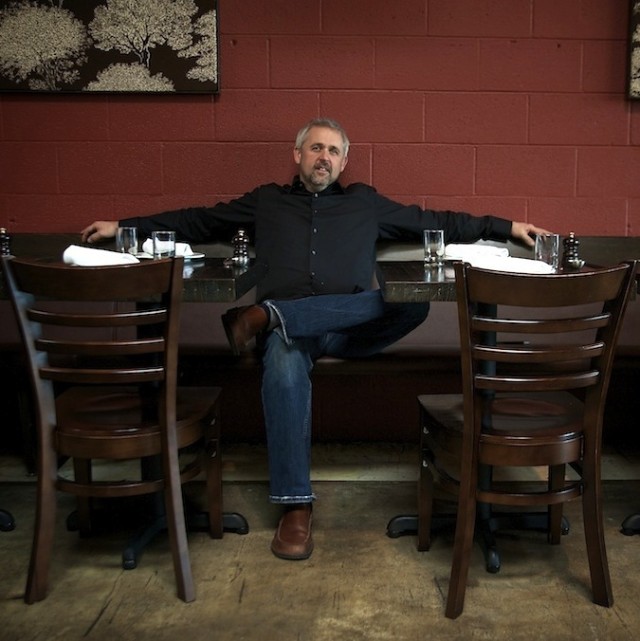 Chef John Gorham has an impressive list of things to celebrate.
His internationally-inspired restaurants Toro Bravo and Tasty n Sons top many Best of Portland lists, his recently-opened tavern Interurban is already an industry darling, he's a new papa, and he'll be releasing a tell-all book through McSweeneys next fall with co-writer Liz Crain. That's a lot of reasons to throw a party.
And party he will: Friday June 1st marks the fifth anniversary of Toro Bravo and the second anniversary of Tasty n Sons. To celebrate the birthday bash, Gorham and his team are hosting a celebratory parade, led by the Get A Life Marching Band. The route begins at Tasty n Sons at 4:30 pm, and ends in an all-out Open House Anniversary party at Toro Bravo with free food from the entire Toro tapas menu.
To top it all off, Gorham will be raffling off a once-in-a-lifetime Dinner For A Year package, including 52 gift certificates to some of Portland's best restaurants (think Ox, St Jack, Biwa, Little Bird, Pok Pok, Bluehour, Bunk, Bamboo Sushi, and more). Raffle tickets are $5, and all proceeds go to the Leukemia and Lymphoma Society. Don't miss it!
I sat down with Portland's master of small plates and big parties to chat about the book-writing process, his dream culinary travels, and his perspective on the Portland food scene.
1. Let's start with the basics: the food. Describe the perfect meal at Toro Bravo.
The perfect meal at Toro is with a large group. It's a restaurant where you just have to let go and become part of party. Some of my must-haves are the plancha octopus, sautéed spinach, griddled shrimp, flat bread, radicchio salad, coppa steak, and lamb chops. Really, tapas is a meal where the table should be full of lots of dishes, and people eat together, passing plates. And of course lots of txakoli.
2. How did your approach in the Toro Bravo kitchen change once you opened Tasty n Sons?
When we opened Tasty n Sons I put a lot of thought on how I was going to keep Toro consistent. The first thing I did was make Kasey Mills (my opening sous chef) a partner in the company. He had worked by my side for three straight years. From there it has been a mater of just trying not to burn out. I have an outstanding team, and they all work very professionally. We also have a rule to always have fun—we really try to make sure our crew and guests are having a good time—and this keeps everyone working hard.
3. What's been the most difficult thing about writing your tome, The Toro Bravo Cookbook: The Making, Breaking and Riding of a Bull?
The most difficult thing with the book? Time. It's tough to put the time together it takes to test the recipes for a home cook. There is a lot of reflection with a project like this, and at times we look at the way we do things and I often wonder of I would do it the same way now. It has really motivated me to keep moving forward with Toro and Tasty. After five years a restaurant needs lots of maintenance and new items to keep both the crew and guests interested.
4. Your culinary endeavors have obviously been influenced by your travels. Which countries are still on your must-see (and eat) list?
Travel has been the most important thing in my career. It always gives me inspiration, and if you look at any great chef's travels it will explain the flavor profiles they use. There is also great knowledge in eating a dish in its native origin. Trade routes are all ways important in cuisine, and as a chef I have my own trade route. I really want to go to Japan—Japanese food is the cuisine I eat the most when I'm not at my own restaurants—and Thailand with its strong flavor profiles. And the middle east. And I'm ashamed I haven't been here yet, the south of France.
5. You've been sitting at the top of the Portland food scene for years now. How has our food scene changed in the past five years, and what changes do you foresee coming in the next 5?
The food scene has changed so much since I started spending time here in the mid 90's. When Toro opened five years ago, our country was in the beginning of the recession, so we saw a mass opening of cheaper comfort food in Portland. I think over the next few years (if the economy continues to recover) we will see people wanting to go to higher-end restaurants. I try not to look sideways though and keeping doing what I love to cook and serve. I love to throw a party and that's what we will keep doing as long as the people keep coming.
Toro Bravo
120 Northeast Russell Street; 503-281-4464
Tasty n Sons
3808 North Williams Avenue; 503-621-1400