INTERVIEW
5 Questions for Noble Rot's Kimberly Bernosky
East Burnside's Noble Rot is celebrating ten years of great food, wine, and one of the best views in town, so we caught up with the spot's co-owner and founder to see how the neighborhood has changed.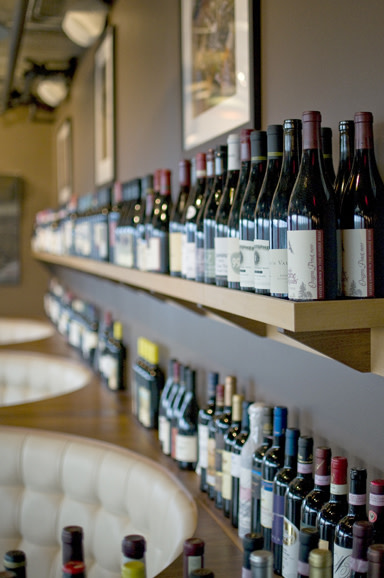 You don't need a bird's eye view to see how lower East Burnside has changed over the past few years, but it certainly doesn't hurt.
The team behind Noble Rot is celebrating their tenth anniversary this month, and we thought it would be the perfect opportunity to peer over the balcony of the roof-top hot spot and get an insider's view of the neighborhood's evolution as well as the development of the reluctantly self-identified wine bar.
Noble Rot debuted at its first location on SE Ankeny and 27th in May 2002, and the funky, laid-back space was regarded by many as a founding member of the Portland wine bar revolution. After some challenging economic struggles and the spectacular failure of their original chef's restaurant, the stars aligned and Noble Rot re-opened at its current location in The Burnside Rocket Building on 11th and East Burnside.
I sat down with Kimberly Bernosky, co-owner and founder of Noble Rot, to chat about the Rot's early days, the dramatic story behind the location swap, and the benefits of sitting four stories above one of the hottest neighborhoods in Portland.
Why was the inspiration for Noble Rot, and how have the early ambitions for the space played out over the years?
When I opened my wine shop—Beaumont Wines—in 1998, I quickly discovered that wine shops turn into wine bars on Friday nights. For many small wine shops, this was (and probably still is) the biggest form of revenue. Given my background in restaurants and friendship with Courtney Storrs in 2000, who also had several years of restaurant experience (including a few at the French Laundry), we started 'imagineering' Noble Rot. We were hesitant to call Noble Rot a wine bar, as all wine bars that had opened previously in Portland (and pretty much everywhere else) had failed. We thought it was the lack of food options and we were positive that we had to have good food available.
There have certainly been some shake-ups over the years as far as that availability of great food goes. Can you dive into the story behind former and present chef Leather Storrs?
Leather Storrs, Courtney's husband, jumped on board as our chef in early 2002 and our concept took off. No one expected a 'wine bar' to have such good, thoughtful food. At 27th & Ankeny the Rot thrived during first 5 years, but year 6 became much more challenging. People no longer had to drive across town to visit a small, neighborhood joint with decent wine by the glass, and the competition started to take its toll on us. For two years, were facing the possibility of closing. In the meantime, Leather had left Noble Rot to open his own restaurant, Rocket. In spite of the lofty views, gorgeous setting, rooftop garden and Leather's talent in the kitchen, Rocket failed.
Rocket closed in November 2008. In January of 2009, as Courtney and I were still struggling, Leather was out of work too. He offered to come back to the Rot as a prep cook for $10/hour, but wasn't sure what to do with the Rocket space that he still had a lease on. This is when Leather came up with the brilliant idea of moving Noble Rot into the Rocket space. We served our last meal at the old location on Valentine's Day, 2009 and reopened 6 days later at the new one. Some people thought we were crazy, but few people knew of the tough times we were facing the old space. We now have something that most neighborhood joints don't have: we have a killer view of Portland, a patio overlooking it, our rooftop garden (which now includes honey bees), our own aquifer (supplying our 8000-year-old water), and ten years of loyal customers.
How has the Portland wine bar scene changed since you opened?
When we opened Noble Rot, all these little Portland neighborhoods with so many amazing restaurant options didn't exist. Alberta, Mississippi, SE Division, 28th & Burnside, etc had very few options for food. You certainly can't say that anymore. As for our own neighborhood, lower East Burnside has come a long way since the days of Baloney Joe's. Most of the businesses are now locally owned and there are many restaurant/bar options that in my opinion will continue to grow and thrive.
Tell us a bit about how the rooftop garden has impacted the menu.
The rooftop garden delivers most of its impact during the long summer months, of course. When our garden is in full swing, it's pumping out greens, rhubarb, strawberries, peas, beans, cukes, radishes, carrots, turnips…all of which show up on the plate. Having a rooftop garden is not cheap, but we have a personal relationship with our veggies and it doesn't get more local than having your garden a steep staircase away.
What's coming up in the NEXT 10 years?
We often talk about opening another restaurant, but we are kept so busy at Noble Rot I don't know where we would find the time. We are still very hands on—Courtney and I host and wait tables, and Leather still preps and works the line. All I can hope is that continue for many years to come.
Want to celebrate the tenth anniversary with the whole Noble Rot crew? On Sunday, May 6th, Noble Rot's 10 Year Anniversary Bash will bring together eleven Oregon wineries pouring over thirty wines, great food, live music, and discounted bottles to go. The party will rage on from 3 to 6 pm, and entry is just $20. To reserve your spot, call 503-233-1999.
Noble Rot
1111 East Burnside Street
503-233-1999
noblerotpdx.com