FOOD AND DRINK EVENTS
Chef Studio Mentor Dinners
Celebrate one of Portland's top chef mentors—Robert Reynolds—and other great chef partnerships through this exclusive dinner series beginning May 27th.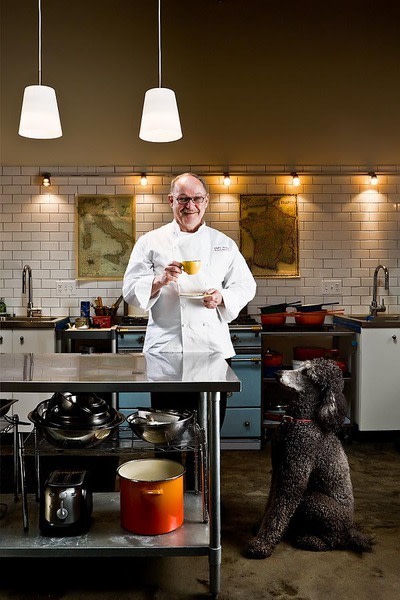 Great chefs aren't born, they're made.
Every great chef, at one point or another in his or her culinary career, learned the secrets of flavor and technique from another kitchen master, be it their James Beard Award-winning mentor or their Italian grandmother.
Nowhere else is this mentor relationship as evident as right here in Portland, where a vibrant sense of loyalty, community, and local pride has created a web of chefs tied to each other through decades of learning and mutual support.
Celebrate one of Portland's own great culinary mentors—the incomparable Robert Reynolds, who has trained master chefs for over a decade at the Chef Studio cooking school—through a series of intimate, informative dinners beginning May 27th.
The Mentor Dinner Series will bring together some of Portland's most fruitful mentor/apprentice partnerships, including Cory Schreiber and Adam Sappington (May 27th), Vitaly Paley and Ben Bettinger (June 3rd), and Cathy Whims and Tommy Habetz (June 24th).
These pairings recognize the importance of close mentorships in the creation of great chefs at some of Portland's first world class restaurants. The James Beard Award-winning Schreiber and The Country Cat's Sappington worked together for over a decade at Wildwood popularizing nose-to-tail cooking in Portland. Bettinger worked alongside James Beard Award-winning Paley at farm-to-fork pioneering Paley's Place for six years, the duo brought PDX victory on Iron Chef America, and will debut a collaborative Downtown Portland restaurant this fall. Whims and Habetz collaborated at the legendary Genoa and together created Portland's role as an Italian-inspired mecca for food lovers.
Each of these exclusive four-course dinners will feature a collaborative menu from chefs who have worked together to make the Portland restaurant scene what it is today. What's more, guests at the June dinners will be treated to an intimate Q&A between the chefs, Robert Reynolds, and local food experts Karen Brooks and Mike Thelin.
The $120 ticket price includes four courses, wine pairings, and gratuity, and proceeds from the dinners support the Robert Reynolds Chef Studio Scholarship Fund.
Dinners will take place at Robert Reynolds' Chef Studio (2818 SE Pine St.) at 6:30 pm. To reserve your spot, head to the chef studio website or call Blake at 503-753-1655.