BEST OF PDX
Doggie Dash Dining Guide
We've got the lowdown on where to bring your pooch this Saturday for a bite (to eat) after the 25th Annual Doggie Dash.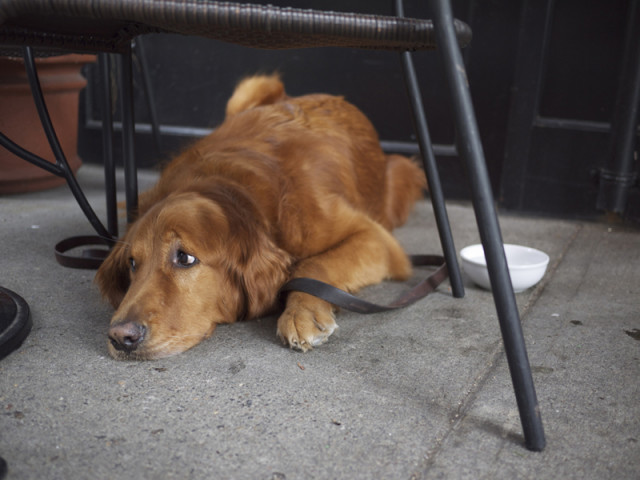 On Saturday, May 12, over 6,000 Portlanders and their four-legged companions will flood Tom McCall Waterfront Park for the 25th Annual Doggie Dash—a fundraiser for the Oregon Humane Society. Even Tri-Met will get in the spirit of things, allowing canines to go by train until 2 p.m. But everyone knows the best part of getting up for an early Saturday run is the reward of a guilt-free, carb-loading lunch. While the neighborhood may not boast the wide-open patios of Tin Shed or Lucky Lab, we've rounded up our favorite pup-friendly patios to unwind after the Doggie Dash.
Brasserie Montmarte
This newly remodeled French gastro-pub may not be the first establishment that springs to mind when you hear "dog-friendly," but really: what's more Parisian than dining with your pet? Grab one of the half-dozen bistro tables lining SW Park Avenue, and order up a parchment-paper cone of duck fat frites to pair with a pint from the egalitarian draft list, which ranges from a $3 Rainier to a $10 Belgian white ale. The servers here are quick to bring a tall carafe of water accompanied by both glasses and a bowl, much to your dog's post-Dash delight.
Veritable Quandary
Nestled just north of the Hawthorne Bridge, VQ hides one of Portland's prettiest patios behind a lush wall of ivy, lilies, and ferns. There may be no better spot to linger over a long weekend brunch, with a menu that includes an amazing Dungeness crab benedict and one of the city's best veggie burgers. They offer a respectable tap list with local brews, and it's hard to pass up the VQ-8, their take on a Bloody Mary, featuring house-infused beet vodka. Canine guests, of course, will have to make do with a never-ending supply of ice water in a shiny silver bowl… and lots of attention from the friendly staff.
McMenamins Market Street Pub
While the merits of McMenamins may be a hotly debated topic among many Portlanders, downtowners know that this pub boasts one of the biggest and dog-friendliest patios. A towering wall of bamboo and the surrounding brick apartment buildings create a peaceful courtyard, filled with umbrella-topped tables that are usually populated with PSU students and professors alike, sipping on refreshing Ruby ales and munching on the city's guiltiest pleasure: Cajun tots. Dogs seem to be tolerated more than welcomed (no water bowls will be whisked to your table here), but the ample space and seclusion from the street makes this a great spot for you and your pooch to stretch out.
Rogue Hall
Located in the ground floor of an apartment building on PSU's campus, the city's newest Rogue Brewing outpost is ideal for just hanging out. Maybe it's the haphazard arrangement of picnic tables on the back deck, or the chattering conversations between patrons about overdue essays and regrettable hook-ups, but it's easy to be transported back to the days when your biggest concern was when to schedule that make-up exam. In any case, something about this laid-back patio makes it easy to order up another round of Portland State IPAs, a garlicky Need-a-Mint pizza, and stay awhile. The real world can wait. (Bonus points for the doggie bowls scattered around, but it's hard to tell if they'll ever actually have water in them.)
Paddy's Bar & Grill
This Irish pub has held down the corner of SW Morrison Street & First Avenue for over 30 years, and is better known for its towering wall of whiskey than its patio. That's good news for dog owners on sunny days, when more popular outdoor spots tend to fill up fast. Here, a dozen laid-back tables line the sidewalk, offering a surprisingly pleasant vantage point to watch the MAX curve past on its way to the Steel Bridge as you sample from one of the largest whiskey selections on the West Coast. The menu offers an eclectic selection of upscale pub food, ranging from duck confit quesadillas to Guinness-battered onion rings—although you may be tempted to stay till the evening for the nine varieties of cheesy goodness off the "Happy Mac Menu".