FOODIE FREEBIES
Dining Month 2012 Giveaway
Eat Beat's giving away five exclusive Dining Month dinners for two, featuring top restaurants and memorable meals throughout the month of June.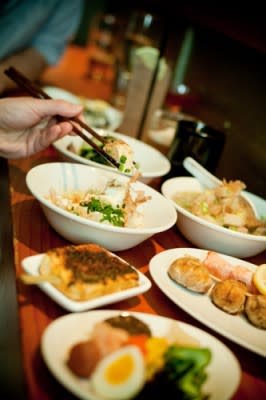 Get Hungry: This June, Portland Dining Month is returning for its third year bringing affordable gourmet experiences to the people.
Over sixty Portland restaurants are offering three courses for just $25. That's a killer deal at most of the participating restaurants, but for those of you holding out for a better one, here it is: Eat Beat snagged five $50 Dining Month gift certificates to give away to our readers.
The contest will be open until Monday, June 4th at 4 pm. Winners will then be randomly selected and will be notified via email by Tuesday, June 5th.
Click here to enter to win your Portland Dining Month adventure, worth $50! Contest is now over!
In the meantime, check out the great meals we're giving away at Vindalho, clarklewis, Mother's Bistro & Bar, Biwa, and Southpark!
Vindalho 2038 SE Clinton St
First course: Mulligatawny Soup with lentils, chiles and coconut or Organic Mixed Green Salad with mango, candied cashews, and curry leaf vinaigrette.
Second Course: Dal Kootu (spring vegetables with spiced dal broth) or Kori Gassi Chicken Curry with coconut milk, curry leaves, and asparagus.
Third Course: Lime tart with coconut anglaise.
clarklewis 1001 SE Water Ave # 160
First course: Bruschetta with fresh ricotta, arugula and shaved porcini.
Second Course: Housemade Tagliatelle with SuDan Farm Lamb ragu, rosemary and pecorino toscano.
Third Course: Buttermilk panna cotta with Oregon strawberries and shortbread cookies.
Mother's Bistro & Bar 212 Southwest Stark St
First course: House salad, Caesar salad, or soup
Second Course: Any entrée valued at $16.95 or less.
Third Course: Any dessert.
Biwa 200 NE 28th Ave.
Omakase chef's choice menu featuring Biwa's homestyle Japanese food including yakitori, handmade ramen, and udon. Due to the Chef's Choice special, Portland Dining Month menu must be ordered by everyone at the table.
Southpark 901 SW Salmon St.
First course: Beet Salad with watercress, chèvre, toasted hazelnuts, and apple cider vinaigrette.
Second Course: Bouillabaisse with fresh fish, prawns, clams, mussels, and saffron broth.
Third Course: Vanilla Bean Creme Brulee.