HOLIDAY EATS CHEAT SHEET
DIY Breakfast in Bed for Mom
Want to bring a little local artisan flavor to your Mothers' Day spread? We've got some tips for lavishing mom with Portland products she'll be proud to add to her pantry.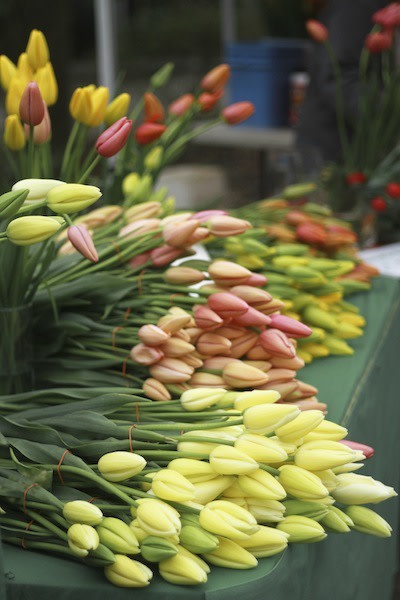 This Mothers' Day, get a little creative with your breakfast in bed! Whether Mom is in Portland or across the country, we've got some culinary picks to serve or ship that are sure to show your thanks this Sunday.
Bagels and spreads: Now that Kenny & Zuke's bagels are available at Whole Foods markets and Bowery Bagels can be found at many of Portland's Stumptown locations, this Mothers' Day is a perfect chance to try a variety of Portland's creative jams, butters, and schmears. Pick up a dozen of the city's best bagels in a variety of flavors, then set them up buffet-style with all the trimmings:
- Try classic cream cheese with hot pepper jam from locally-owned and operated Kelly's Jelly, with fun flavors like Pin-a-peño and Strawbanero.
- Slather on some Wild Squirrel Nut Butter, handmade by two enterprising University of Oregon students, featuring creative mix-ins like chocolate and sunflower seeds, vanilla bean and espresso, honey pretzel, and cinnamon raisin.
- Like lox? Try the house-smoked Sockeye, Chinook, Ivory King, or Steelhead salmon at Southeast Hawthorne's Flying Fish Company with some freshly sliced red onions.
- Some like it hot: mix some local hot sauce into cream cheese to kick off Mothers' Day with some spice! Try Portland Pepper Sauce, NW Elixirs, some good ol' Secret Aardvark, or one of three sauces from Nong's Khao Man Gai.
- Get inspired by the farmers' market! Head to the market this weekend and pick up a few jams, jellies, cheeses, patés, and fresh fruits to add to your Mom's Day spread. While you're at it, grab a jar of salted lavender caramel from Alma Chocolates and spread a thick layer on a plain or sesame bagel. Hello, indulgence!
Tea for two (or eight): For mom's special day, bring out the big guns on the tea tray in addition to your bagel bonanza. We're talkin' Steven Smith Teamaker teas that will surely impress. If mom usually goes for English Breakfast or Earl Grey, try the rich and complex Bungalow Blend. If she's a fan of chamomile, try The Meadow, a caffeine-free blend of Egyptian chamomile flowers, South African rooibos, hyssop, linden flowers, lemon myrtle, rose petals, and cyani flowers. To make it a truly Portland party, stir in a teaspoon of Bee Local honey, harvested from happy Portland backyard bees and labeled with the neighborhoods where the honey is sourced (like Mount Tabor or Brooklyn).
Want to simplify even further? Leave the morning sweets to the pros: Portland's classic boulangerie Saint Honore is offering a $15 gift box of berry-laden pastries for the mothers in your life. The artfully-arranged box includes a French Raspberry Lychee St. Honoré, Mille Feuille aux Fraises (puff pastry with mousseline cream and fresh strawberry slices), and a heart-shaped fresh strawberry tart.
If brunch or dinner on the town is more your mom's style, there are plenty of Portland eateries serving up feasts to feed your family: Yakuza is offering both a reservation only brunch and a Mother's Day Evening Retreat (complete with massage, cocktails, three-course meal, and a post-meal soak in the garden's soaking tub for mom!), Bluehour will be open for a special brunch from chef Thomas Boyce, The Heathman Restaurant and Bar will be offering their killer buffet, Wildwood will feature a Northwest-inspired Mother's Day brunch, and Abby's Table will offer a healthy brunch with berry-filled crepes, poached salmon, and pecan sticky rolls (all 100% gluten-, soy-, dairy-free). DOC is offering a special one-seating-only 4-course Sunday Supper, and Bar Avignon will serve up several Mothers' Day specials for dinner.
For wine loving moms, Cana's Feast Winery will be treating all moms to complimentary wine tastings (or Prosecco) for Mother's Day and providing free pastries for all.
Here's to all those moms out there, with a special shout-out to my own. I love you, mama!