FOOD AND DRINK EVENTS
Eat Beat Weekly Planner
Our digest of Portland's top upcoming food and drink events, including Central Oregon Beer Week and the one-day-only return of The Original's donut burger (for free).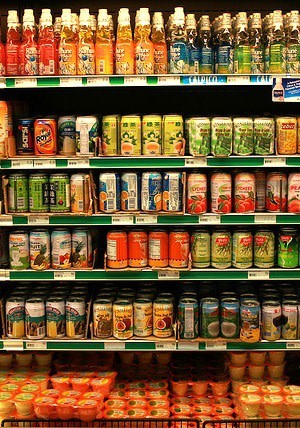 Asian Food Market Tour of Portland's West Side
What: A guided tour of Portland's best sources of hard-to-find Asian food products, including small, unlisted mom-and-pop shops. Led by Chef2Go's Surja Tjahaja, the tour will give an insider's guide to shopping for and cooking with affordable fish, meat, vegetables, noodles, rice, sauces, and spices commonly used in Japanese, Korean, Indian, Chinese and Southeast Asian dishes.
When: Saturday, May 19the from 11:30 am to 3:30 pm.
Where: TBA after registration. For more details visit chef2go.biz.
How Much: $40 per person for tour and Japanese teppanyaki luncheon, $20 lunch only. To reserve your spot, call 503-656-8910.
Din Din Supper Club's Italy vs France Dinner
What: A special dinner pitting the flavors of France against sips from Italy, featuring Italian wines selected by Kelley Swenson. The "audaciously French menu" is set to include foie gras dumplings with consommé and slivered ramps, escargot vol au vent with cèpes, borage, and Jurançon, meyer lemon parsley sorbet, roasted pheasant with chard and cherry in juniper marc velouté, and rum-soaked génoise with fig and crème fraîche buttercream.

When: Friday and Saturday May 18th and 19th, 7pm both evenings.
Where: The Chef Studio, 2818 SE Pine Street
How Much: $95 plus gratuity for eight courses and wine pairings. RSVP as "France" or "Italy" by contacting Courtney Sproule at 971-544-1350 or [email protected]
The Art of Tea Making at Red Ridge Farms
What: A hands-on tea crafting class instructed by local tea master Balazs Henger using locally-grown teas. Guests will learn all aspects of making tea including plant cultivation, leaf harvest and processing, and traditional brewing of white, green, black & oolong teas.
When: Sunday May 20th from 11 am to noon.
Where: Red Ridge Farms 5510 NE Breyman Orchards Road, in Dayton, Oregon
How Much: $35 per person. To reserve your spot, call 503-864-8502
Central Oregon Beer Week
What: A week of beer-centric activities (think brewery tours, tastings, live music and more) in the heart of Central Oregon, featuring events like the Bend Ale Trail Bend Ale Trail, Behind the Scenes Beer Tour with Wanderlust Tours, Open House at Old St. Francis School, and the Boneyard Beer 2 Year Anniversary Party. For a full list of events, visit the Central Oregon Beer Week website.
When: May 21-27, 2012
Where: Bend and Central Oregon's breweries and beer-friendly venues.
How Much: Event prices vary. Visit the Central Oregon Beer Week website for full event details.
All-Sparkling Wine Dinner with Gruet Winery at Andina
What: An all-sparkling wine dinner party featuring a four-course tasting menu from chef Hank Costello paired with bubbles from the award-winning Gruet winery in Albuquerque, New Mexico (including the Non-Vintage Brut Sauvage, 2007 Blanc de Blancs, 2003 Grande Reserve and the Non-Vintage Demi-Sec with dessert).
When: Monday, May 21st at 6:30 pm.
Where: Tupai at Andina 1314 NW glisan
How Much: $65 per person, includes dinner and wines. For reservations and more information, call 503-228-9535.
Neal Rosenthal Wine Pairing Dinner at Genoa
What: An evening of sophisticated pairings hosted by Genoa sommelier Michael Garofola and Ben Anderson of Neal Rosenthal Wine, featuring Northwestern Italian sips and four courses inspired by Oregon's spring bounty.
When: Thursday, May 24th at 6:30 pm.
Where: Genoa 2832 SE Belmont St
How Much: $110 including food and wine.For more details and reservations, contact Michael at [email protected]
The Return of The Original Donut Burger, for free
What: For The Original's third anniversary, the team is bringing back the infamous donut burger (a Highland Oak Beef Slider with Cheese, served on a house-made glazed donut bun). Just stop by The Original for Happy Hour (4:30pm to 6pm) on Friday, May 25th and order a drink, and receive a free donut burger.
When: Friday, May 25th, 4:30 to 6 pm.
Where: The Original Dinerant 300 SW 6th Avenue
How Much: Free donut burger sliders with the purchase of any drink.
Know about a great event coming up that should be on our radar? Shoot me an email at [email protected] or give me a shout over on Twitter at @allisonejones. Now get out there and start eating!