FOOD AND DRINK EVENTS
Eat Beat Weekly Planner
Our digest of Portland's top upcoming food and drink events, including the BREWPUBLIC KillerBeerFest and Speakeasy 721 at Ecotrust.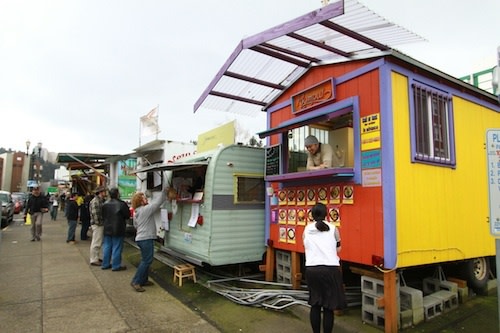 John T. Edge Truck Food Cookbook Reading
What: An intimate and fun evening hosted by the Portland Culinary Alliance, featuring a celebration of the local and national food cart scene. Food storyteller John T. Edge will share his insights about the mobile food evolution as well as his travels throughout America in search of authentic, regional foods. Arrive early to snag Bunk Bar's "The John T. Edge Meal Deal" with a Ferdie Special sandwich (a ham and gravy po'boy) and a beer for $8. Bunk Bar's full menu will be available and both Koi Fusion and Potato Champion will be parked outside.
When: Tuesday, May 22nd from 6 to 8 pm
Where: Bunk Bar, 1028 S.E. Water Ave. #130
How Much: Free! No-host food and beverage; books available for purchase. RSVP to [email protected] if you plan to attend. Non-Members are welcome and encouraged to attend, and a one-night-only discounted Portland Culinary Alliance membership will be available for $50.
Central Oregon Beer Week
What: A week of beer-centric activities (think brewery tours, tastings, live music and more) in the heart of Central Oregon, featuring events like the Bend Ale Trail Bend Ale Trail, Behind the Scenes Beer Tour with Wanderlust Tours, Open House at Old St. Francis School, and the Boneyard Beer 2 Year Anniversary Party. For a full list of events, visit the Central Oregon Beer Week website.
When: May 21-27, 2012
Where: Bend and Central Oregon's breweries and beer-friendly venues.
How Much: Event prices vary. Visit the Central Oregon Beer Week website for full event details.
Neal Rosenthal Wine Pairing Dinner at Genoa
What: An evening of sophisticated pairings hosted by Genoa sommelier Michael Garofola and Ben Anderson of Neal Rosenthal Wine, featuring Northwestern Italian sips and four courses inspired by Oregon's spring bounty.
When: Thursday, May 24th at 6:30 pm.
Where: Genoa 2832 SE Belmont St
How Much: $110 including food and wine.For more details and reservations, contact Michael at [email protected].
The Return of The Original Donut Burger, for free
What: For The Original's third anniversary, the team is bringing back the infamous donut burger (a Highland Oak Beef Slider with Cheese, served on a house-made glazed donut bun). Just stop by The Original for Happy Hour (4:30pm to 6pm) on Friday, May 25th and order a drink, and receive a free donut burger.
When: Friday, May 25th, 4:30 to 6 pm.
Where: The Original Dinerant 300 SW 6th Avenue
How Much: Free donut burger sliders with the purchase of any drink.
Brewpublic KillerBeerFest 3.5
What: A Memorial Day Weekend celebration of one-of-a-kind craft beers, featuring some truly creative one-off brews fit for a true beer geek. Participating breweries include Boneyard Beer, Upright, The Commons, Coalition, Cascade, Mt. Tabor, Hopworks, Double Mountain, Breakside, Rogue, Gigantic, Oakshire, Fort George, Logsdon Farmhouse and many more.
When: Sunday, May 27th from 2 to 10 pm.
Where: Bailey's Taproom 213 SW Broadway
How Much: $5 entry fee gets guests a Brewpublic pint glass, and beers will be sold individually in three sizes.
Speakeasy 721 at Ecotrust
What: Don your finest prohibition-era garb for this celebration of Portland's enticing array of distilleries and artisan ingredients. The event will feature live music from local jazz band Boy and Bean, as well as spirit and appetizer pairings from New Deal Distillery and Simpatica, Bull Run Distillery and Cana's Feast Winery "Chinato", Big Bottom Whiskey and Columbia Gorge Organics, and many more.
When: Wednesday, June 6th from 6 to 8 pm
Where: Jean Vollum Natural Capital Center (Ecotrust) 721 NW 9th Avenue
How Much: Tickets are $10 per person (21 years & older) and are available here
2nd Annual Portland Fruit Beer Festival
What: An East Burnside block party featuring over 25 taps of the area's best fruit-powered brews and ciders. Check out the full event details on Eat Beat here.
When: Saturday, June 9th from 11 am to 9 pm and Sunday, June 10th from 11 am to 6 pm
Where: Northeast 7th between East Burnside and Northeast Couch Streets
How Much: Tickets start at just $20. View all ticket options and purchase advance tickets here.
Know about a great event coming up that should be on our radar? Shoot me an email at [email protected] or give me a shout over on Twitter at @allisonejones. Now get out there and start eating!