NEIGHBORHOOD NEWS
Eat Beat's News to Chew
Top food news stories from around Portland, including the debut of Gigantic Brewing Co., national attention for NE MLK's Ox and Bamboo Sushi, and the launch of pop-up caffeination cart from Case Study coffee.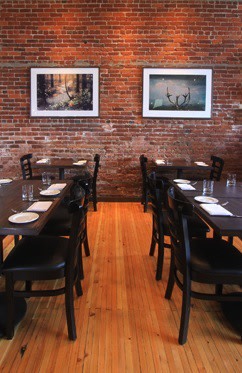 Southeast
SE 26th: Brewers Ben Love (previously of Hopworks Urban Brewery) and Van Havig (from Rock Bottom Brewing) have launched their new Gigantic Brewing Co. on SE 26th Avenue and Steele, complete with tasting room and "Champagne lounge." The new space (located just west of Reed College) will offer Gigantic's IPA, black saison "The City Never Sleeps," and golden "St. Tennenholz" on tap, in addition to limited-run collaboration beers with regional brewers. The tasting room will be open Wednesday through Friday, 3 to 9 pm, Saturday 2 to 9 pm, and Sunday 2 to 8 pm. 5224 SE 26th Ave
Northeast
NE Broadway: Thatch Tiki Bar shuttered this week after six years on Broadway to make way for a new tropical cocktail bar dubbed Hale Pele. Owner Blair Reynolds (bartender and founder of Portland based B.G.Reynolds' Hand-Crafted Syrups) will offer "classic" exotic cocktails as well as modern spins on tropical sips. The new space is set to debut this fall. 2733 NE Broadway
NE MLK: Chefs Greg and Gabrielle Denton of the newly-opened Ox are featured in a Food & Wine magazine roundup of Best BBQ: Pit Masters and Grill Geniuses. The article touts the Denton's use of "an adjustable grill in the middle of the dining room to prepare dishes as delicate as maitake mushrooms or as primal as whole lamb." 2225 NE MLK Jr Blvd
Southwest
SW 2nd: Old Town's location of the Thirsty Lion Pub & Grill has opened its doors to show off a remodel and fresh beer selection, with 32 local brews on tap (think Cascade Brewing, Burnside Brewing, Fort George Brewery, and Walking Man Brewing). 71 Southwest 2nd Avenue
SW 10th: The team behind NE Sandy's Case Study Coffee launched their downtown Portland pop-up coffee cart this Monday, May 14th out of the entrance of the old Finnegan's Toys location. The pop-up shop will be open Monday through Friday, 8 am to 2 pm, to build buzz for their new coffeehouse at 10th and SW Yamhill set to open mid fall. 922 SW Yamhill
Northwest
NW 13th: Ken and Jennifer Norris' fresh-off-the-boat Pearl District seafood spot Riffle NW opened to the public this week at 333 NW 13th Ave (in the former 50 Plates location). Stay tuned to Eat Beat for opening week photos and first bites!
Sw 23rd: The second location of sustainable sushi restaurant Bamboo Sushi has nabbed a spot on Bon Appétit's list of the 10 Best New Sushi Restaurants in America, even though it hasn't opened. According to the article the new space will feature "fancier cocktails, a Scandinavian note in cooked dishes, and great local fish" including new dishes like "a seafood charcuterie platter featuring raw, cooked, and cured options". 836 NW 23rd Avenue
Wine Country
McMinnville: Thistle's Eric Bechard has launched his downtown McMinnville Tacos de los Muertos, dishing up rotating taco varieties on house-made tortillas. Present hours of operation are lunch only service Tuesday through Friday, noon to 1:30 pm, and late night service Friday and Saturday, 9 pm to 1:30 am. Eat Beat will have photos of the new space and menu details early next week. 709 NE 3rd Street
Got a food news tip? Send it my way at [email protected]!