NEIGHBORHOOD NEWS
Eat Beat's News to Chew
Top food news stories from around Portland, including new hours at Boke Bowl, a new Townshend's Tea location, and the openings of Corazon and The Parish.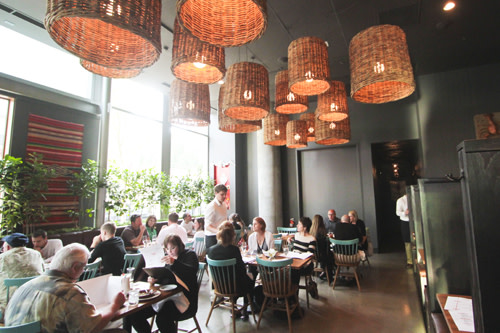 Southeast
SE Water: Portland's hottest ramen eatery Boke Bowl has announced new evening hours. Beginning Friday, June 1st, the restaurant will be open Fridays and Saturdays from 10:30 am to 9:30 pm. With the new hours and the recently-added Thursday night ramen and Korean Fried Chicken dinner service, ramen fans will now be able to satisfy their evening noodle cravings three nights a week. 1028 SE Water Avenue
SE Division: Townshend's Tea will debut a new teahouse on Southeast Division by the end of June. The new tea spot will be the third Townshend's outpost, and will occupy the in the same building as chef Marco Frattaroli's soon-to-debut neighborhood Italian eatery spot Cibo. SE 35th and Division
Northeast
NE Prescott: Andy Ricker's Pok Pok Noi, formerly take-out only, will become a full-service restaurant on May 25th. The small space will add indoor and outdoor table service offering its mini-menu of Pok Pok favorites, including those famous fish sauce wings. 1469 NE Prescott
Southwest
SW Washington: Chef Christopher Israel's long-simmering West End Mexican eatery Corazón is officially open to the public, offering an ambitious menu of both upscale and casual plates alongside classic margaritas and sangria. 1205 SW Washington Street
Northwest
NW 11th: Tobias Hogan and Ethan Powell's bayou-inspired The Parish will open its doors to the public on Tuesday, May 22. For menu details and Eat Beat's sneak-peak photos, head here. 231 NW 11th Ave
NW 23rd: Little Big Burger's Katie Poppe and Micah Camden have announced plans for a new location, set to open this summer in the space currently occupied by Yuki Japanese Restaurant. According to Eater PDX, Yuki will relocate shortly to make way for the sixth outpost of the mini-chain. 930 NW 23rd Ave
Got a food news tip? Send it my way at [email protected]!