NEIGHBORHOOD NEWS
Eat Beat's News to Chew
Top food news stories from around Portland, including the debut of the Kenton Farmers' Market, new details about Duane Sorenson's second restaurant, and the kick-off of the Alberta15 food cart pod.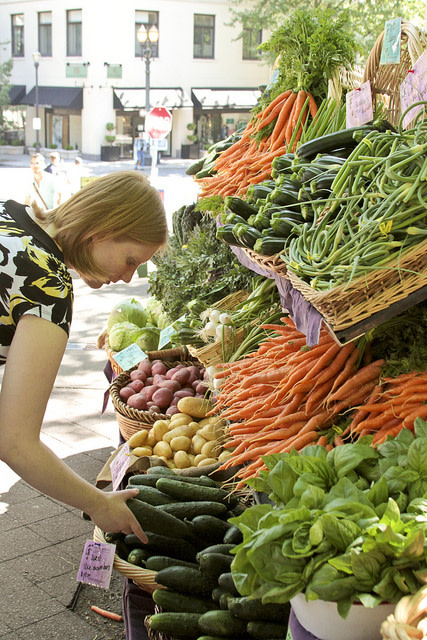 North
North McClellan and Denver: The brand-new Kenton Farmers Market, the eighth branch of the Portland Farmers' Market tree, will debut on Friday, June 1, and will run every Friday evening until September 28 from 3 pm to 7 pm. The 20-vendor market featuring farm-fresh produce, meats, cheeses, baked goods and other specialty foods will take place on a car-free North McClellan Street on each side of Denver Avenue, steps away from the Kenton/N Denver Avenue MAX Station. New vendors—never before seen at any of the Portland Farmers Markets—will include The Good Food Farm, Island's End Farm, Bushel and Peck Bakeshop, Hot Mama Salsa, Scoop Handmade Ice Cream and Taco Pedaler. N. McClellan Street and Denver Avenue
Northeast
NE Alberta: A new (mostly) Asian food cart pod dubbed Alberta15 is set to debut Thursday, May 31st during the popular Last Thursday Alberta Arts street fair. The pod is a collective dream of four food cart owners to recreate the Asia street food scene on Alberta, echoing the flavors of Tokyo, Bangkok , Bangalore, Honolulu, and Suva Fiji. Pod members include StumpTown Dumplings serving steamed dumplings and Bao made daily from scratch, Katsu Zoku offering Tokyo street food, Yakinese, dishing up yakitori grilled over bincho tan zumi, and the not-so-Asian Cultured Caveman, Portland's first and only Paleo food cart. 1477 NE Alberta St.
NE Glisan: Portland's upcoming "micro-restaurant" collective the Ocean—the future brick-and-mortar home of Adam Berger's 24th & Meatballs, Pie Spot bakery, and Slow Bar burger outpost—will also house PDX VIP chefs Caprial and John Pence and their new fried chicken wing eatery Basa Basa. The Ocean's tenants are working towards a mid-July or August opening. 2329 NE Glisan St.
Southeast
SE Division: More Italian comes to Division! Duane Sorenson (of Stumptown and the Woodsman Tavern) has released details about his next eatery set to take over the Lauro Kitchen space this September. According to Eater, the 54-seat rustic Italian restaurant is set to be called Ava Genes and will be helmed by chef Joshua McFadden (who comes to PDX from NYC's Lupa, Momofuku Ssam Bar, and Frannys). The Woodsman Tavern's wine director Carly Laws and barman Evan Zimmerman will also spearhead Ava Genes' drink program. 3377 Southeast Division St
SE Morrison: Veggie falafel favorite Wolf & Bear's owners Tanna Tenhoopen and Jeremy Garb have reopened their cart at the original SE 20th and Morrison location, which closed when the cart relocated to North Mississippi last fall. The southeast location is now open daily from 11 am to 9 pm. SE 20th & Morrison St.
SE Ankeny: The Slide Inn, the German-inspired eatery occupying the former Il Piatto space, is now open, serving goulash, house-made sausages, Bavarian pretzels, Austrian pancakes, and more. Owners Lenore and Eugen Bingham rebranded their nearly two decades-old restaurant to open a fresh concept with the same family-owned and operated comforts. The Slide Inn is open for dinner nightly from 5:30 to 10 pm, and for Saturday and Sunday brunch from 9 am to 2:30 pm. 2348 SE Ankeny St.
Southwest
SW Taylor and Park: After two years quick-serving upscale burgers in Director Park, Violetta will close on June 10th to make way for an be replaced by a new Elephants Deli. Fans of Violetta's menu can look forward to the opening of a new Hillsdale location, debuting this summer in a "park-meets-food cart plaza" near Wilson High, the brand's truck Rolllin' Etta will find a permanent home at the newly reopened Green Castle Food Courts at NE 20th & Everett, and "Violetta V2.0" could possibly open downtown as soon as late summer (according to owner Dwayne Beliakoff). 877 SW Taylor at SW Park
Got a food news tip? Send it my way at [email protected]!