MENU WATCH
Get Ready for Dining Month
This June, over sixty Portland restaurants will offer sensational and seasonal three-course meals for just $25.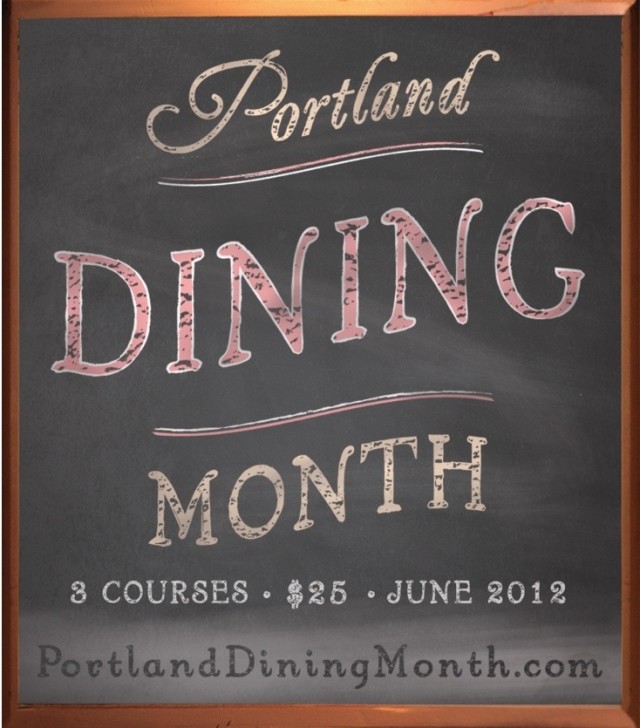 You know that list of must-try PDX restaurants you've been accumulating over the past year? It's time to check them off, one by one, because Portland's city-wide Dining Month will return this June for its third year offering affordable culinary experiences for the masses.
All month long, over 60 top Portland eateries will serve three-course meals—typically an apetizer, entree, and dessert—for just $25. Many restaurants are offering choose-your-own dish options, satisfying meat eaters and vegetarians alike. Stop into NE Alberta's Aviary for spiced duck leg in broth with a slow poached egg followed by pan-seared golden trout with pea shoots, pickled bean sprouts, and lemon balm broth, or dig into house-made tagliatelle with SuDan Farm lamb ragu at SE Water Avenue's clarklewis. Feast on Clyde Common's porchetta with roasted fingerling potatoes before dessert featuring lemon-buttermilk pudding cake with a walnut-thyme crust and rhubarb preserves, and be among the first to try jamison in the Pearl District. For $25, the options are endlessly delicious.
Not only will these affordable meals feed your and your dining partners, each meal during Dining Month will help another Oregonian in need. Thanks to a partnership with OpenTable, a donation will be made to the Oregon Food Bank for every reservation booked via the Portland Dining Month website.
Check out the full list of participating restaurants here, and start planning your Dining Month family dinners and date nights. Better yet, stay tuned to Eat Beat for Dining Month gift certificate giveaways in the coming weeks!