Beer Bulletin
Gigantic News!
Love and Havig are open for business today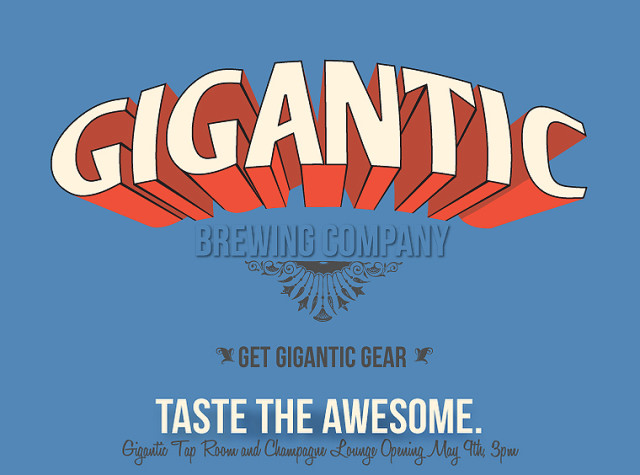 Restless beer drinkers should know that the freshly minted Gigantic Brewing Tap Room and Champagne Lounge will be open today at 3 p.m. Yes, the much ballyhooed business plan of brewers Ben Love (formerly of Hopworks) and the scholarly Van Havig (last seen at Rock Bottom Brewing) is finally ready for its public reveal. As noted by reporter Brandy Crowe in her report from the Oregon Garden Brewfest, Gigantic's black saison, dubbed The City That Never Sleeps, was an instant sensation.
"The room was quickly abuzz about the Cascadian dark ale, sweet with dark fruit and slightly spicy (expect a spicy-chili version in the future), that cut the richness of the ribs, creating a refreshingly smooth counterpoint." The beer went on to win the People's Choice Award at the fest.
Love and Havig also will be pouring their sturdy Gigantic IPA, along with a pair of collaboration beers, the Hoppy Hoppy Nano, an Imperial IPA that was created in partnership with Breakside Brewing, and the Sammy Hagar-inspired Collabo-Wabo, that was born of an alliance with Oakshire Brewing. When queried as to the style of beer, Love replies, "It's a Sammy Hagar beer. That's all you need to know." There's also a keg of Upright Brewing's Blend Love on tap, a barrel-aged sour from brewer Alex Ganum.
On the champagne front, Love and Havig have handed curatorial duties over to local cheese wizard Steve Jones, who will introduce "five or six" varieties. Be advised there is no food on the premises, so either arrive having eaten, or get something delivered. Regular hours will be Wed-Fri from 3-9; and Sat-Sun from 2-8. The Gigantic Tap Room is located at 5224 SE 26th Ave.