OPENING WEEK
Inside Micah Camden's Boxer Sushi
Southeast Hawthorne's new sushi-only restaurant is dishing out creative raw dishes with a colorful background of street-chic art, and we've got the photos to prove it.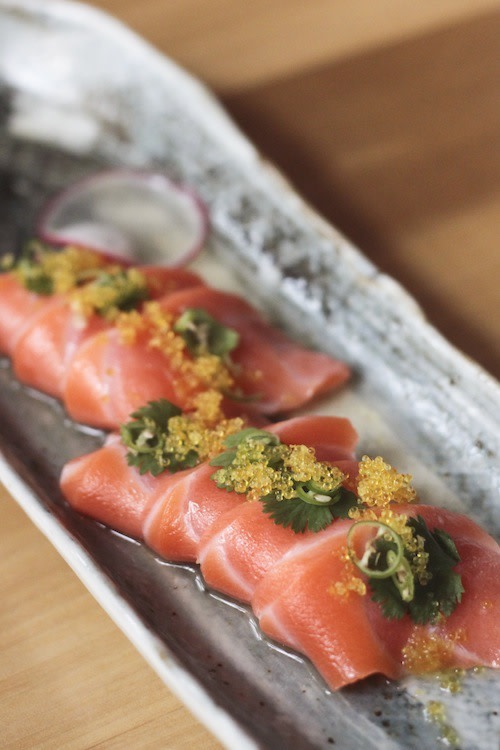 Micah Camden and Katie Poppe have found their recipe for success—do just a few things, do them well, and don't apologize for everything that's not on the menu.
The formula has worked wonders for their popular Little Big Burger chain—the mini-empire of four (and counting) fast food restaurants offering simple burgers, sublime fries, and old-school floats.
From the looks of things, their next project Boxer Sushi will take flight with a similarly spartan game plan.
Tucked into the first floor of the mixed-use building on the corner of SE Hawthorne and 20th (also home to the Blue Pig Cafe), the 40-seat restaurant debuted this week with a paired-down sushi menu is just that—a menu stocked with artful sashimi, fresh nigiri, playful cut rolls, and with the exception of a simple bowl of miso soup, nothing else.
Chef Ian Skomski (formerly of NE Killingsworth's Yakuza) and a talented team of sushi slicers, rollers, and servers are on full display behind the flat-top sushi bar that runs the length of the restaurant.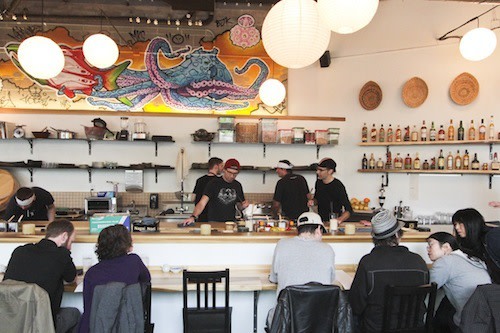 With no glass barrier separating the bantering chefs from their hungry onlookers, the space has a playful, casual vibe with a dose of theater thrown into the mix.
The dishes, while equally playful, have plenty of high-class charm. Early favorites include a creamy-textured, bright orange King Salmon Carpaccio topped with paper-thin slices of Thai chile, cilantro, and brilliant golden roe, the oh-so-Oregon Violet Roll with Dungeness crab, asparagus, salmon, crispy shallots, and avocado, and the signature Albacore Sashimi with David Chang's "octopus" vinaigrette and scallions. Also a hit was the savory (and vegan) House Vegetable Roll filled with crunchy asparagus and carrots, topped with shiso leaf and delicate slices of fried eggplant.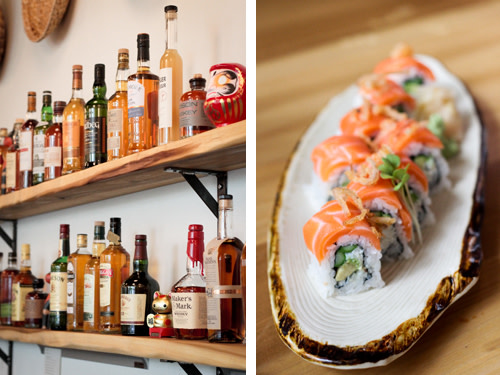 The liquid side of things is equally curated, with nary a cocktail in sight. Diners can choose from the impressive selection of Japanese beers, four kinds of saké, three wines (labeled bubbly, red, and white), or a nip of bourbon, rye, scotch, Irish whiskey, vodka, or tequila served neat or on the rocks.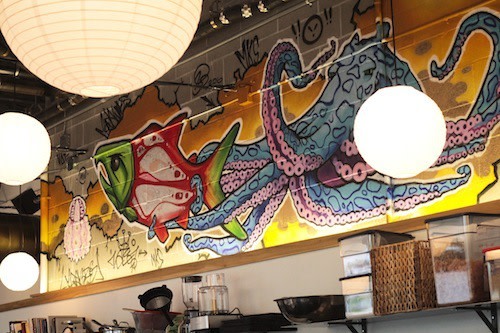 The menus may be restrained, but Boxer's decor is colorful, edgy, and peppered with Asian tchotchkes. Clean wooden tables and rows of round straw mats provide a modern counterpoint to the space's epic graffiti mural (by Seattle-based Zach Bohnenkamp) and other playful art—think oil paintings of Japanese beer and a bonsai tree decked with air plants.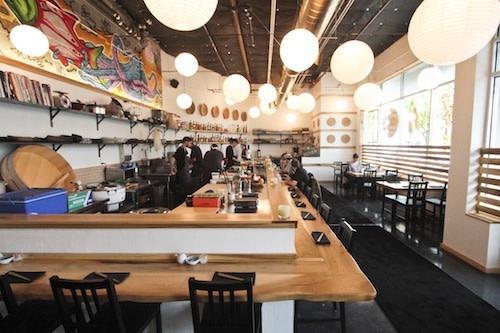 Drop into Boxer to sample Southeast's newest hot spot, now open from Monday through Saturday 5:30 to 9:30 pm, just don't ask for fried tempura. If you need something cooked to round out your meal, there's always a Little Big Burger within a few miles.
Boxer Sushi
1524 SE 20th Ave
971-271-8635