BREAKING FOOD NEWS
Lardo and the Sugar Cube Come to Hawthorne
In a new culinary experiment from ChefStable, two food carts will pool resources for an indoor/outdoor sandwich shop and dessert truck, opening in June.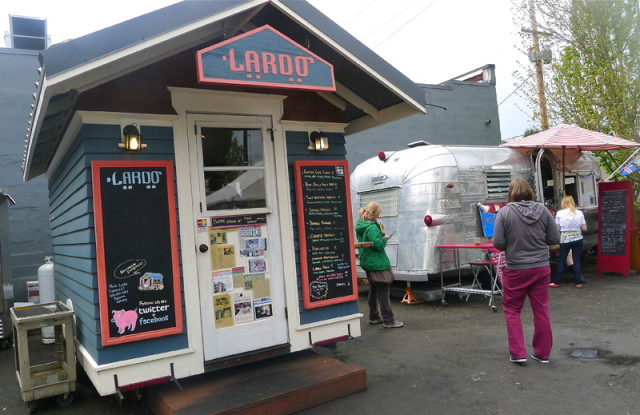 After months of nail-biting, lease negotiations, and plan-hatching, two popular food carts—Lardo and the Sugar Cube—are collaborating on a fresh business model at 1212 SE Hawthorne Blvd: a brick-and-mortar sandwich shop paired with a parking-lot haute dessert truck, with indoor/outdoor seating, a liquor license, and evening hours. The lease was signed Monday, at last, by Portland's influential culinary seed-money company ChefStable. Projected opening date is mid-June.
The new experiment sits across the street from Cartopia, the late-night food cart pod at SE 12th & Hawthorne, with potential for adventurous synergy between the two. According to the plan, Lardo's meat-intensive craft sandwiches, imagined by gregarious cartman and former Vermont farm-to-table chef Rick Gencarelli, will reside inside the former Johnny B's diner. The soon-to-be-remodeled space aims to feature an old-school Italian aesthetic, with white tile and wainscoting to match 16 beers on tap, a rotisserie, 40 seats, and counter service. More space means fresh salads, antipasto, and soups to accompany Gencarelli's signature sandwiches sourced from local animals: fried mortadella, pork meatball bahn mi, and slow-roasted porchetta perfumed with fennel pollen, garlic, and rosemary.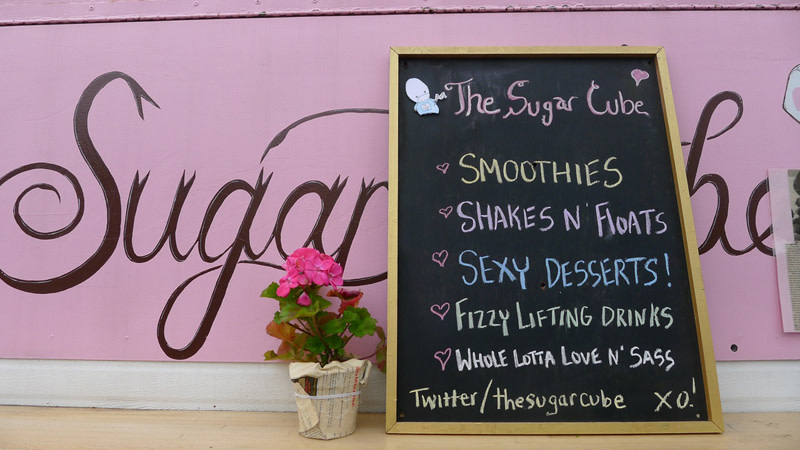 Meanwhile, steps away, the Sugar Cube's transplanted chocolate-hued trailer will dispense the irresistible retro-sassy sweets that make Kir Jensen a food-cart phenom—and a rising talent on the national scene. In addition to the cart's signature parade of original cupcakes, malts, and cookies, the Sugar Cube will unleash a taste of the desserts destined for Jensen's eventual brick and mortar project with ChefStable. Already in test lab are "jar pies," with deconstructed elements layered in tiny mason jars. Flavors should vary with the seasons, but opening day promises the likes of "Midnight Express" starring stacks of milk chocolate pudding, pretzel crunch, coffee cream, and salted caramel; complex but accessible and pure Jensen.
The parking lot will eventually transform into a tented patio to facilitate year-round indoor/outdoor dining with up to 100 seats.
Jensen and Gencarelli met as next-door neighbors at SE Belmont's Good Food Here cart pod. (Lardo is still open but will shutter when the new space opens; the Sugar Cube, closed for the winter and publication of Jensen's impressive The Sugar Cube Cookbook, will relaunch at the new location).
Both were in discussions with ChefStable's mastermind Kurt Huffman, the company behind many recent hits in the food scene. Huffman hand picks culinary dreamers and lets them do what they do best while he dogs the books and boring details that chefs notoriously mangle, splitting ownership and profits at varying percentages. Typically, he works with established veterans or rising talents of well-reviewed restaurants. But with this project, he's now wading into shallower water—the food-cart world, where resources are super-tight and investors are scarce.
But following high-profile projects such as Ox, a hot spot for Argentinian wood-fired meats (2225 NE MLK Jr Blvd), and Oven & Shaker, the chic pizza and cocktail haunt (1134 NE Everett St), Huffman is looking forward to the leaner, meaner approach he learned as a side-kick to Pok Pok's Andy Ricker.
"A nice clarity comes with super-limited means," says Huffman. "Very little money demands a strict vision. We'll do what we can, and when we've spent the money for the build out, we open. Savory inside, sweet outside. It's a low-cost concept. It's going to be super cool, a very Portland vibe."