WINE WEDNESDAY
Memorial Day in Wine Country
Kick off your summer with a long holiday weekend of vines, wines, and great times courtesy of the area's top sipping destinations.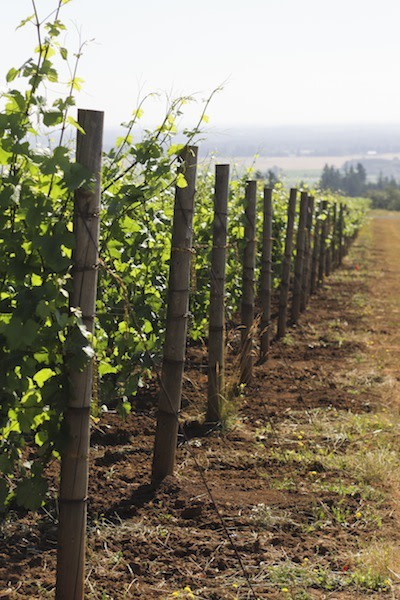 April showers brought plenty of May flowers to Portland, and in turn, May sunshine is definitely delivering the day-trip worthy weather. Take advantage of these glory days of Oregon sunshine with a long weekend of wine tasting May 26th through 28th, when over 150 wineries and tasting rooms will be open across the Willamette Valley.
Pinot & Pooches
Saturday and Sunday, May 26th and 27th from 11 am to 5 pm
19143 NE Laughlin Road, Yamhill, Oregon
WillaKenzie Estate Winery is hosting a fun-filled benefit for the Oregon Humane Society, featuring delicious nibbles from chef Gabe Gabreski of A Cena Ristorante, wine tastings, and plenty of cute puppies and dogs available for adoption. Admission is just $15, refundable with any wine purchase. Guests will receive a classic Pinot Noir glass and tastings of 2009 Single Vineyard Pinot Noirs, 2011 Pinot Gris, and 2009 Chardonnay. In honor of WillaKenzie's late vineyard dog, Marco, 10% of sales from the Clos Marco Chardonnay will be donated to the Oregon Humane Society. Get more information and buy your tickets online here.
Red Ridge Farms Tasting Room Debut
Saturday and Sunday, May 26th and 27th 10:00 am to 5:00 pm
5340 NE Breyman Orchards Road, Dayton Oregon
Be among the first to experience the brand new Tasting Room at Red Ridge Farms' Durant Vineyards! The $10 tasting fee delivers wood-fired appetizers, a Durant Vineyards logo glass, a flight highlighting generous pours of Durant estate wine, and the warm hospitality of the friendly staff. Additional lunch items will also be available from Red Hills Market executive chef Jody Kropf, with mouth-watering tastes like roasted pork crostatas from the wood-fired oven, served with an arugula and strawberry salad drizzled with thick balsamic. There will also be a chance for one lucky guest to win a return trip featuring a private tour of the vineyard and a picnic lunch for eight.
Apolloni Vineyards and Olympic Provisions Charcuterie
Saturday, Sunday, and Monday, May 26th, 27th, and 28th from 11 am to 5 pm
14135 NW Timmerman Road, Forest Grove, Oregon
For just $5, guests at Apolloni Vineyards will sample newly-released 2011 rosé, summery whites, estate Pinot Noir, and Sangiovese-based reds along with handcrafted charcuterie from Olympic Provisions. Tasting fee is refundable with purchase, and Olympic Provisions sandwiches will be available for purchase for a picnic lunch on the patio.
Montinore Estate's Musical Tastings
Saturday, Sunday, and Monday, May 26th, 27th, and 28th from 11 am to 5 pm
3663 SW Dilly Road, Forest Grove, Oregon
Explore over 240 acres of Montinore Estate vines while sipping estate grown wines, basking in warm hospitality, and hunting for a perfect picnic spot. New releases will be flowing all weekend long, as well as artisanal oil and vinegar tastings from Fanucchi oils of Saturday and Sunday, and live music from Eric John Kaiser on Monday (1 to 4 pm). Tasting fee is just $10 or $20 with a full glass.
Art and Wine at Argyle Winery
Saturday and Sunday, May 26th and 27th 10:00 am to 5:00 pm
691 Highway 99W Dundee, Oregon
For $15, guests at Argyle Winery will receive a souvenir logo glass, sparkling wine tastings, gourmet cheeses, and live local music from Rio Con Brio. Guests will also be able to browse local artists' work available for purchase at the winery's relaxing and sophisticated tasting room.
Need or want to stay closer to home this Memorial Day? You don't need to travel to try Oregon's top-notch wines with other passionate vino fanatics, just head down to ENSO Urban Winery's one-year anniversary celebration on Southeast Stark. From Saturday, May 26th to Monday, May 28th from noon to 10 pm, the urban winery's member winemakers will be showcasing newly released 2011 wines paired with choice picks from Olympic Provisions and Steve Jones' Cheese Bar. 1416 SE Stark Street
Extend your holiday through the week with an exclusive vermouth, wine, and chocolate pairing class at North Mississippi's The Meadow. Cana's Feast Winery will be teaming up with Imbue Vermouth for an intimate event featuring six vermouths and six artisan chocolates on Wednesday May 30th at 7:30 pm. Tickets are just $30, and guests will learn how to pair well-balanced and herbal 21st century vermouths with the finest chocolate bars (with plenty of nibbling in the process). For more information and to purchase tickets, head to The Meadow's website. 3731 N. Mississippi Avenue Portland, OR
Want even more events? Head to the Willamette Valley Wineries Association website for a full listing of Memorial Day festivities. Happy sipping!