OPENING WATCH
Morso Opens in the Pearl
Long-time Bluehour chef Kenny Giambalvo shares the story behind his new casual Italian eatery Morso, celebrating its Grand Opening today in the Pearl District.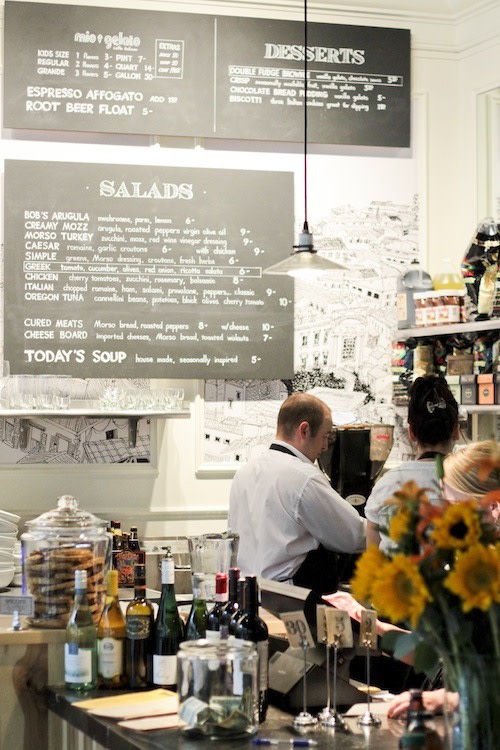 It's a good sign when a restaurant is bright and cheery during a comically intense Portland spring downpour.
The brightness supplied by wall of windows, long mirrored banquet, and artfully hung cafe lighting aren't the only reasons Kenny Giambalvo's Morso feels like an instant winner. Along with co-owners Bob Lightman (who founded Mio Gelato) and Ryan Finley (the creator of SurveyMonkey), Giambalvo has filled an empty niche in the Portland food scene by serving affordable, casual Italian food that doesn't sacrifice quality of ingredients or preparation.
Everything is made in house, from the Morso bread to the sous-vide turkey that decks a truly outstanding turkey sandwich, and the ingredients—like fresh burrata, Dungeness crab, sweet roasted tomatoes, prosciutto cotto, and artfully-dressed arugula—are a revelation given the nothing-over-$10 prices and speed of service.
How does a chef with over 34 years of fine dining experience transition to a casual eatery? According to Giambalvo, it's not as much of a leap as some might think: "There's absolutely no difference in my attention to detail. I'm still considering every ingredient, every technique, and every step in preparation to make sure these dishes are the best they can be. I'll be constantly tweaking the recipes that I think can be better, never simply writing them down and having them stay stagnant for months. The only real difference is that we won't be cooking foie gras, and that's okay."
The small eatery occupies the former Mio Gelato space on NW 11th between Burnside and Couch, across the street from Powell's City of Books, a dream location offering both foot-traffic crowds and high street visibility on one of the most-visited blocks in Portland.
Throughout the restaurant's early conception and building phase, Morso's co-owners were intent on creating a go-to neighborhood spot, envisioning a cozy cafe where locals could stop in for a morning cup and croissant, pick up a fresh and satisfying lunch to go, then pop back in for a glass of wine and a cheese plate to wind down from the day. This metropolitan-meets-small-town ideal was most definitely fueled by the fact that Giambalvo is no stranger to the neighborhood.
The seasoned chef helped open Bluehour with Bruce Carey in 2000, when the Pearl of the now-bustling District was still tucked away inside the oyster of some urban-planner's dreams. Giambalvo remembers those early days: "When we opened Bluehour, there was nothing around. There was Oba, and the train still ran up 12th Avenue to the Weinhard Brewery. There was no street car for years. It's changed so much, and it's still changing."
Giambalvo left Bluehour in 2011 to spend time with his young children, looking for a new project that would fulfill his passion for making great food while supporting a lifestyle more amenable to a family man. Thanks to the year he's spent focusing on food prepared for his family, the menu at Morso hits close to home, with a selection of family recipes (like his grandmother Lina's classic meatballs that flavored every Sunday of his childhood), dishes inspired by personal travel through Europe, and a pint-sized kids' menu filled with $5 accessible favorites for discerning diners under 10.
Breakfast service begins bright and early at 7 am, and is offered all day for those folks who crave a $4 shirred egg, bacon, avocado, and swiss sandwich on a house-made buttermilk biscuit after a long day of work. Additional breakfast fare includes house-baked pastries, croissants layered with banana and nutella, fresh frittata, and Irish oatmeal topped with brown sugar cream.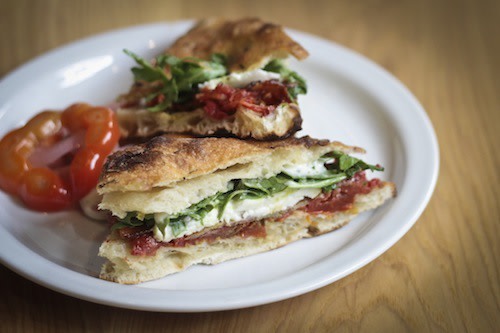 The approachable, chef-driven lunch and dinner menu is filled with classic savory sandwiches and overflowing salads. Early favorites include the Oregon Tuna salad (featuring fresh-off-the-boat tuna, cannellini beans, potatoes, black olives, and cherry tomatoes), the BBLT (bacon, lettuce, and roasted tomato topped with creamy burrata on freshly-baked bread), a sublime vegetarian Squash sandwich (featuring layers of roasted butternut squash, portobello mushrooms, sweet blue cheese, and roasted garlic), and a classic Italian Chopped salad with procuitto cotto, salami, provolone, and peppers over crunchy romaine).
With over nine salads and ten sandwiches to choose from, there's something at Morso for everyone. Of course, Mio Gelato is still available in seasonal flavors made in-house, along with an extended dessert menu featuring pecan-studded bread pudding and fresh upside-down cake, made with the same appreciation for seasonal ingredients and quality presentation as the rest of the chef-powered menu.
According to Giambalvo, the return to the kitchen (and to the neighborhood) is a relief: "I'm really happy to be back in the Pearl. It suits me. I'm a New Yorker, I need the energy of a busy street. If I don't have concrete under my feet I get dizzy."
Morso
www.morsopdx.com
Open Sunday through Wednesday, 7 am to 10 pm
Thursday through Saturday, 7 am to 11 pm
Pearl District: 25 NW 11th Avenue, Portland, OR; 503-226-8002
Bridgeport Village: 7291 SW Bridgeport Rd, Tigard, OR; 503-747-2090