FOOD AND WINE EVENTS
Pre-IPNC Dinner Guide
Whether you're ponying up for the big weekend or want to join the IPNC fun without the three-day commitment, there are plenty of opportunities to clink glasses at these pre-IPNC dinners and events.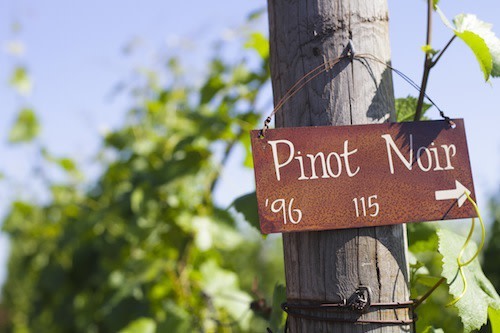 The International Pinot Noir Celebration will be pouring into the local wine country for its 26th year from July 27-29, with over 70 international Pinot Noir producers, 60 Northwest chefs, and thousands of guests hailing from every corner of the globe.
It's kind of like the Cannes Film Festival, but with less red carpet gowns, less movies, more fleece, and way more great wine. If you haven't snagged a ticket by now, there are still weekend passes available (For ticket information, head over to the IPNC website.). If a full weekend ticket isn't in the cards this year, don't worry, you can still get a taste of IPNC's Pinot-powered party.
Each year on the Thursday before the big weekend, Portland chefs team up with local wineries for dozens of raucous pre-IPNC events, and I've assembled your passport to the events worth a trip out to wine country.
¡Salud! Benefit Dinner
An intimate evening of fun and fundraising for ¡Salud!, which provides healthcare to Oregon vineyard workers, featuring guest of honor Jacques Lardière of Maison Louis Jadot. The dinner will also include wines from Winderlea Vineyard & Winery and Pinot-friendly Italian cuisine from James Beard Award Finalist Cathy Whims of Nostrana.
Where: Linfield College, 900 SE Baker Street, McMinnville
When: 7 pm
How Much: $150 per person. For tickets, contact Lindsay Coon at 503-681-1850 or [email protected]
Counter Culture 2012 at Anne Amie Vineyards
If food cart wine pairings are more your style, head over to Anne Amie Vineyards for a night of street food and international wine at Counter Culture 2012. Think Biwa, Bollywood Theater, The Country Cat, DOC, Laurelhurst Market, Lovely's Fifty-Fifty, Pok Pok, Por Que No?, Tastebud, Violetta, The Woodsman Tavern, and The Waffle Window. Featured wines include Oregon's Colene Clemens, Ghost Hill Cellars, and Bethel Heights Vineyard; Ata Rangi from New Zealand and Quails' Gate from Canada; California's Bouchaine Vineyard, Freeman Winery, Lincourt Winery and many more.
Where: Anne Amie Vineyards 6580 NE Mineral Springs Road, Carlton
When: 6 pm
How Much: $75 per person. For tickets, contact Ksandek Podbielski at 503-864-2991 or [email protected], or buy online here.
Tony Demes with Luminous Hills and Seven Of Hearts Wine at Noisette
This eight-course dinner at Noisette will feature Modern French cuisine from Chef Tony Demes alongside elegant small-production wines from Seven of Hearts and Luminous Hills that reflect different local terroirs and varietals.
Where: Noisette Restaurant 1937 NW 23rd Place, Portland
When: 6 pm
How Much: $130 per person. For tickets, contact Lena Kim at 503-481-6749 or [email protected]
Aaron Barnett of St Jack at R. Stuart & Co.
This exclusive dinner at R. Stuart & Co. Wine Bar will feature rustic bouchon-inspired Lynonnaise cuisine paired with hand-selected wines from the R. Stuart & Co. library.
Where: R. Stuart & Co. Wine Bar 528 NE Third Street, McMinnville
When: 6:30 pm
How Much: $90 per person. For tickets, contact Rebekah Bellingham at 503-472-4477 or [email protected]
Daniel Mondok with Scott Paul Wines
This international event will feature top Pinot and Burgundies from four IPNC featured wineries, including three of Burgundy's top young stars—Hugues Pavelot. Alexandrine Roy, and Thiébault Huber. Current and library vintages will be paired with dishes from chef Daniel Mondok of Paulée (formerly chef-owner of Portland's lauded Sel Gris).
Where: Scott Paul Wines 128 S. Pine St., Carlton
When: 6:30 pm
How Much: $150 per person. For tickets, contact Kelly Karr at 503-319-5827 or [email protected]
Sarah Schafer at Stoller Vineyards
This intimate dinner at the home of Bill Stoller will feature dishes from chef Sarah Schafer of Irving Street Kitchen, wines from Bertrand Ambroise of Maison Ambroise and Melissa Stackhouse of J Vineyards, and breathtaking views of the valley and Stoller Vineyards.
Where: The home of Bill Stoller at Stoller Vineyards, 16161 NE McDougall Road, Dayton
When: 6 pm pool-side reception, 7 pm dinner on the patio
How Much: $135 per person. For tickets, contact Grace Cargni at 503-864-3404 or [email protected]
For the full list of pre-IPNC dinners, head to the IPNC website. The listing of dinners will be updated frequently, so check back for more as July creeps closer.