OPENING WATCH
Sneak Peek: Paulée
We've got the exclusive opening night details for Daniel Mondok's ambitious Dundee restaurant Paulée, set to debut Wednesday, May 30th.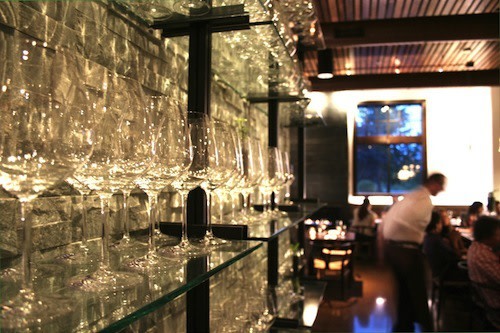 After a few months of intensive renovation and menu planning, the "farmhouse-meets-modernist" Paulée is set to open its doors in Dundee on Wednesday, May 30th.
The 90-seat seasonally-inspired restaurant from James
Beard-nominated Executive Chef Daniel Mondok and Master Sommelier Brandon Tebbe is ready to raise the bar for wine country dining in the Willamette Valley.
As reported earlier this year, Paulée features two distinct and complementary dining environments, anchored around an impressive 10-foot, glass-enclosed wine cellar. The bar will feature an all-raw menu (think Buffalo Carpaccio with pine nut spruce gremolata and kumquat confit, Taylor Bay Scallops with rhubarb soup, green almonds, and celery leaf, or Persian cucumbers with olive, strawberries, yogurt and mint) and the dining room will offer Mondok's worldly and modern culinary style that earned him accolades at Sel Gris and Genoa, with a wide variety of dishes that can be composed into a five-course tasting menu.
Appetizers will feature playful dishes like sweetbreads with Danish farm egg pancakes, apple butter, bacon, and maple syrup as well as rabbit liver bread pudding with shitakes and country gravy. A variety of salads, soups, and flavorful pasta dishes (think rabbit sugo with white wine, chili, parsley, and parmesan reggiano over papardelle or smoked & shaved artichoke over tonarelli) will transition to adventurous main entrees, striped bass "a la plancha" with Manhattan clam and mussel chowder, apple-wrapped grouper with potato risso and beet tartare, or succulent "veal'chetta" with morels, bone marrow, marble potatoes, and sauce bordelaise.
With both upscale and casual dining options, the restaurant aims to attract diners in muddy boots or three-piece suits.
The early plans for the ambitious eatery have come to fruition: the meat and produce is sourced from down the road; the restaurant has its own acreage managed by Melody McClary, former farm manager of Montesino Organic Farm in Wimberley, Texas; and the beverage menu is a comprehensive survey of the best sips available, including 66 carefully curated wines by the glass, 48 of which are Enomatic-preserved, 12 local wines on tap, 12 draught beers (half local, half international), a sake list, and a full-scale cocktail program with a focus on artisan spirits and fresh squeezed juices.
Stay tuned for photos of the space and first bites, right here on Eat Beat, and head out to Paulée to get a taste for yourself. Starting on May 30th, dinner will be offered Wednesday through Monday from 4:30 to 9:30 pm, the bar will be open an hour before and after dinner service, and the team has plans to expand to lunch to begin lunch service in the coming months.
Paulée
1410 N. Hwy 99W, Suite 102 in Dundee, Oregon; 503-538-7970