TREND WATCH
Strawberries Get Savory
Dinner menus around town are bursting with farm-fresh berries, bringing the spring dessert staple to the main course.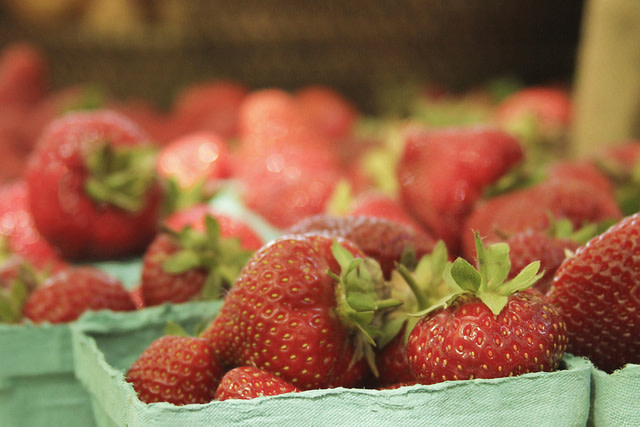 Move over, shortcake! This season, Portland chefs are exploring the savory side of the first berry to hit the farmers market:
Chef Aaron Woo of NE Alberta's Natural Selection is stirring up strawberry and thyme risotto with roasted ramps, fennel, balsamic and basil, as well as a wild watercress and strawberry salad with apple, endive, blue cheese, and raisin croutons.
Chef Johanna Ware at NE Fremont's smallwares is preparing a silken tofu salad with pickled strawberries, shiso, red onion, sherry vinegar, and greens. 4605 NE Fremont St
Chef Eric Joppie at SE Division's Bar Avignon is mixing spring greens with Groundworks Organics strawberries, Portland Creamery goat cheese, roasted almonds, and slices of fresh fennel. 2138 Southeast Division St
Greg Denton and Gabrielle Quiñonez Denton of NE MLK's Ox Restaurant are balancing their grill-centric menu with a fresh green kale and sweet gem lettuce salad topped with a feta ranch dressing, fried chickpeas, Kalamata olives, and Viridian farms strawberries. 2225 NE Martin Luther King Jr Blvd, Suite 100
Chef Greg Perrault of East Burnside's June is serving seared King Salmon with headcheese, baby artichokes, and fresh strawberries. 2215 East Burnside St
Chef Dolan Lane at SE Water's clarklewis is pairing decadent duck confit with bright pickled green strawberries and rhubarb. 1001 SE Water Ave # 160
Chef Tony Meyers of NW 21st's Serratto is bringing back his favorite seasonal preparation of strawberries, served as a sherry-spiked gastrique over seared foie gras on toasted brioche. 2112 NW Kearney St
Off the dinner menu, Ambonnay Champagne Bar's David Speer is going back to the classics with a Oregon strawberries and Champagne pairing. For $16, fans of berries and bubbly will receive a hearty serving of Viridian Farms strawberries and a glass of Louis Roederer Carte Blanche Extra Dry NV. 107 SE Washington St
Have you sampled savory (or sweet) applications of strawberries around Portland? Share your tips in the comments below!