Go Here Now
The Driftwood Room
Go back in time to a more sophisticated scene at the Hotel Deluxe.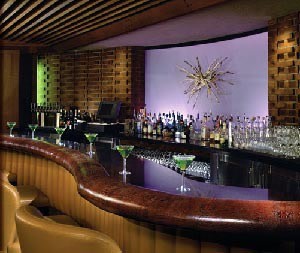 In a time when restless hipsters and hepcats covet vintage quality from the 1940s-60s, the Driftwood Room, the swanky watering hole within the Hotel Deluxe, remains a heavily trafficked destination for cool kids and fans of mixology alike. The lounge retains its original plush and charm with very little retouching since being installed in the mid-1950s when it was still the Hotel Mallory. The Mallory was opened in 1912 (Happy 100th birthday, by the way!) by Oregon Bar Association founding member Rufus Mallory, and it soon became a hoppin' hotspot, thanks to its well-appointed parlours, a ballroom, billiards, fine spirits, and cigars. When Provenance Hotels took over and renovated the property into the Hotel Deluxe in 2006, the design team decided to pay tribute to the good ol' days, celebrating Hollywood's Golden Age (especially the moody post-war film noir movement) by adorning the walls with black-and-white photographs depicting scenes from classic movies and quellazaire toting starlets, all with a definite nod to the modern-edged aesthetic of Art Deco.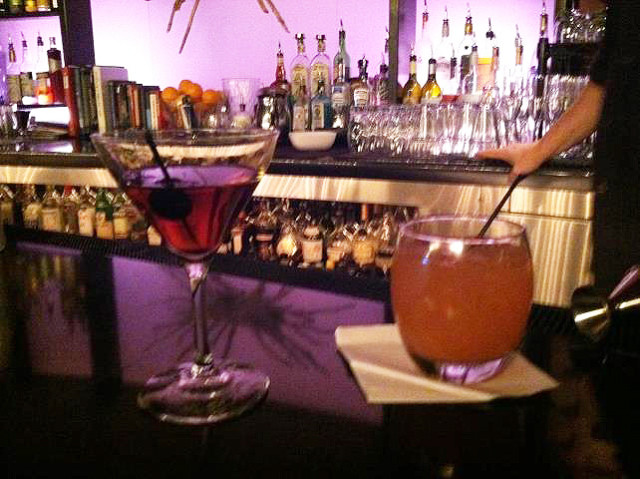 The menus for the property's two eateries, the main restaurant Gracie's and the Driftwood Room, likewise embrace a more elegant past. The recurring themes in the recently updated Driftwood menu are noticeably nostalgic, with a design reminiscent of Hollywood mementos, matchbooks, and racy old tabloids. The drinks, named for celebrity and cinema, are the creations of head bartender Michael Robertson. Once the domain of no frills spirit + mixer combinations, the current crop of potables reflects Portland's whole-hearted enthusiasm for the Craft Cocktail movement, as the busy bartenders concoct and infuse graceful-looking pours with locally distilled spirits, a collection of fine artisan bitters, and other fresh and tasteful ingredients.
It took a moment for my eyes to adjust to the low lighting of the Driftwood's intimate space, with most of the glow emanating from the curved bar. If you drop your phone, especially after imbibing one or two of the signature cocktails, you may have trouble finding it. Of course, a dark bar is ideal for a first date (especially from OKCupid), and it's also a hideaway for lone wolves to brood and contemplate life's injustices over a Richard Burton (absinthe, bourbon, sweet vermouth, grand marnier, and lemon). We were treated to table service from Robertson, and as he poured me a Sideburn, mixing Eastside Distilling's Burnside Bourbon along with aperol and blood orange liqueur, lemon juice, and just a bit of lavender simple syrup, he gave my friends and I a history lesson on General Burnside, the man who's face graces the bottle.
Robertson is also justifiably proud of his bubbly array of Champagne cocktails, such as the Roman Holiday, a buoyant blend of campari, fresh grapefruit juice, house-made Smith's hibiscus tea simple syrup and champagne. For the fans of the classics, the Driftwood Room also has one of the most extensive Manhattan menus in town, including the Sidney Poitier—a smooth and smokey shake of Makers Mark bourbon, punt e mes sweet vermouth, and aztec chocolate bitters.
The artful complexity of the menu is impressive and the drinks are strong, but they're not cheap, running between $9-14. I advise imbibers to arrive during one of the happy hours, (2-6:30 PM, and 9:30 PM-close), as there's a nice selection of the cinema studded Champagne cocktails at $6 a pop, and usually a nightly bartender's special. As for the food to temper the tipple, the menu is vast, but the tables are small and you may have to juggle dishes a bit when sharing. It's worth it, as they offer generous portions and Happy Hour prices on all food items, ranging from $4 salads and mac and cheese, topping out at $9 for a delicate seared tuna nicoise. The bar used to hand out complimentary baskets of popcorn, but these have been replaced by hand-cut fries tossed in sauces and seasonings of choice, such as being truffled, or smothered in white cheddar for $4. They have also added heartier comfort food, such as meatloaf and pot roast, and a few items that reflect head chef Mark Hosack's Texas roots, such as the open-faced empanada, and a grilled Southwest shrimp skewer with a not-to-be-left-on-the-plate potato hash in lemon cream.
The Driftwood's new menu isn't the only change afoot. The main restaurant, Gracie's, is now combining two Portland obsessions: brunch and Happy Hour—serving Champagne cocktails at Happy Hour prices from 10 am-2 pm on the weekends. Gracie's also serves brunch every day.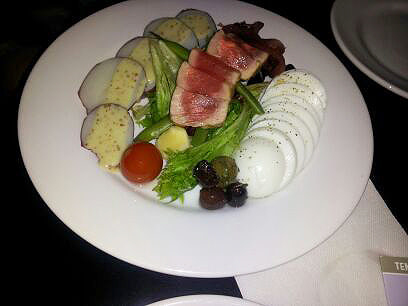 If you while away an evening and decide that you've have had a touch too much merriment, you can always take advantage of the fact that you are at a hotel with luxe accommodations, or plan ahead and book a special stay package like "The Shaken and Stirred", which, along with your room, includes cocktails and a private mixology lesson from the pros behind the bar. And every summer the Hotel DeLuxe partners with NW Film Center for Top Down: Rooftop Cinema for six summer evenings of cult and classic film screenings, along with live music intermissions from local bands, and plenty of cocktails, brews, and BBQ to be had—all outdoors and up high on the hotel's rooftop. One of the featured movies this year is rumored to be about an Edsel-driving ace reporter, and I may just kick back and take it in accompanied a Mallory Manhattan, or perhaps something involving the cardamom bitters that Robertson was enticing me with. In any case, I know I'll be in good hands.