BREAKING FOOD NEWS
Xico Coming to Division
This summer, a pair of food-savvy Nostrana vets will unleash a love of chiles, chocolate, and fresh-ground cornmeal on Portland's thriving "Eat Street."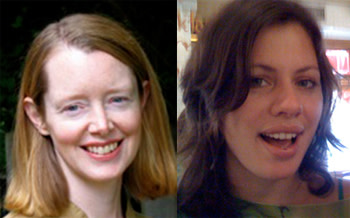 If 2011 was the year of the French New Wave, 2012 is shaping up as the Mexican revolution. As Christopher Israel readies to open his anticipated, high-low seafood-centric Corazon on May 10 (1205 SW Washington St), another plan is shaping up to send Mexican food in a fresh direction. Eat Beat has learned that Kelly Myers, Nostrana's respected chef de cuisine and a farmer's market insider, will head up the kitchen at Xico on 3715 SE Division St. At this 60-seat,1,700-square-foot eatery, Myers and owner Elizabeth Davis (Nostrana's former GM) are rethinking Mexican cuisine for Portland: part purist, part playful, part dogged in pursuit of local and authentic ingredients. They're not alone. Thirteen blocks away, at the newish Mi Meri Mole, blogger Nick Zukin slings his passion for Mexico City–style tacos de guisados (5026 SE Division St). Just a bit north, the fun-loving Robo Taco (SW Sixth & Morrison) has joined Portland's growing artisan taco movement.
Davis says the restaurant's name, "Xico," which she pronounces "chee-koh," has no real meaning and is simply meant to convey a mood, a vibrancy. That said, Xico (truly pronounced "hee-koh"), located in the Mexican port region of Vera Cruz—where the local flavors embrace capers, olive oil, and other Mediterranean notions—is one of many influences for two food-savvy vets rooted in Italian cooking (before Nostrana, Myers was a menu chef at Genoa). Handmade everything is at the center of Xico's early philosophy, including a daily stash of fresh organic cornmeal for tortillas and tamales ground on a hand-built Molino, or "mill," commissioned from a Latino builder in Los Angeles. The game plan also includes savory chocolates and drinking chocolates, Oaxacan cheeses, Oregon produce, a sturdy wine program, and curated tequilas and mezcals.
Xico plans to unfold in two phases this summer. First up, scheduled for mid-July, is a lunch-only take-out window that opens into the kitchen. The showcase "to go" dish will surely be Xico's rotisserie chicken dinners, sided by fresh salsas and homemade tortillas. By early August, Xico hopes to open it 60-seat dining room, with an inside bar and 20 outdoor patio spots. As with Israel's Corazon, Xico anticipates a menu approach with both casual and stepped-up options.
But nothing animates the duo more than the idea of grinding fresh corn every day. Enthuses Davis: "Our Molino is five horsepower. It's capable of grinding 500 pounds in 30 minutes! Of course we'll never use that much. But fresh, organic, every day…we're really excited about that." They're not alone. Stay tuned to Eat Beat for more details as they unfold.