Beer Bulletin
A Matter of Taste
Portland beer geeks awaken their senses.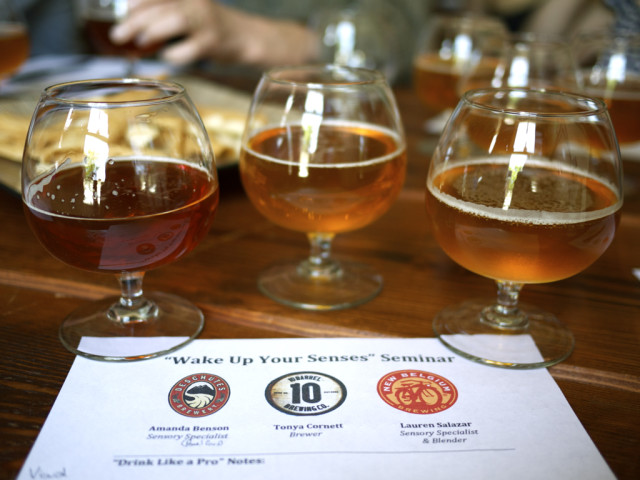 It's true! Professional Beer Taster is a real job—and, as 30 or so local beer geeks learned on Sunday, a rather complicated job. Two of the nation's finest joined one of Oregon's top brewers to host Portland Beer Week's much-anticipated Wake Up Your Senses! seminar, held in Saraveza's intimate event space.
More accurately known as "sensory specialists," Lauren Salazar and Amanda Benson are in charge of tasting at New Belgium and Deschutes Breweries, respectively, while Tonya Cornett holds the title of Research & Development Brewmaster at 10 Barrel Brewing. Each expert brought two beers for guided tastings, an IPA and a specialty brew. The three IPAs were certainly familiar to most beer-loving attendees (Deschutes's Inversion, New Belgium's Ranger, and 10 Barrel's Apocalypse), but tasting them side-by-side was still an eye-opening experience: the Inversion had a noticeable caramel taste, the Ranger smelled just like fresh-cut grass, and the Apocalypse was a beautiful mix of citrus and pine.
The second round of beers was considerably more novel. Benson brought Deschutes' Chainbreaker white IPA, a lemony, cardamom-laced mash-up of a Belgian wit and an IPA. Cornett's "Crush" was a bright pink, straightforward raspberry sour, which she referred to as her "training wheels" beer for drinkers new to the world of sours. Salazar, who also serves as New Belgium's Master Blender, wowed the crowd—and her fellow panelists—with her delicate, complex Tart Lychee sour touched with Vietnamese cinnamon. After a brief crash course in the five dimensions of beer tasting (visual, aroma, taste, mouthfeel, and body), the loosely-structured seminar became more focused on brewing and chemistry than tasting descriptors. This was mostly due to the questions raised by the crowd of home brewers and aficionados, who were eager to pick the brains of the knowledgeable women at the front of the room.
The panelists were happy to oblige. Salazar's anecdote about the Colorado-based brewery's initial foray into Northwest-style IPAs ("We thought our first IPA was pretty good, but our Northwest distributors had to burst that bubble.") had the crowd of Portland home brewers chuckling smugly, while Cornett's tale of removing biscuit malts from the Apocalypse recipe had them hanging on her every word.
Salazar was a particularly informative font of beer wisdom. She described how the first sip of dry-hopped beer hitting your tongue is actually the first time those hops have touched heat, resulting in a wave of overwhelming flavor… and "the best burps of all time." The suntanned Salazar also instructed the group on the danger of patio dining: a foul-tasting chemical reaction begins the instant hops are struck by light, and so pantomimed her own habit of keeping her IPA under the table, safely in the shade.
The seminars (and tastings) continue throughout Portland Beer Week:
Wednesday: Barrel-Aged Beer seminar at Widmer Gasthaus; Brewers Social Hour at Bridgetown Beerhouse
Thursday: Beer & Food Pairing seminar at Wildwood; Battle of the Belgians at Bazi Bierbrasserie
Friday: Blind tastings & trivia at The Beermongers