Beer Bulletin
Beer & Cheese? Please!
A mouthwatering finale to Portland Beer Week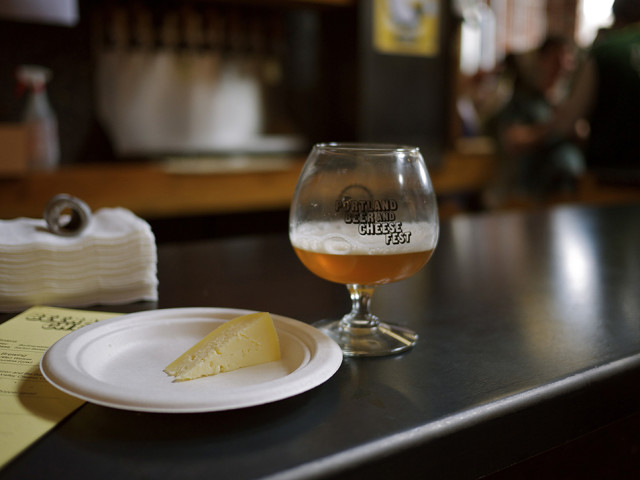 For a city that loves its beer festivals, it's astounding that last Sunday's Portland Beer and Cheese Festival at the Commons Brewery was the first of its kind… but it's a safe bet it won't be the last. With ten local breweries contributing single-batch or specialty beers, award-winning cheesemonger Steve Jones playing matchmaker, and a generous spread of cured meats from Chop butchery, this was a most mouthwatering way to conclude Portland Beer Week.
The tasting stations were interspersed throughout the Commons' airy, high-ceilinged tasting room, with attendees perching on empty kegs and balancing their commemorative tasting glasses on wooden barrels. For a very reasonable $25, each ticketholder received a punch card good for ten four-ounce tastings of beer and ten one-ounce servings of a specifically paired cheese.
With Cheese Bar proprietor Jones hand-selecting the cheeses to accompany the Oregon beers, tasters were in very capable hands. Some pairings were straightforward, such as the extremely hop-centric and aromatic Perfect Storm Double IPA from Oakshire Brewing partnered with an extra-sharp five-year Wisconsin cheddar. In a smart twist on the classic port-and-Stilton combo, Block 15's Figgy Pudding—a sweet English strong ale aged in brandy barrel—was perfectly suited for the pungent creaminess of its accompanying Colston-Bassett Stilton.
Other pairings were more nuanced: Upright Brewing's Offen Weisse, an aggressive German wheat beer with layers of malt, spice, and fruity notes, was perfectly mellowed by the nutty, slightly sweet cow's milk Mountina from Bozeman, leaving a much smoother finish on the end of the beer. The complex character of the Commons' own Flemish Kiss, a slightly floral Northwest pale ale touched with Belgian yeast (brettanomyces bruxellensis, to be precise), was similarly highlighted by the taste of an airy, light Samish Bay Aged Ladysmith, with the beer's sweet fruit flavors taking center stage.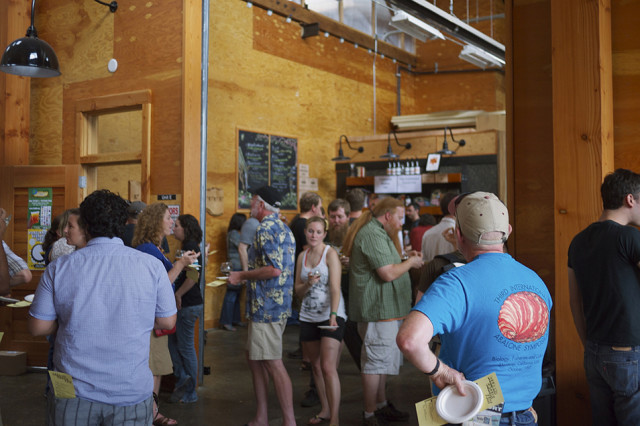 With only 200 tickets available (and sold out well in advance), the festival had short lines and more than enough space for everyone to wander from station to station. Other than the obvious need for a few more tables to help tasters juggle their plates and glasses, the festival seemed to be yet another example of Portland Beer Week's well-curated and appropriately sized events. As one festival attendee noted, "Nobody's here to get wasted, nobody's bumping elbows—this is beer geek heaven."