FOOD EVENT SPOTLIGHT
Boke Bowl Continues Pop-Up Tradition
Industrial Southeast's popular ramen restaurant will host a preview dinner for Bhap Sang, the upcoming SE Division brick-and-mortar Korean restaurant from Kim Jong Grillin's Han Ly Hwang.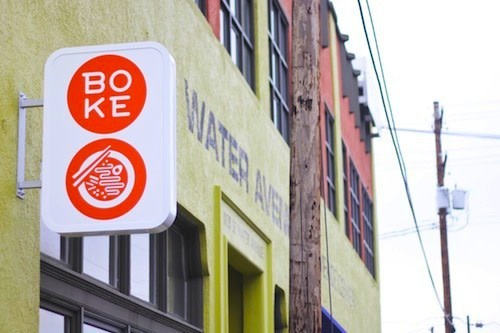 It seems as though Boke Bowl will never stop paying it forward.
After the success of their own pop-up-restaurant-to-brick-and-mortar-eatery Cinderella story, Boke Bowls' Patrick Fleming and Brannon Riceci have made supporting burgeoning local chefs and culinary artisans a permanent part of their business plan. Though the red-hot ramen shop recently debuted p.m. hours Thursday through Saturday, most evenings at Boke Bowl are reserved for beverage pairing events, private parties, and collaborative dinners meant to highlight local talent that's about to burst onto the scene.
Next up on the roster of pop-up love? Boke Bowl will host Han Ly Hwang—owner of popular food cart Kim Jong Grillin' (which shuttered due to fire damage last year) and the upcoming SE Division brick-and-mortar Koran restaurant Bhap Sang—for a six-course preview dinner on Monday, June 25th. The $70 dinner will offer diners a first glimpse of new menu items alongside cocktail pairings from New Deal Distillery, as well as the chance to chat with the owners about their culinary vision (Bhap Sang is set to open at 2865 SE Division this summer). Seating is limited, so grab your reservations ASAP here.
Bhap Sang Preview Dinner at Boke Bowl
Monday, June 25th at 6:30 pm
6 Courses and 3 cocktails for $70, gratuity included
Boke Bowl 1028 SE Water Avenue; 503-719-5698