MARKET EATS
Chef in the Market: Scott Ketterman
Crown Paella's party-throwing chef is next in the summer series of free cooking demonstrations at the PSU Portland Farmers' Market.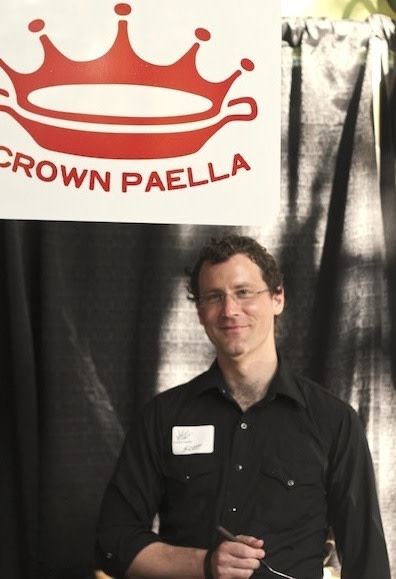 Get your notepads—and your appetites—ready… Summer's almost here (despite the clouds), and the Chef in the Market series is off to a great start!
This week, come on down to the PSU market at 10 am to meet, greet, and eat the market-fresh treats from Scott Ketterman, the chef and owner of Crown Paella catering and the former culinary mastermind at Simpatica Dining Hall. We'll be making a signature dish from Scott's wheelhouse and sharing tips and tricks for picking fruits and vegetables at the market, turning them into tapas, and throwing an awesome Spanish-inspired party.
To get everyone pumped for the main event this weekend, I sat down with Scott to sniff out the secrets behind Crown Paella and the man with the magic paella pan. See you on Saturday!
What sparked your passion for paella?
It's the perfect food for throwing parties. There's the show of the paella cooking that captivates everyone's attention and then the shared experience of eating from the same pan.
Because you're dealing with such a traditional dish, is it daunting to get creative and try to come up with variations?
I stick very closely to traditional technique, but local ingredients and seasonal availability dictate the variations. It's more of an intuitive process than a creative one, since the template is already defined. As for the ingredients, there's an amazing number of Spanish products being produced or grown locally now. Spanish style chorizo from Chop, Viridian Farms' peppers and beans and Arbequina olive oil from the Oregon Olive Mill, just to name a few.
What's the best kind of wine to pair with paella?
Paella is a really wine friendly dish. I'm a big fan of Albariño, but all crisp whites, rosés and light reds all pair well.
Do you miss anything about the brick-and-mortar restaurant world now that you're in catering?
I love the challenge of creating events, where no two spaces are the same and all of the details need to be considered anew every time. It's really rewarding to watch parties go off without a hitch and to see all of the guests fully enjoying themselves.
Do you think people can make great paella at home?
Of course they can. A grill is the perfect place to cook paella. Come to the market to find out how!
Chef in the Market 10 am, FREE, in the middle of the farmers' market at Portland State University in the South Park Blocks between SW Hall & SW Montgomery.