HOLIDAY EATS CHEAT SHEET
Father's Day Ideas For Every Dad
Still scrambling for last-minute plans to treat your father this Sunday? Here are a few ideas for food-centric good times for you and the dads in your life.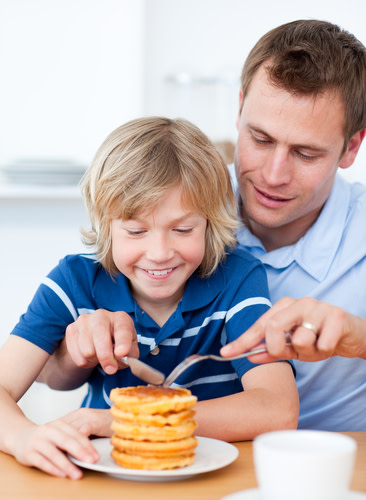 In Portland, not every dad wears ties, there are plenty who'd rather read than use power tools, and grilling gear will likely remain unused for another month. This year, think past the cliché Father's Day gifts and check out the countless quirky ways local restaurants are honoring the city's papas this Sunday:
The Carnivorous Clan-Leader
Chef/owner/dad Adam Sappington of the Country Cat is offering a meat-centric Father's Day brunch menu packed with dishes sure to please the most important man in your life. Brunch guests will be greeted with a "Basket of Jerky" filled with house-made beef, pork, and lamb jerky before diving into brunch specials like steak and eggs, pork lovers hash with scrapple, and fried pig ears. Does dad have a sweet tooth? Show him the love with house-made granola or syrup-drenched buttermilk pancakes. Brunch will be served from 9 am to 2 pm on Father's Day, and reservations can be made by calling 503-408-1414. 7937 Southeast Stark Street
The Movie Fanatic Father
Northeast Fremont's hottest new restaurant Smallwares is turning their back room bar, Barwares, into a movie-powered "man cave" just for dads. The big screen will be playing family-related movies (e.g. The Royal Tennenbaums) along with smallwares' full menu, and dad-approved cocktails like "The Whiskey" (a garam masala Old Fashioned). For more information, call 971-229-0995. 4605 NE Fremont Street
The Pampered Pop
This Sunday at NE Kilingsworth's Yakuza, dads will be treated to a full day of the royal treatment. For just $35, all dads will enjoy a Yakuza Burger topped with tempura-fried pork belly, pimento cheese, and bone marrow aioli, an ice-cold Sapporo Draft, a straight-razor shave from Rook's Barbershop, and a relaxing soak in the posh garden hot tub. For an extra special treat, childcare will be available for $10 extra at Yakuza's Kids Crafting Studio. 5411 NE 30th Avenue
The Beer Loving Padre
If your father is one of the legions of beer-loving dads in Portland, this weekend couldn't get much better. This year, Father's Day falls at the tail-end of Portland Beer Week, with Sunday's Portland Beer and Cheese Fest starting at 1 pm and the Double Mountain and Spirit of 77's Timbers BBQ from 3 to 7 pm. Either event will put a huge smile on Dad's face, but tickets to both would make it the Best. Father's Day. Ever. For more information, head to the Portland Beer Week website!
The International Foodie
In addition to Dad's Day, this Sunday is also the kick-off of the Lents International Farmers Market! Treat your gourmet pop to a global picnic lunch of prepared foods at the market, then browse the hard-to-find Asian veggies, Mexican herbs, Russian pickles, and more for ingredients to prepare your own worldly dinner at home. All dads will also receive free raffle tickets to win market swag. Check out more about the Lents Farmers Market right here on Eat Beat.
The Hair of the Dog Dad
NE Alberta's Random Order Coffeehouse and Bakery will celebrate Father's Day by introducing a Bloody Mary and Fried Egg Sandwich combo special for just $10, all day long. The house-made bloody marys and made-to-order fried egg sandwiches will be available for dads and their posse all day, breakfast, lunch, dinner, or anytime in between, from 6:30 am to 11 pm. The regular menu will also be available, including all of Random Order's crave-worthy pies. 1800 Northeast Alberta Street
The Tiki Torch Bearer
The Pearl District's Trader Vic's will feature several specials for Father's Day brunch and dinner, including oven-roasted prime rib from the wood-fired Chinese oven, as well as jumbo prawns in a scampi butter. Tropical drink lovers will be treated to a special port-whiskey punch—with bourbon, orange juice, and a float of port wine served over ice—and the full brunch and dinner menus will also be available. For reservations, call 503-467-2277. 1203 NW Glisan Street
Happy Father's Day to all those Portland dads out there. You rock!