Market Watch
Dips and Finger Foods Dance Together
Eating with your hands, adult style.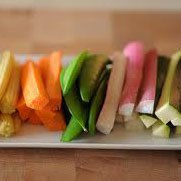 Spring celebrations bring about the need for easy entertaining eats, whether at wedding receptions, graduation parties or revelries predicated simply on (we hope) the favorable ratio of sun to rain. With farmers markets opening up in full force in June (and beginning to burst with a variety of produce), the easiest answer to the question "what should we eat" is crudités.
Easier than canapés, crudités are the finger food with a French name. Canapés are bite sized, bread-based, and entail some level of combining or constructing items, like spreading a relish, meat or cheese on a cracker or toasted bit of baguette. Crudités by contrast are just chop, serve – and dip. (Cru is French for "raw.")
The guests dip for themselves, as needed (no double dipping, however). And dips are endlessly, deliciously varied. A whirl of dried onion soup mix into sour cream is a mid-century American classic, invented by an anonymous housewife and popularized by Lipton long before the age of Twitter.
If that's not enough heavy dairy for you, the General Foods Kitchens Cookbook (written by "The Women of General Foods Kitchens" in 1959) includes a recipe for "Fruit Cream Dressing" consisting of "1/3 cup French dressing, ¼ cup mayonnaise, ¼ cup sour cream, and 1 teaspoon maraschino cherry juice (optional)." All you do is "combine ingredients in mixing bowl or jar. Mix until smooth. Serve with your favorite fruit salad."
But if that doesn't float your boat, try this recipe for Tzatziki, the Greek yogurt and cucumber dip, from Molly O'Neill's One Big Table.
2 cups plain whole milk yogurt, drained for 8-24 hours, or 1 cup Greek- or Bulgarian-style "strained" yogurt (which do not require additional draining)
1 medium cucumber, peeled, seeded, and chopped
1 tablespoon extra virgin olive oil
1 tablespoon distilled white vinegar
1 tablespoon minced fresh dill
1 teaspoon minced fresh mint
1 garlic clove, minced
Kosher salt
In a small bowl, stir together the yogurt, cucumber, oil, vinegar, dill, mint, and garlic. Season with salt to taste. Cover and refrigerate about 30 minutes, until the flavors have blended. Serve.
Makes about 2 cups.
If you still want to go the route of the onion soup mix dip, try this ultra-rich (mayo and sour cream) but "real" update.