FOOD AND DRINK EVENTS
Eat Beat Weekly Planner
Our digest of Portland's top upcoming food and drink events, including Bar Avignon's Rosé Fest, the Portland Beer and Cheese Fest, and the chef-collaboration Silk Road Dinner at Genoa.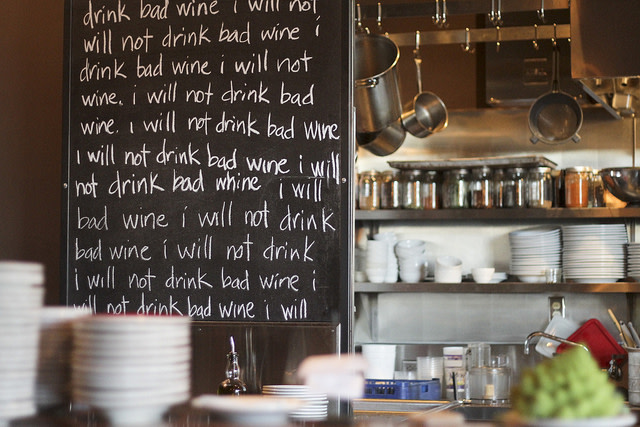 Bar Avignon Rosé Fest 2012
What: Welcome summer with a special weekend tasting of Bar Avignon's favorite rosés from around the world, hand selected by owner Randy Goodman from the 2011 vintage. Guests will taste six different rosés and are welcome to stay for dinner once the kitchen opens at 5 pm.
When: Saturday, June 16th from 4 to 6 pm
Where: Bar Avignon 2138 SE Division Street
How Much: $10 for six tastings. Tasting fee refundable with purchase of one bottle of wine.
Portland Beer and Cheese Fest
What: Part of Portland Beer Week, the Portland Beer and Cheese Fest will feature ten cheese pairings from Cheese Bar's Steve Jones alongside beers from local breweries (The Commons Brewery, Upright Brewing, Gigantic Brewing, Hopworks Urban Brewery, Widmer Brothers Brewing, Solera Brewery, Block 15 Brewing, Oakshire Brewing, Firestone Walker Brewing, Double Mountain Brewing). Chop Butchery and Charcuterie will also be on site providing free meaty snacks.
When: Sunday, June 17th from 1 to 6 pm
Where: The Commons Brewery":http://www.commonsbrewery.com/ 1810 SE 10th Avenue
How Much: $25 advance tickets. Tickets can be purchased here
April Bloomfield Book Tour Dinner at Lincoln
What: Jenn Louis and Lincoln Restaurant will host chef and author April Bloomfield (of NYC's The Spotted Pig, The Breslin and The John Dory) for a special dinner celebrating the release of her new book, "A Girl and Her Pig." The event will feature a reception followed by a three-course, family-style dinner prepared by Bloomfield and Louis (with drinks to match).
When: Wednesday, July 18th at 6:30 pm
Where: Lincoln Restaurant 3808 North Williams Avenue
How Much: $100 per person, includes dinner, drinks, and a copy of "A Girl and Her Pig." Seating is limited, call 503-288-6200 for reservations.
Collaborative Silk Road Dinner featuring Genoa and Departure
What: Next up in Genoa's series of collaborative dinners featuring top chefs from around Portland, Chef Gregory Gourdet from Departure will join Genoa chef David Anderson for a six-course exploration of the historical culinary relationship between Italy and Asia. The dinner will explore spices and exotic ingredients that made their way along the Silk Road trade route in the 13th century, and will feature Zen Buddhist-inspired vegetarian dishes, buckwheat pasta with fresh Monterey sardines, capers and golden raisins, Chinese flavors from the Mongol-ruled Yuan dynasty, slow-roasted meats with spices from the Middle East, and much more.
When: Tuesday, June 19th at 6 pm
Where: Genoa Restaurant 2832 SE Belmont Street
How Much: $120 for six courses and beverage pairings. Reserve your spot by calling Genoa Restaurant at or email [email protected].
Raptor Ridge Winery's Solstice Wine & Food Pairing
What: Part of Raptor Ridge Winery's Monthly 3rd Thursday celebration, this intimate food and wine pairing falls on the summer solstice! To mark the occasion, Raptor Ridge is offering a specially-selected flight of single vineyard wines—2011 Rose of Pinot Noir, 2010 Gran Moraine Vineyard Pinot Noir, and 2006 Harbinger Vineyard Pinot Noir—paired with a few BBQ-inspired bites prepared by Raptor Ridge chef and owner of The Side Yard Farm, Stacey Givens.
When: Thursday, June 21st from 5 to 8 pm
Where: Raptor Ridge Winery 18700 SW Hillsboro Highway in Newberg, Oregon
How Much: $15 for 3 bites, and 3 wines. For more information, contact Tom Champine or Corey Schuster at 503-628-8463
Portland Food Adventures at June
What: An intimate, multi-course dinner with chef Greg Perrault and new wine director Leah Moorhead of June. The pair will share market-inspired dishes, great wines, and their favorite places to dine and drink around Portland.
When: Thursday, June 21st at 6:30 pm
Where: June 2215 East Burnside St.
How Much: $125 per person, including food, drinks, gratuity, and gift certificates to KIR Wine Bar, Ristretto Roasters, Enchante Chocolatier, and KitchenCru. For more information, head to the PFA website.
White Burgundy & Cheese (from Cheese Bar) at Scott Paul Wines
What: The wine experts at Scott Paul will be teaming up with cheese guru Steve Jones and the crew at Portland's Cheese Bar for an exclusive event at the Scott Paul tasting room in Carlton. The flight will include several top White Burgundies ('09 Chablis 1er Cru "l'Homme Mort" from Frédéric Gueguen, '09 Pouilly-Fuissé "Clos Varambon" from Chateau des Rontets, '09 Pouilly-Fuisse "Vignes Blanches" from Domaine Thibert, '09 Meursault "Vieilles Vignes" from Buisson-Charles, '09 Puligny-Montrachet from Benjamin Leroux, and the magnificent Grand Cru '08 Corton-Charlemagne from Bonneau du Martray), each matched with a different cheese chosen to show off the wine and the cheese at their best.
When: Saturday, June 23rd from noon to 5 pm
Where: Scott Paul Wines 128 S. Pine Street in Carlton, Oregon; 503-852-7300
How Much: Tasting fee is $25, refundable with any 3-bottle purchase of the featured wines.
Beaverton Farmers Market Summer in the Vineyard Tasting at Laurel Ridge Winery
What: To celebrate their 25th year, the Beaverton Farmers Market will host a Summer in the Vineyard wine tasting at Laurel Ridge Winery, with appetizers provided by vendors from the Beaverton Farmers Market.
When: Saturday, June 24th at 12:30 pm.
Where: Laurel Ridge Winery 13301 Northeast Kuehne Road in Carlton, Oregon
How Much: $20 per person, including wine tasting as well as cheese and charcuterie from Portland Creamery and Feastworks. Register in advance at the Market website.
Know about a great event coming up that should be on our radar? Shoot me an email at [email protected] or give me a shout over on Twitter at @allisonejones. Now get out there and start eating!