FOOD AND DRINK EVENTS
Eat Beat Weekly Planner
Our digest of Portland's top upcoming food and drink events, including the White Burgundy and cheese pairing from Cheese Bar and Scott Paul Wines, a summer solstice dinner at Ristorante Fratelli, and the debut of Irving St. Kitchen's summer tapping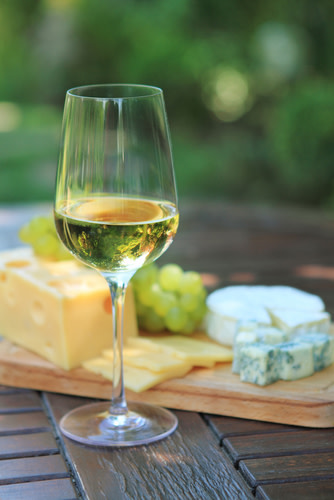 Raptor Ridge Winery's Solstice Wine & Food Pairing
What: Part of Raptor Ridge Winery's Monthly 3rd Thursday celebration, this intimate food and wine pairing falls on the summer solstice! To mark the occasion, Raptor Ridge is offering a specially-selected flight of single vineyard wines—2011 Rose of Pinot Noir, 2010 Gran Moraine Vineyard Pinot Noir, and 2006 Harbinger Vineyard Pinot Noir—paired with a few BBQ-inspired bites prepared by Raptor Ridge chef and owner of The Side Yard Farm, Stacey Givens.
When: Thursday, June 21st from 5 to 8 pm
Where: Raptor Ridge Winery 18700 SW Hillsboro Highway in Newberg, Oregon
How Much: $15 for 3 bites, and 3 wines. For more information, contact Tom Champine or Corey Schuster at 503-628-8463
Summer Solstice Dinner at Ristorante Fratelli
What: Celebrate the first day of summer with a four-course wine pairing dinner from Brasserie's Pascal Chureau and Fratelli's Paul Klitsie. Featured wineries include Teutonic Wine Company, Ackermann, and Holden, and the summery menu will feature Lyonaise salad, baked taglierini with mousseron mushroom brown butter, pheasant confit with rhubarb and St. Germain gastric, and a strawberry mascarpone gratin.
When: Thursday, June 21st at 6 pm
Where: Ristorante Fratelli 1230 NW Hoyt
How Much: $55 per person including food and wine. Email [email protected] for reservations.
White Burgundy & Cheese (from Cheese Bar) at Scott Paul Wines
What: The wine experts at Scott Paul will be teaming up with cheese guru Steve Jones and the crew at Portland's Cheese Bar for an exclusive event at the Scott Paul tasting room in Carlton. The flight will include several top White Burgundies ('09 Chablis 1er Cru "l'Homme Mort" from Frédéric Gueguen, '09 Pouilly-Fuissé "Clos Varambon" from Chateau des Rontets, '09 Pouilly-Fuisse "Vignes Blanches" from Domaine Thibert, '09 Meursault "Vieilles Vignes" from Buisson-Charles, '09 Puligny-Montrachet from Benjamin Leroux, and the magnificent Grand Cru '08 Corton-Charlemagne from Bonneau du Martray), each matched with a different cheese chosen to show off the wine and the cheese at their best.
When: Saturday, June 23rd from noon to 5 pm
Where: Scott Paul Wines 128 S. Pine Street in Carlton, Oregon; 503-852-7300
How Much: Tasting fee is $25, refundable with any 3-bottle purchase of the featured wines.
Beaverton Farmers Market Summer in the Vineyard Tasting at Laurel Ridge Winery
What: To celebrate their 25th year, the Beaverton Farmers Market will host a Summer in the Vineyard wine tasting at Laurel Ridge Winery, with appetizers provided by vendors from the Beaverton Farmers Market.
When: Sunday, June 24th at 12:30 pm.
Where: Laurel Ridge Winery 13301 Northeast Kuehne Road in Carlton, Oregon
How Much: $20 per person, including wine tasting as well as cheese and charcuterie from Portland Creamery and Feastworks. Register in advance at the Market website.
Irving St. Kitchen Kicks off a Summer of Tapping Parties
What: In keeping with their two-year tradition of serving small production wines on tap, Irving St. Kitchen will host a fun, wine-powered tapping party to celebrate several exclusive barrel-to-bar wine releases. Each event will bring together winemakers (and their proprietary cuvées), wine lovers, and great happy hour food pairings from chef Sarah Schafer. Irving St. Kitchen's first Tapping Party takes place on June 26 with Matt Berson of Love & Squalor Wine, who will be showcasing his 2011 Riesling.
When: The last Tuesday of every month through September, from 5:30 to 7 pm 9 (June 26th, July 31st, August 28th, and September 25th).
Where: Irving St. Kitchen 701 NW 13th Street
How Much: By-the-glass pour prices will vary, and early-arriving guests will feast on free appetizers selected to pair with the featured wines. For more information, call the restaurant at 503-343-9440.
Beer &

BBQ

Party at Urban Farmer
What: The culinary team at Urban Farmer will be kicking off July's Oregon Beer Fest Month with a casual BBQ dinner complete with pairings from Burnside Brewery. The feast will feature five food stations each highlighting a Burnside Brewery beer, and dishes like smoked chicken thighs with cucumber salad, pulled pork with mustard slaw, Kansas City baby back ribs with hush puppies, Texas-style beef ribs with potato salad, and Strube Ranch Wagyu brisket with corn casserole and Texas toast.
When: Saturday, June 30th from 5 to 8 pm in
Where: The Georgian Room at The Nines Hotel 525 SW Morrison
How Much: $40 including BBQ, beer, and dessert. For more information, call the restaurant at 503-802-4900.
Know about a great event coming up that should be on our radar? Shoot me an email at [email protected] or give me a shout over on Twitter at @allisonejones. Now get out there and start eating!