NEIGHBORHOOD NEWS
Eat Beat Weekly Planner
Our digest of Portland's top upcoming food and drink events, including St. Honoré Boulangerie's Tour de France coverage and Portland bike race, the North American Organic Brewers Festival, and Andina's 6th Annual Rosé Dinner.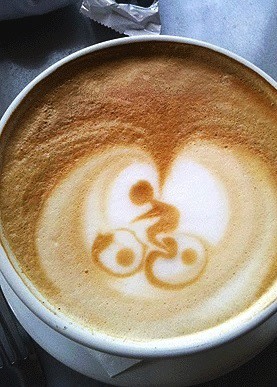 Irving St. Kitchen Kicks off a Summer of Tapping Parties
What: In keeping with their two-year tradition of serving small production wines on tap, Irving St. Kitchen will host a fun, wine-powered tapping party to celebrate several exclusive barrel-to-bar wine releases. Each event will bring together winemakers (and their proprietary cuvées), wine lovers, and great happy hour food pairings from chef Sarah Schafer. Irving St. Kitchen's first Tapping Party takes place on June 26 with Matt Berson of Love & Squalor Wine, who will be showcasing his 2011 Riesling.
When: The last Tuesday of every month through September, from 5:30 to 7 pm 9 (June 26th, July 31st, August 28th, and September 25th).
Where: Irving St. Kitchen 701 NW 13th Street
How Much: By-the-glass pour prices will vary, and early-arriving guests will feast on free appetizers selected to pair with the featured wines. For more information, call the restaurant at 503-343-9440.
Deschutes 24th Anniversary Celebration
What: Deschutes' Portland Pub will celebrate the 25th year of Deschutes brews with a specialty food menu all day long, barrel-aged beers, "firkins of fun", giveaways and a beer-of-the-hour! Bachelor Bitter, the beer that started it all, will also be on tap.
When: Wednesday, June 27 from 11 am to 11 pm
Where: Deschutes Brewery & Public House 210 NW 11th Ave
How Much: Food specials and drinks. Prices vary. Call 503-296-4906 for more information.
North American Organic Brewers Festival
What: The concept behind the North American Organic Beer Festival is simple (and ambitious)—host the most earth-friendly beer festival in North America. They'll be pouring 50 organic beers and ciders, all into reusable, compostable cornstarch glasses made using solar power (science FTW!). The festival is set with live music, a children's zone, and lots of eco-compliant vendors. Be forewarned, there's no parking. Bring the tandem bike, leave the car.
When: Thursday and Friday, June 29th & 30th (noon to 9 pm) and Saturday, June 30th (noon to 5)
Where: Overlook Park; N Fremont St & Interstate Ave.
How Much: Free admission, all ages. $6 biodegradable tasting glass and $1 tokens required for beer tasting. $1 off glass with validate MAX ticket, onsite bike corral ticket, or 3 cans of food.
St. Honoré Boulangerie's Daily Tour de France Coverage
What: St. Honoré Boulangerie will once again air the Tour de France race June 30 to July 22, a tradition for cycling enthusiasts and amateurs alike. Each day's race will be broadcast on large screen televisions every morning at 6 am at the NW Thurman location (2335 NW Thurman, Portland) and 7 a.m. at the Lake Oswego location (315 First Avenue, Lake View Village) and then replayed throughout the day. In addition to daily coverage of the races at the bakery, St. Honoré Boulangerie will host its first bike race through the streets of Northwest Portland during the Tour de France on Saturday, July 7—a one kilometer long course that features eight corners and wide streets—with cash prizes (a free kids race will also be available).
When: Daily coverage from June 30 to July 22. Portland race on Saturday, July 7
Where: St. Honoré Boulangerie 2335 NW Thurman in Portland and 315 First Street in Lake Oswego.
How Much: Daily Tour de France screenings are free. Pre-registration for the Portland races is available here. Day of race registration will open at noon for $25. For more information, please call the Portland location at 503-445-4342.
Allium Bistro's Two Year Anniversary
What: A birthday bash to remember, with free food, live music from Reggie Houston and
Janice Scroggins, and estate-grown wine tastings from Willakenzie Estate. The full dinner menu—plus a few anniversary specials—will be available as well.
When: Saturday, June 30th from 5 to 8 pm
Where: Allium Bistro 1914 Willamette Falls Drive in West Linn.
How Much: Free! Call 503-387-5604 for more information.
Beer &

BBQ

Party at Urban Farmer
What: The culinary team at Urban Farmer will be kicking off July's Oregon Beer Fest Month with a casual BBQ dinner complete with pairings from Burnside Brewery. The feast will feature five food stations each highlighting a Burnside Brewery beer, and dishes like smoked chicken thighs with cucumber salad, pulled pork with mustard slaw, Kansas City baby back ribs with hush puppies, Texas-style beef ribs with potato salad, and Strube Ranch Wagyu brisket with corn casserole and Texas toast.
When: Saturday, June 30th from 5 to 8 pm in
Where: The Georgian Room at The Nines Hotel 525 SW Morrison
How Much: $40 including BBQ, beer, and dessert. For more information, call the restaurant at 503-802-4900.
Build-a-Burger at the King Farmers Market
What: The annual barbeque fundraiser for Fresh Exchange (the token-matching program for low-income market shoppers using SNAP). For a suggested donation of $5 shoppers can enjoy a hot-off-the-grill grass-fed burger with farm-fresh fixins sourced from King Market vendors, all for a great cause.
When: Sunday, July 1st from 10 am to 2 pm
Where: King Farmers Market Northeast 7th Avenue and Wygant Street
How Much: $5 per burger. For more information about SNAP and Fresh Exchange, head 'here":http://www.portlandfarmersmarket.org/programs-and-services/snap-participants/.
Andina's 6th Annual Rosé Dinner
What: Ring in summer with Andina's popular rosé pairing dinner, featuring refreshing and diverse wine selections and world music from Sommelier Ken Collura. Chef Hank Costello will prepare original tapas and a full dinner, with dishes like chile-marinated pork belly kebobs and sea bass baked in salt, with an escabeche of onion, pepper,
and sherry vinegar.
When: Monday, July 9th at 6:30 pm
Where: Andina 1314 NW Glisan St.
How Much: $65 per person, includes rosé tastings and a family-style dinner. Reservations are required and can be made by calling the restaurant at 503-228-9535.
Know about a great event coming up that should be on our radar? Shoot me an email at [email protected] or give me a shout over on Twitter at @allisonejones. Now get out there and start eating!