FOOD AND DRINK EVENTS
Eat Beat Weekly Planner
Our digest of Portland's top upcoming food and drink events, including 4th of July menus, the Drink Pink Rosé Festival at Patton Valley Vineyards, The Drink Primer book release party at Castagna, and an El Tesoro Tequila Tasting at Casa del Matador.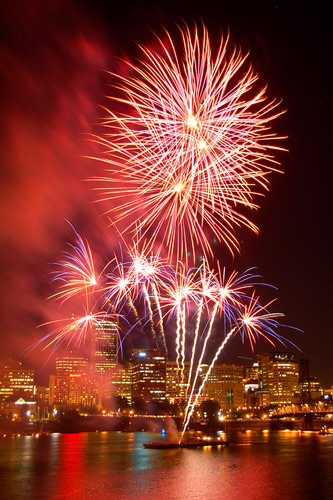 North Willamette Vintners' Red, White & Celebrate
What: A long weekend of wine tastings to celebrate the 4th of July and the arrival of summer. Join 12 wineries just miles from Portland for festive tastings featuring seasonal berries, barrel tastings and plenty of bocce ball. Each winery will offer its own unique take on what summer means in Oregon Wine Country. Stop by Smith Berry Barn to taste wines with locally grown berries at Red, White and Berries; soak in the sounds of live music at several locations with Red, White and Rock; sample the newest releases throughout the region with Red, White and Release; meet a winemaker for a barrel sample at Red, White and Barrels; and don't forget Red, White and saké at SakéOne.
When: June 30-July 4, from 11 am to 4 pm each day.
Where: All members of the North Willamette Vintners. Visit the NWV website for more information.
St. Honoré Boulangerie's Daily Tour de France Coverage
What: St. Honoré Boulangerie will once again air the Tour de France race from June 30 to July 22, a tradition for cycling enthusiasts and amateurs alike. Each day's race will be broadcast on large screen televisions every morning at 6 am at the NW Thurman location (2335 NW Thurman, Portland) and 7 a.m. at the Lake Oswego location (315 First Avenue, Lake View Village) and then replayed throughout the day. In addition to daily coverage of the races at the bakery, St. Honoré Boulangerie will host its first bike race through the streets of Northwest Portland during the Tour de France on Saturday, July 7—a one kilometer long course that features eight corners and wide streets—with cash prizes (a free kids race will also be available).
When: Daily coverage from June 30 to July 22. Portland race on Saturday, July 7
Where: St. Honoré Boulangerie 2335 NW Thurman in Portland and 315 First Street in Lake Oswego.
How Much: Daily Tour de France screenings are free. Pre-registration for the Portland races is available here. Day of race registration will open at noon for $25. For more information, please call the Portland location at 503-445-4342.
Mi Mero Mole 4th of July Specials
What: In honor of Independence Day and "our country's appropriation of Mexico's food", Mi Mero Mole will be serving two American Mexican dishes all day: New Mexico's green chile cheeseburger and Los Angeles's pastrami burrito (made with house brined and smoked pastrami, either Oki Dog style with the cheese, or true kosher-style without), each $8.75. For the celebration, the SE Division eatery will be open from noon to 7:30 or later. The full menu will also be available.
When: Wednesday, July 4th from noon to 7:30.
Where: Mi Mero Mole 5026 SE Division St
How Much: $8.75 each, reserve your green chile cheese burger or pastrami burrito by emailing reservatio[email protected]. All others will be first-come, first-served.
Andina's 6th Annual Rosé Dinner
What: Ring in summer with Andina's popular rosé pairing dinner, featuring refreshing and diverse wine selections and world music from Sommelier Ken Collura. Chef Hank Costello will prepare original tapas and a full dinner, with dishes like chile-marinated pork belly kebobs and sea bass baked in salt, with an escabeche of onion, pepper,
and sherry vinegar.
When: Monday, July 9th at 6:30 pm
Where: Andina 1314 NW Glisan St.
How Much: $65 per person, includes rosé tastings and a family-style dinner. Reservations are required and can be made by calling the restaurant at 503-228-9535.
The Drink Primer Book Release Party at Castagna
What: Castagna bartender David Cooper will be celebrating the release of his new book The Drink Primer with a party featuring new takes on classic cocktails paired with chef Justin Woodward's imaginative party snacks. Every guest will receive a copy the book, plenty of eats and drinks, and a chance to get the insider scoop on the Portland cocktail scene.
When: Wednesday, July 11th at 6:30 pm
Where: Castagna Restaurant 1752 SE Hawthorne Blvd
How Much: $70, including food, drink, gratuity, and book. Call Castagna for more information at 503-231-7373.
Drink Pink Rosé Festival
What: Join 17 Willamette Valley wineries—including Anne Amie Vineyards, Archery Summit Winery, Bergstr?m Wines, Division Winemaking Company, Elk Cove Vineyards, J.K. Carriere Wines, Montinore Estate, Ponzi Vineyards, Sokol Blosser, Soter Vineyards, Stoller Vineyards and more—for an Oregon Rosé celebration featuring stunning vineyard views, the music of Big Band Calamity Jazz, and delicious bites from Portland's Crown Paella at this uniquely pink event.
When: Saturday, July 14th from noon to 4 pm.
Where: Patton Valley Vineyards 9449 SW Old Hwy 47 in Gaston
How Much: $45 per person. For tickets and more information, email [email protected], call 503-985-3445, or head to the Patton Valley website.
El Tesoro Tequila Tasting at Casa del Matador
What: A premium tequila tasting hosted by Carlos Camarena, Master Distiller of El Tesoro Tequila. Guests will sample El Tesoro's Platinum, Reposado, Añejo, and Extra Añejo varieties for the price of a single shot of the five-year-aged Extra Añejo, as well as a sampling of Casa del Matador appetizers.
When: Thursday, July 19 from 5:30 to 7:30 pm.
Where: Casa del Matador 1438 NW 23rd Ave.
How Much: $25 for four tequila samples and appetizers. Tickets are available here.
Know about a great event coming up that should be on our radar? Shoot me an email at [email protected] or give me a shout over on Twitter at @allisonejones. Now get out there and start eating!