FOOD AND DRINK EVENTS
Eat Beat Weekly Planner
Our digest of Portland's top upcoming food and drink events, including Interurban's intimate Portland Beer Week Brewer Dinners and the next Portland Food Adventures at June.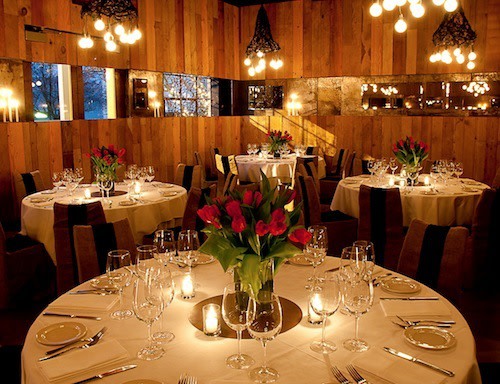 Speakeasy 721 at Ecotrust
What: Don your finest prohibition-era garb for this celebration of Portland's enticing array of distilleries and artisan ingredients. The event will feature live music from local jazz band Boy and Bean, as well as spirit and appetizer pairings from New Deal Distillery and Simpatica, Bull Run Distillery and Cana's Feast Winery "Chinato", Big Bottom Whiskey and Columbia Gorge Organics, and many more.
When: Wednesday, June 6th from 6 to 8 pm
Where: Jean Vollum Natural Capital Center (Ecotrust) 721 NW 9th Avenue
How Much: Tickets are $10 per person (21 years & older) and are available here
Upright Brewing Brewer's Dinner at Wildwood
What: This intimate six-course brewers dinner hosted by Wildwood and Upright Brewing's Alex Ganum will feature an exciting lineup of limited release and vintage Upright beers paired with farm-fresh spring dishes. The menu is set to include olive oil poached tombo tuna with lemon creme fraiche (paired with Pure Wit), shaved asparagus and radish salad with caramelized garlic vinaigrette (paired with Blend Love), grilled prosciutto-wrapped gem lettuce (paired with Fantasia), country pate and duck liver mousse (paired with Fourplay 2010 and 2011), pork cheek raviolo (paired with Late Harvest batch 3, 2011), and whipped aged gouda stuffed crepes (paired with Billy the Mountain batch 2, 2010).
When: Thursday, June 7th at 6:30 pm Postponed, stay tuned for new date.
Where: Wildwood 1221 Northwest 21st Avenue
How Much: $75 per person
2nd Annual Portland Fruit Beer Festival
What: An East Burnside block party featuring over 25 taps of the area's best fruit-powered brews and ciders. Check out the full event details on Eat Beat here.
When: Saturday, June 9th from 11 am to 9 pm and Sunday, June 10th from 11 am to 6 pm
Where: Northeast 7th between East Burnside and Northeast Couch Streets
How Much: Tickets start at just $20. View all ticket options and purchase advance tickets here.
Interurban's Portland Beer Week Brewer Dinners
What: To celebrate Portland Beer Week (June 7-17), owners chef John Gorham and beer expert Dan Hart will be hosting a series of three "Guest Brewer Dinners" in the private dining room of their North Mississippi gastropub. The Interurban team will welcome Charlie Devereux of Double Mountain in Hood River on June 10th, Mitch Steele of Stone Brewing in San Diego on June 12th, and Dick Cantrell of Elysian Brewery in Seattle on June 13th. Brewers will be on hand to answer any and all questions, new beers will be released, and the special multi-course menus will be prepared by John Gorham and his talented team of beer-loving chefs.
When: June 10th at 6 pm, 12th at 6:30 pm, and 13th at 6 pm.
Where: Interurban 4057 N Mississippi Ave.
How Much: $75 per person, including beer and dinner. Reservations must be made up to 24-hours in advance by calling Interurban at 503-284-6669.
Feastworks Father's Day Pig Butchery Class
What: Let dad bring home the bacon at this special three-hour event for Portland's pork-loving papas. Butcher Ethan Bisagna will break down a Carlton Farms pig, showing guests different cuts of meat and tips on how to prepare them. What's more, dad gets to snack on Feastworks charcuterie and will take home plenty of pork after class.
When: Sunday, June 17th (Father's Day) at 2 pm
Where: Portland Homestead Supply Co. 8012 SE 13th Ave
How Much: $100 per person, reservations required as space is limited. Please reserve your spots for you and dad at www.feastworks.com.
'Bloody Mary Morning' Father's Day at Random Order
What: Random Order Coffeehouse and Baker will celebrate Father's Day by introducing a Bloody Mary and Fried Egg Sandwich combo special for just $10, all day long. The house-made bloody marys and made-to-order fried egg sandwiches will be available for dads and their posse all day, breakfast, lunch, dinner, or in between.
When: All day Sunday June 17th (6:30 am to 11 pm).
Where: Random Order Coffeehouse 1800 Northeast Alberta Street
How Much: $10 for a bloody mary and fried egg sandwich, regular menu will also be available.
Portland Food Adventures at June
What: An intimate, multi-course dinner with chef Greg Perrault and new wine director Leah Moorhead of June. The pair will share market-inspired dishes, great wines, and their favorite places to dine and drink around Portland.
When: Thursday, June 21st at 6:30 pm
Where: June 2215 East Burnside St.
How Much: $125 per person, including food, drinks, gratuity, and gift certificates to KIR Wine Bar, Ristretto Roasters, Enchante Chocolatier, and KitchenCru. For more information, head to the PFA website.
White Burgundy & Cheese (from Cheese Bar) at Scott Paul Wines
What: The wine experts at Scott Paul will be teaming up with cheese guru Steve Jones and the crew at Portland's Cheese Bar for an exclusive event at the Scott Paul tasting room in Carlton. The flight will include several top White Burgundies ('09 Chablis 1er Cru "l'Homme Mort" from Frédéric Gueguen, '09 Pouilly-Fuissé "Clos Varambon" from Chateau des Rontets, '09 Pouilly-Fuisse "Vignes Blanches" from Domaine Thibert, '09 Meursault "Vieilles Vignes" from Buisson-Charles, '09 Puligny-Montrachet from Benjamin Leroux, and the magnificent Grand Cru '08 Corton-Charlemagne from Bonneau du Martray), each matched with a different cheese chosen to show off the wine and the cheese at their best.
When: Saturday, June 23rd from noon to 5 pm
Where: Scott Paul Wines 128 S. Pine Street in Carlton, Oregon; 503-852-7300
How Much: Tasting fee is $25, refundable with any 3-bottle purchase of the featured wines.
Know about a great event coming up that should be on our radar? Shoot me an email at [email protected] or give me a shout over on Twitter at @allisonejones. Now get out there and start eating!