NEIGHBORHOOD NEWS
Eat Beat's News to Chew
Top food news stories from around Portland, including breaking news of a new tenant at Kevin Cavenaugh's microrestaurant incubator The Ocean,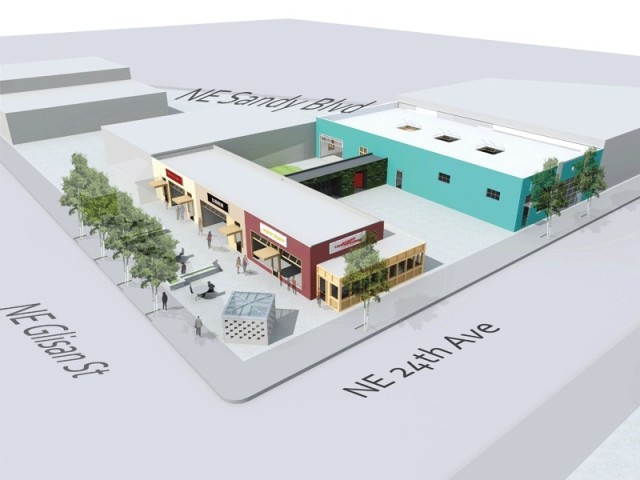 Northeast
NE Glisan: Developer and architect Kevin Cavenaugh has announced that Oswaldo Bibiano (James Beard Award semifinalist chef of Autentica and Mextiza) will be taking the last space at the brick-and-mortar microrestaurant food court The Ocean. Bibiano's as-yet-unnamed taqueria will boast margaritas and twenty taco varieties, including open grilled meats and six veggie options, and will share the space with Rob Hemmerling's Slowburger, Adam Berger's 24th & Meatballs, and John and Caprial Pence's Basa Basa, a Korean-style chicken-wing spot. 2329 NE Glisan St.
NE Alberta: Portland's first cheese-centric food cart The Cheese Plate will (softly) open this week on NE Alberta, next to Townshend's Tea. Husband-and-wife team Nick Dickison and Carina Rumrill will serve a fully cheese-focused menu with items like fudge brownies with blue cheese, fromage fort, cheese sandwiches, and Oregon cheese plates as well as vegan "cheesy" options. The cart is set for a soft opening on June 28th during the Last Thursday Alberta Arts street festival (official opening: July 6th). NE 23rd and Alberta
Southeast and Southwest
SE Belmont and SW Morrison: Saint Cupcake's Jami Curl has announced plans to sell ice cream creations from both Saint Cupcake locations starting Sunday, July 1st. The treats will be served grab-n-go style out of a trolley in front of the cupcake shops, and frozen treats will include Smokey Chocolate Flake Push-It Pop (smoked sugar ice cream with crisp chocolate flakes and sweet and spicy pecans), Smokey Brown Sugar & Pecan Praline Cookiewich (brown sugar butter cookies served with smoky, buttery sweet ice cream and toasted pecans), Peanut Butter Cakewich (chocolate cake meets peanut butter ice cream in sandwich form with salty peanut praline rolled edges), and Toasted Coconut Magic Pops (toasted coconut cupcakes dipped in a house-made Swiss chocolate shell on a stick). 3300 Southeast Belmont Street and 1138 Southwest Morrison Street
North
N Williams: Jodie and Brian Ostrovsky's liquid nitrogen-powered ice cream shop What's the Scoop? will open slightly later than planned. Due to construction delays in the mixed-use building that houses the scoop shop, the soft opening is now scheduled for Saturday, June 30th at 11 am. In conjunction with the soft opening, What's the Scoop? is teaming up with PDX PediCab for bicycle-powered pop-up giveaways through the next few weeks. Follow What's The Scoop? on Facebook to get location hints for the first pop-up on Saturday. 3540 North Williams Ave
Northwest
NW Thurman: Kenny & Zuke's Bagelworks is now officially open. Ken Gordon's boiled bagelry—occupying the former Sandwichworks space—offers bagels by the dozen, a full breakfast menu, Ristretto Roasters coffee, and lunch items after 11 am (including sandwiches made popular at Sandwichworks). Bagelworks is open 7 am to 6 pm, seven days a week. 2376 NW Thurman
Outside the Bubble
Los Angeles: Duane Sorenson's coffee empire Stumptown will be expanding to Los Angeles late this year or early 2013. Location information is still under wraps, though there's a chance the baristas will set up shop at LA's new Ace Hotel.
Got a food news tip? Send it my way at [email protected]!