EAT HERE NOW
Fill Up at Canteen
Southeast Stark's new watering hole is serving up fresh-squeezed juices, fruit and veggie packed smoothies, and hearty vegan fare…and they're just getting started.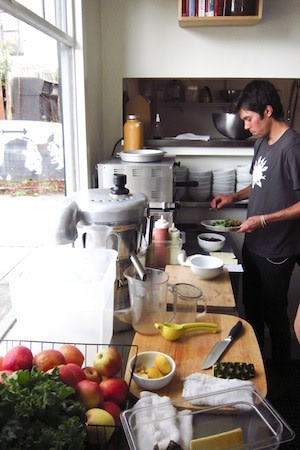 When the owners of Sip juice cart—with locations outside of People's Co-Op and on NE Alberta—announced they'd be opening a brick-and-mortar cafe earlier this year, smoothie fans around Portland could often be seen fanning themselves with unbridled anticipation.
Well put away those smelling salts and grab a straw, because the wait is over. Canteen, an organic produce-fueled cafe/juice bar occupying the former Mojos Coffee Den space on SE Stark and 28th, launched mid-May with a full breakfast menu and coffee service, only to close days later due to a family emergency. After a short hiatus, the shop has re-opened, coffee-free and with shrunken service (i.e. lunch & dinner only).
While the hours may be a bit unstable in the next few weeks, the hip little space is certainly worth a visit. The stark and modern surroundings—complete with modular shelving stocked with coconut water and loose leaf teas, a handmade wooden bar, and sleek metal magazine racks—give the cafe a Scandinavian flavor, while the outdoor seating provides chic coverage from the elements, a perfect place to grab a meal or afterwork pick-me-up.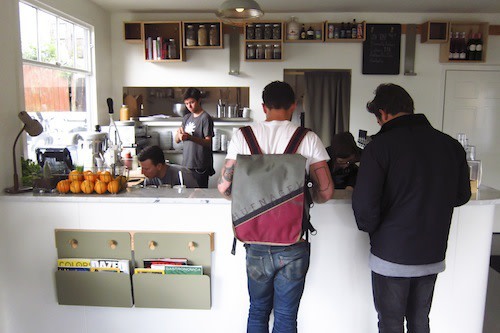 As for the nosh, the all-vegan menu is broken into juices (try the Hawthorne with apple, carrot, parsley, lemon, and ginger), smoothies (the Orange One with banana, orange, vanilla, almond milk, and dates tastes like a grown-up Orange Julius), bowls (like the delicious and savory Portland Bowl packed with quinoa, black beans, maple tempeh, "NW sauce", kale, carrots, and local hazelnuts), salads (including the Walnut Taco Salad topped with pic de gallo and avocado curry sauce), and desserts (seasonal raw "cheese"cakes and raw chocolate treats). Canteen also puts the "bar" in juice bar with late night hours complete with organic beer and wine specials that will change frequently.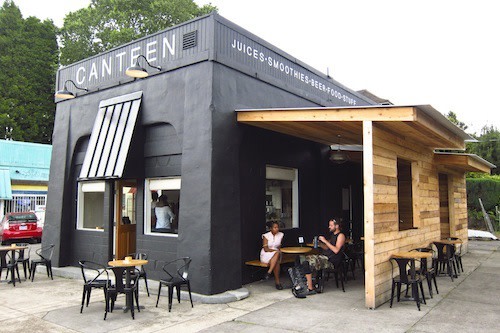 Coffee service is expected to be in full swing within two weeks, while breakfast could return as soon as August. Despite the opening hiccups and scaled-back menu, the food is delicious, fresh, and filling—so stop in now before the space is as packed as the rest of the city's vegan oases.
Canteen
2816 SE Stark Street
Tuesday through Thursday 11 am to 10 pm
Friday and Saturday 11 am to midnight
Sunday 11 am to 8 pm; Closed Monday