WINE WEDNESDAY
June Wine Trends and Events
This week we're checking out several trends in the local restaurant wine world, including a chef/winemaker collaboration at Oven & Shaker, Burgers and Bubbles at June, and half priced bottles at Serratto.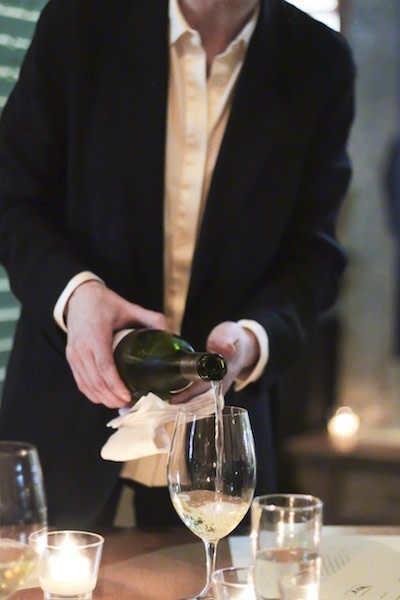 Chef/Winemaker Collaborations
We've seen plenty of wineries craft a signature house wine for a restaurant, but a true collaborative blend, painstakingly created by both a chef and a winemaker, is still certainly a novelty. Oven & Shaker's Cathy Whims and winemaker Patrick Taylor of Oregon's Italian-inspired Cana's Feast Winery worked side-by-side to create their own "Super Tuscan" red blend meant to pair with Oven & Shaker's pizzas and casual Italian fare. The result, Il Cavallo Rosso, is a rustic blend of Sangiovese, Cabernet Sauvignon, Syrah, and Merlot, and is named after the two AVAs in Washington where the grapes were sourced—Horse Heaven Hills and Red Mountain.
Want to try the chef-powered wine for yourself? This Thursday, June 7 from 3 to 5 pm, Oven & Shaker will host the exclusive release of Il Cavallo Rosso, complete with an intimate behind-the-scenes Q & A with the winemakers themselves. All night on June 7th, you can grab a glass of Il Cavallo Rosso and a margherita pizza for just $15, or a carafe of Il Cavallo Rosso and a margherita pizza for $30. For more information call Oven and Shaker at 503-241-1600. With any luck, this collaboration will spark a trend of local chefs calling for and creating truly food friendly wines. 1134 Northwest Everett Street
Un-Stuffy Wine Events
June Restaurant will be celebrating their two-year anniversary next month, and are kicking off a summer of celebration with a few fun and casual wine events hosted by new manager Leah Moorhead (formerly Genoa and Aviary). Starting next week, Moorhead will begin a series of Wine Socials offering a fun, affordable, and personal approach to the traditional wine pairing dinner. The first event on Wednesday, June 13th will feature J.K. Carriere Winery, and owner and winemaker Jim Prosser will be on hand to chat one-on-one and answer any questions about his wines. Guests will sample J.K. Carriere wines and share seasonal shared appetizers from 5 to 6:30pm, all for just $20. To reserve your spot, call the restaurant at 503-477-4655.
June is also shaking up stuffy wine service with their Burgers and Bubbles brunches, featuring five sparkling wines by the glass selected to pair with June's Gruyere and ham-topped patty. Ucoming events are scheduled for Saturdays June 9th and June 23rd, from 11 am to 2 pm. Skip the brunch line and drink some wine—what could be better? 2215 East Burnside Street
Half Priced Bottles, on a Theme
NW 21rd's Mediterranean-inspired neighborhood eatery Serratto is featuring steeply discounted wines meant to pair perfectly with creations from the kitchen every Tuesday night. Each week, wine director Joel Duarte selects a theme (think "Indigenous Varietals of Liguria" or "Overlooked Varietals of the Pacific Northwest") and offers select bottles that fit that theme for 50% off with any dinner entree purchase. A recent "Wines of Provence" theme delivered $14 bottles of 2011 Château Barbanau Cotes de Provence Rosé (normally $28) and a $20 bottle of robust 2007 Domaine le Galantin 100% mourvedre Bandol ($20/normally $40) meant to pair with a classic Muscovy Duck Leg Cassoulet with corona beans, chorizo, roasted turnips, carrots, harissa. Stop into Serratto any Tuesday for an affordable—and delicious—wine education. 2112 Northwest Kearney Street