FOOD NEWS
Opening Day at Bowery Bagels
Portland's own New York Style bagelry has opened its doors on Northwest Broadway, complete with tile mosaics and boiled bagels with that unmistakable chew.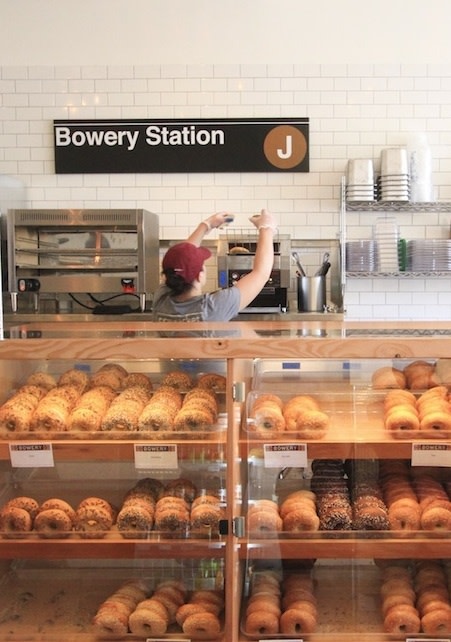 After months of pop-up events and promises, Bowery Bagels is here.
KitchenCru founder Michael Madigan's New York-style bagelry and coffee shop is now open in Old Town on Northwest Broadway, serving up the kind of hand-rolled, fermented, and boiled bagels he grew up eating as a boy in Queens.
Bowery's bagels have quickly risen to the top of local bakery options, thanks to Madigan's stubborn perfectionism and nostalgic craving for the bold flavors and chewy texture of his childhood nosh. The result? Bagels made with simple, local ingredients (think Shepherd's Grain flour and Bob's Red Mill flours) in both classic flavors and creative twists.
In addition to a full menu of bagels, schmears, bagel sandwiches, soups, and Stumptown espresso drinks, Bowery is also home to CruMarket, a mini retail space offering artisan goods made across the street at KitchenCru. Shoppers will find bags of Jacobsen Salt Co. sea salt, Petunia's Pies and Pastries treats, PieKu pie poppers, Fatdog Mustard and spicy and garlic Fatcat Pretzels, NW Elixers hot sauce, Bubba's Granola, and much more.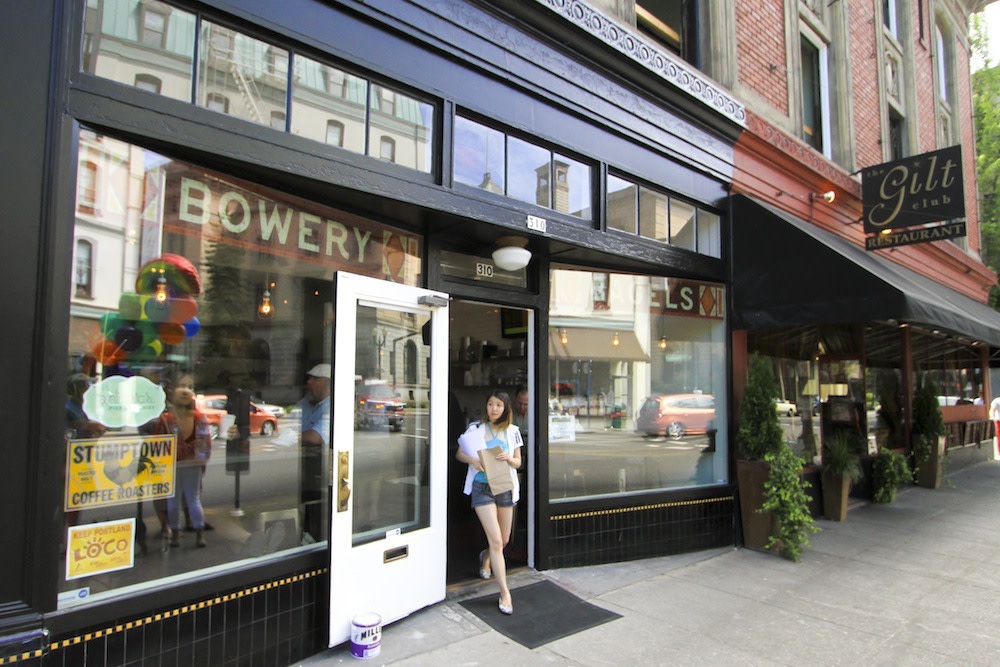 Bowery is located next door to Gilt Club on Northwest Broadway in Old Town. Just a few blocks from Burnside, the shop is a convenient spot for a pre-work breakfast or an easy lunch break for the downtown crowd.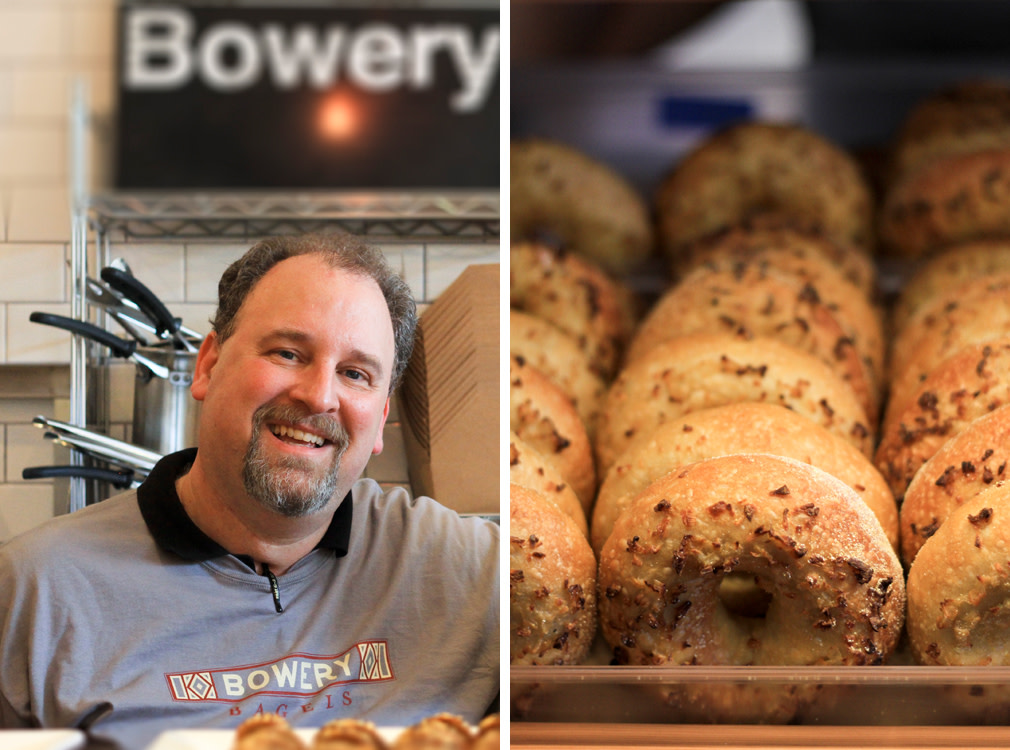 Owner Michael Madigan came to Portland in 1987 as a rising star in the IT business—with tech giant IBM and eventually his own company—and balanced long hours in an office with home winemaking, DIY butchering, and dining out at Portland's early game-changing restaurants. After decades of burning candles at both ends, Michael realized his true passion was rooted in supporting small culinary businesses—and making great New York-style bagels!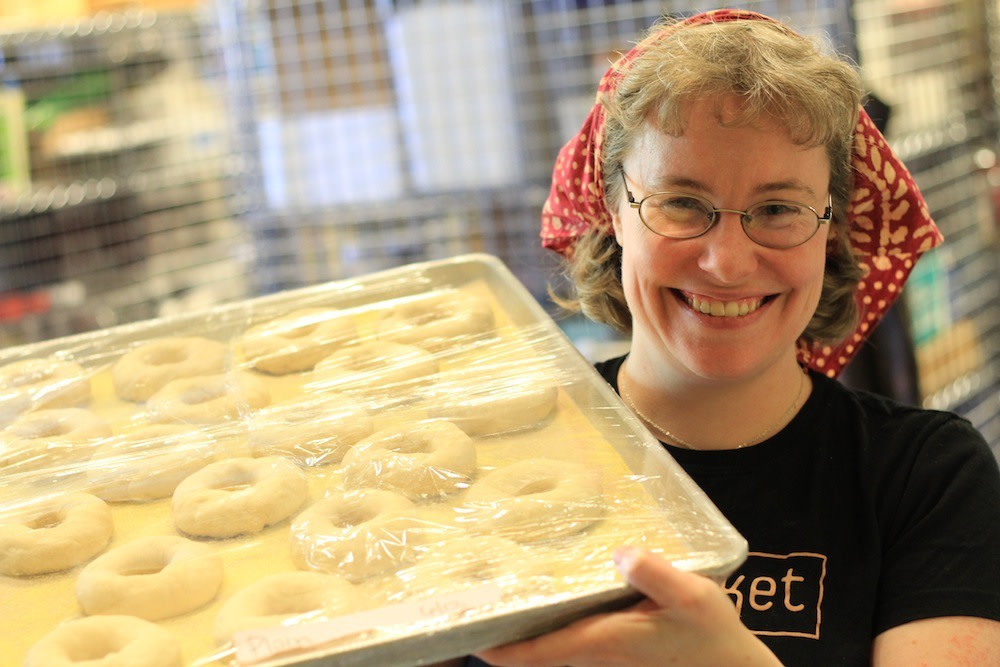 Head baker Kathy High arrives at KitchenCru every afternoon to begin the hands-on process of prepping the following morning's bagels. Her team of dedicated rollers, boilers, and bakers pull long hours during the graveyard shift to make sure every batch is delivered to the store and other retail outlets within hours of coming out of the oven.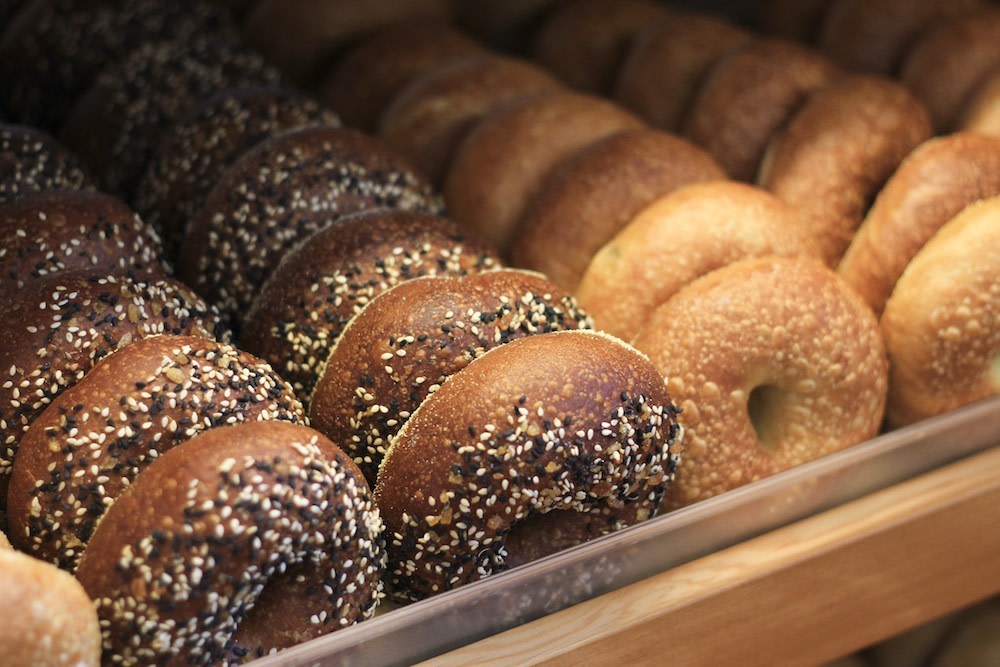 Guests can choose from a large wooden case of plain, poppy seed, sesame seed, sea salt, onion, everything, whole grain, pumpernickel, cinnamon raisin spice, and salt and pepper bagels, along with weekly specials that will continue to shake things up.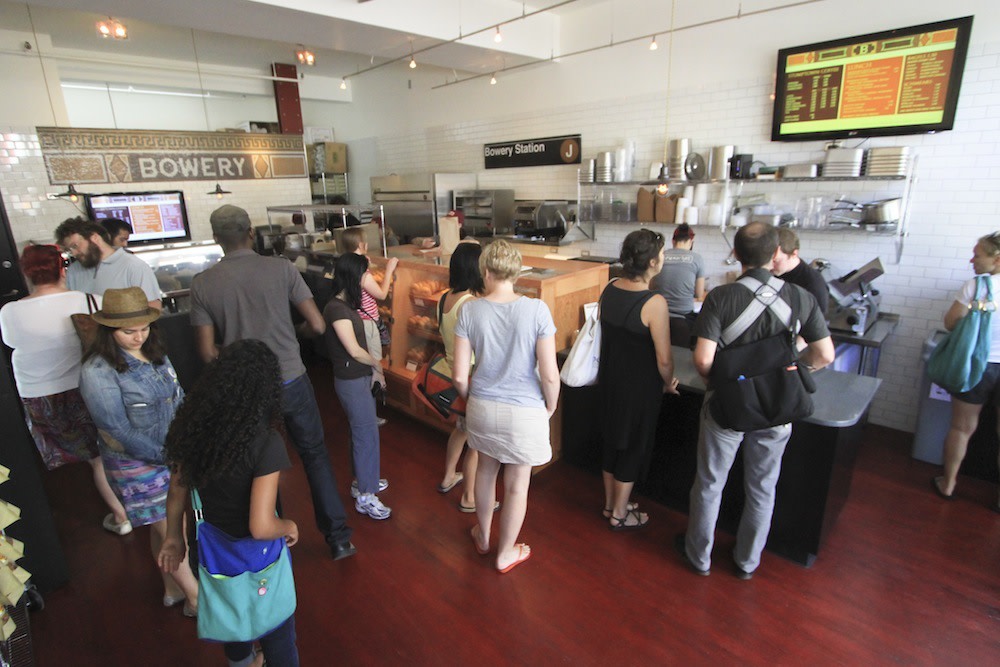 The New York connection doesn't end at the menu. The light-filled Bowery Bagels storefront would be right at home in a NYC transit station, complete with white subway tiles, clean stainless steel lines, Bowery Station metro sign, an intricate tile mosaic above the coffee station, and minimal square footage (read: can get crowded, so watch your toes).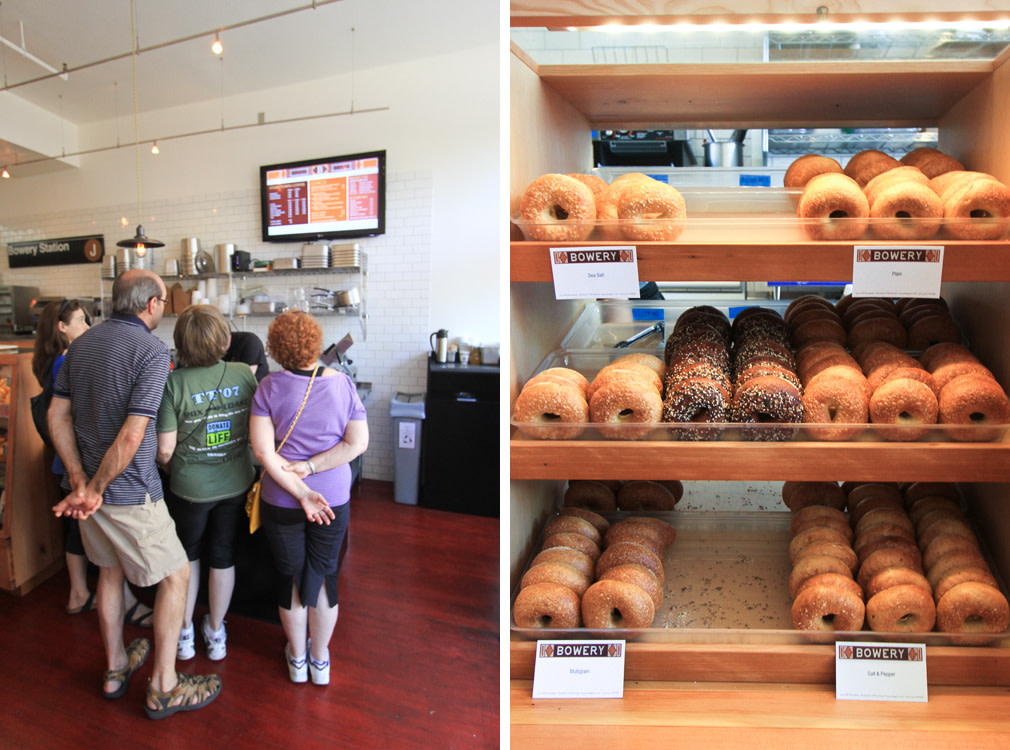 Guests are invited to head up to the counter and order their meal and drinks from the digital menu—then step back and wait for their name to be called.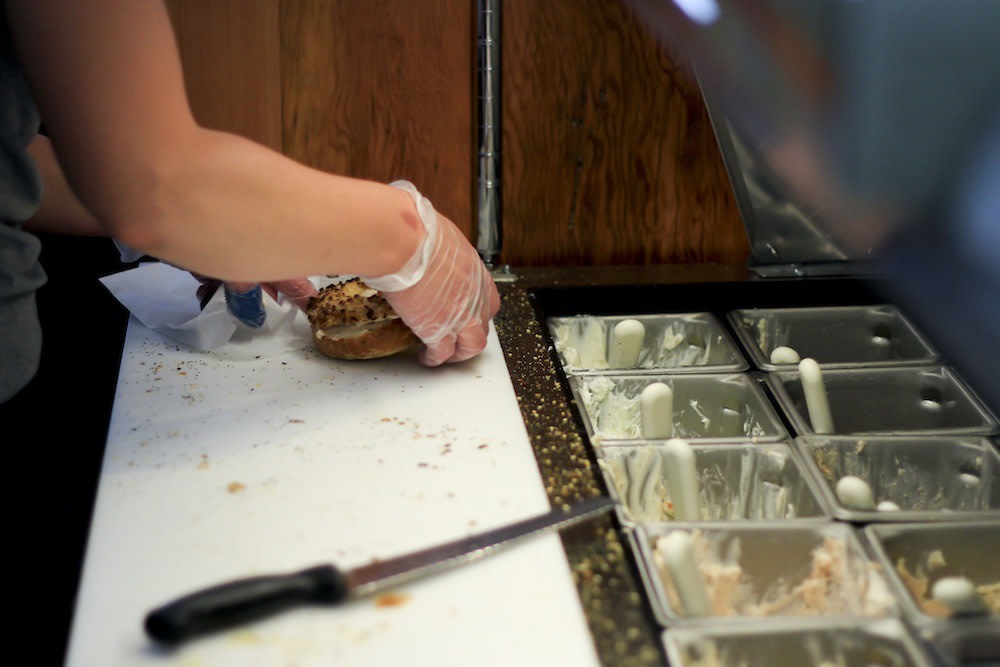 The schmear station at Bowery currently boasts plain, smoked salmon, roasted vegetable, BOM.com (bacon, onion, and mushroom), kimchi, and fresh herb concoctions to top bagels and add to bagel sandwiches.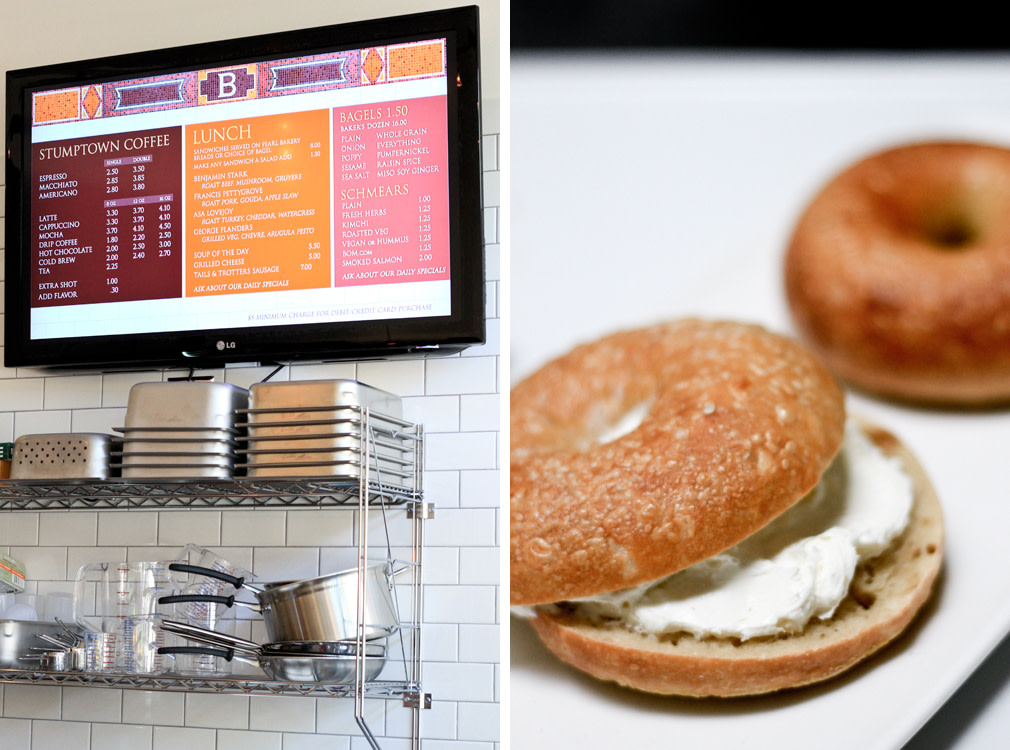 The digital menu will change according to available flavors and specials, and currently displays a hearty variety of breakfast and lunch bagel sandwiches and other edibles carrying the names of Portland's notable VIPs. In the morning, try The Dan Burnside (with housemade bacon, egg and cheddar) or the The Oliver Lent (with caramelized onions, gruyere, and egg). For lunch, step up and order The Benjamin Stark (with roast beef on ciabatta with a mushroom duxelles, gruyere cheese, and pickled shallots, and arugula) or The George Flanders (sporting grilled zucchini and eggplant with roasted red pepper on focaccia with nut-free arugula pesto, Briar Rose chevre, red onion and red leaf lettuce). Of course, you can always order a plain bagel with cream cheese to keep things simple and delicious.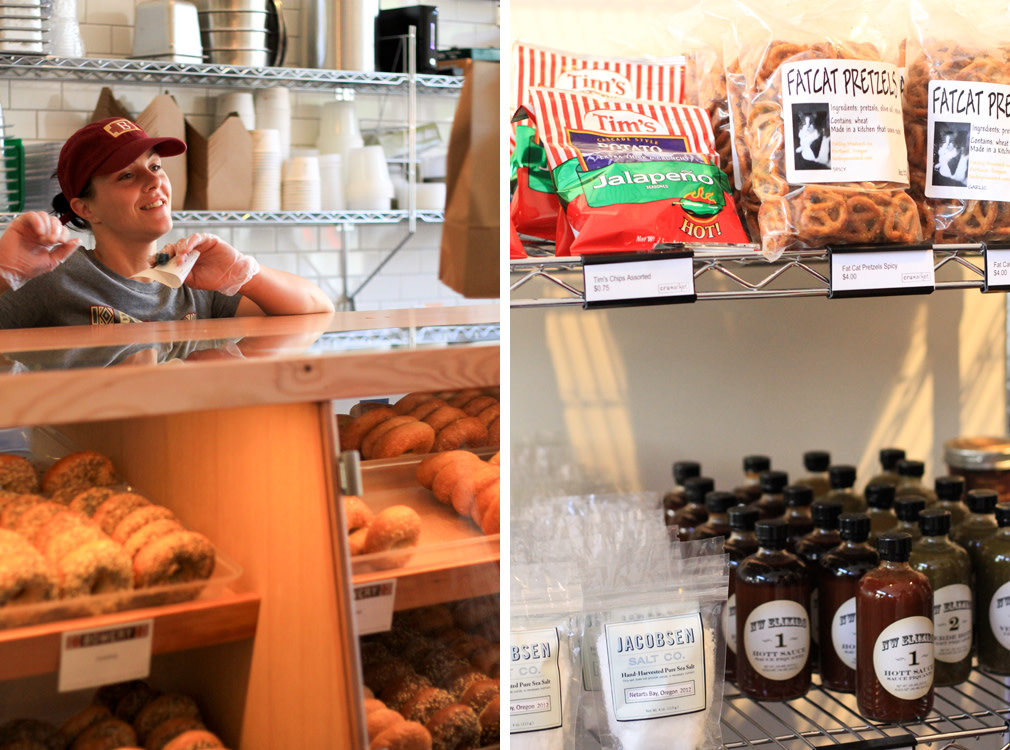 In addition to Bowery's bagels and menu items, the CruMarket offers shoppers a one-stop shop for lovers of local goods, like Oregon sea salt and hot sauce prepped across the street at KitchenCru. For those with a sweet tooth, Bowery's bagel case shares real estate with locally-made Petunia's Pies and Pastries (all vegan and gluten free!), two-bite PieKu pie poppers, and more.
Stop by the new shop to try these chewy, flavorful bagels for yourself. One bite and your skepticism of the quality of locally-made bagels will disappear in a New York minute.
Bowery Bagels
310 NW Broadway
503-227-NOSH (6674)
7 am to 2 pm, seven days a week