FOOD AND DRINK EVENTS
Pickathon Nosh Preview
The annual farm-fresh Indie Roots festival just outside of Portland isn't just a celebration of great tunes—we've got the scoop on the festival food that's as much of a draw as the music.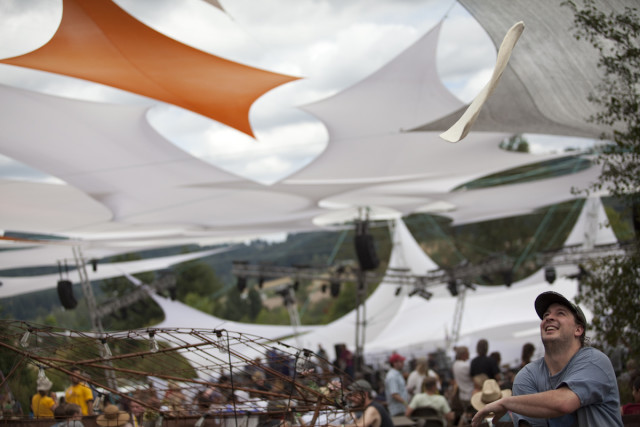 Pickathon—the annual indie-roots music festival shaking down this August at Pendarvis Farm in Happy Valley— would be right at home on an episode of Portlandia, down to the beyond-free-range chickens and plenty of composting.
The three-day, six-stage festival takes place on an 80-acre family-owned farm, complete with camping in the woods and an ethos of sustainability that's evident all weekend long.
This year's list of attending artists is packed with cream-of-the-crop music, but there's another lineup in the works that's bound to be as popular as the festival's tunes: the food!
Every year, Pickathon features an amazing array of affordable, organic, and local food carts, restaurants, and breweries so you don't have to suffer through the overpriced, flavorless beer and bland grub found at other festivals. Dig into dishes from local favorites, like Bunk Sandwiches, Al Forno Ferruzza pizza, Fifty Licks ice cream, Lauretta Jean's Pies, Pine State Biscuits, and much, much more.
This year, Pickathon will host three unique beer, wine, and cider gardens—think Widmer Brothers Brewing, Hopworks Urban Brewery, Evolution Wines, and Wandering Aengus Ciders—that will pour plenty of thirst-slaking suds into your sustainable stainless-steel cups. Non-alcoholic beverages will include Townshend's Tea, Kure fresh juices and smoothies, and Spunky Monkey coffee, all locally owned. What's more, the beverage gardens will feature oh-so-Northwest handmade bars made from locally harvested lumber (naturally).
Don't miss out on the great tunes and greater nosh: Pickathon 2012 tickets are almost sold out, so grab them here before they're gone.
Pickathon
August 3-5, 2012
Pendarvis Farm 16581 SE Hagen Road in Happy Valley, Oregon
Tickets available here.