HOMETOWN PRIDE
Portland Food Carts Get Star Treatment from Saveur
The June/July issue of Saveur magazine features an epic sixteen-page spread devoted to Portland's premier food carts, including juicy photos, recipes, and interviews with the city's top "Pod People."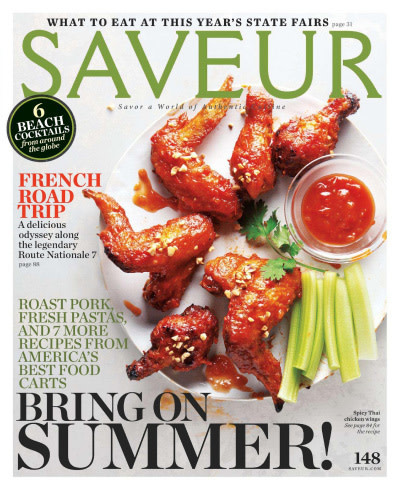 This just in: Food carts are (still) super cool.
According to Saveur executive editor Dana Bowen, our meals-on-wheels eateries are "revolutionizing the way the city eats," highlighting local favorites like Lardo, The Big Egg, Nong's Khao Man Gai, Sugar Cube, The Honey Pot, Native Bowl, Pyro Pizza, PDX 671, Artigiano, Perierra Creperie, Aladdin's Castle, and many, many more.
"I've been hearing about Portland's food cart phenomenon for years" Bowen gushes in the veritable love-letter to PDX cart cuisine "and assumed it was just another manifestation of the nationwide mobile dining trend—those fleets of roving trucks that tweet their locations for frantic pickups of Korean tacos or artisan cupcakes. But every time I talked to friends in Portland (a good many of them have moved there over the years), I got a different story: Something else is going on here, something much more resonant. Hundreds of food carts have set up in parking lots around the city, I was told, and they have completely changed the way the people of Portland eat."
Pok Pok's Andy Ricker and FoodCartPortland.com's Brett Burmeister gave Bowen the insider's tour of our prized pods, revealing the benefits of creative competition, the preservation of cultural cuisine of new immigrants and native Oregonians alike, and the power-to-the-people ethos inherent in cart cooking (including how cart ownership supports chefs who would be cut out of the local food scene due to high brick-and-mortar restaurant costs). The in-depth article also includes nine recipes from Portland's carts, including Lardo's Porchetta Sandwiches with herbed French fries, Nong's spicy Thai chicken wings (featured on the magazine's cover, above), and Iraqi stuffed onions from Aladdin's.
The food cart explosion has been criticized by many in Portland's fine dining world for changing diner's expectations of price, service, and atmosphere, and in a town where white tablecloth eateries shutter at a much higher rate than their casual counterparts, they might have a point. But with the next phase of the revolution—the transition from cart to brick-and-mortar as heralded by the upcoming Lardo/Sugar Cube project on SE Hawthorne—we may look back on this point in Portland's culinary history as the golden age of culinary creativity in a tough market, which is allowing the great chefs of our era to weather a storm that would otherwise push them to different careers. As long as our plates are full, our ingredients are fresh, and our chefs (restaurant and cart-bound alike) continue to push the boundaries of the delicious, the Portland food scene will continue to thrive.
Read the full story and check out the glamor shots of our food cart hometown heroes online and in the latest issue of Saveur, on newsstands now.