Food & Drink Events
Portland Fruit Beer Fest
A recap of last weekend's big beer bash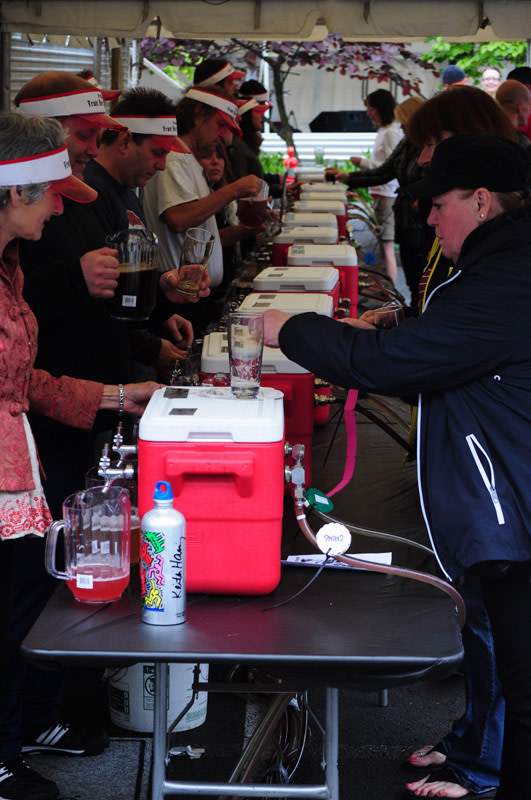 The second annual Portland Fruit Beer Festival drew droves of local craft brew fans to the closed-off parking lot of the Burnside Brewing Company to sample 25 of the Northwest's finest fruit beers. Many of the beers available were brewed especially for the festival, with an additional 20+ one-barrel wonders on the rotating rare tap list—just enough beer to justify the hellish journey around myriad street closures, Grand Floral Parade-goers, and confused bikers en route to the first day of the festival.
The usual suspects were out in full force (Ninkasi, Deschutes, Widmer), alongside some of the region's smaller brewers (Block 15, the Commons, and Gigantic Brewing). Light and refreshing brews were the order of the day, with a strong showing of seasonal berries, tart cherries, and ripe peaches for a dose of sunshine-sweetness. New Belgium Brewing's "Hip Hop Saison," brewed with raspberries and rose-hips, began sweet and ended pleasantly sour, with a dry finish—just dry enough to encourage the next sip. Bend Brewing Company's "Ching Ching," a fresh and fruity take on a traditional German Berliner Weisse, served as the perfect thirst-quencher (once the sun made its eventual appearance), with perhaps the finest showing of the increasingly popular fruit-beer addition, hibiscus.
Alongside the tart, crisp, and floral summer standards were more weather-appropriate brews: Ninkasi's "Cherry Bourbon Renewale Porter" commanded the longest line, satisfying shivering festival-goers with a Robust Porter aged in Heaven Hills bourbon barrels with cherries. Warm vanilla and a whisper of coconut complemented the just-a-little-tart red cherry fruit notes. The heavy hitter of the weekend, Burnside Brewing's "Red Light District," warmed the belly with a whopping 10.2% ABV. Luckily (or dangerously), the 44 pounds of Belgian chocolate and 400 pounds of strawberries added to the Imperial Stout during aging—in Pacific Rum barrels, nonetheless—stood up to the alcohol content with a smooth, thick mouth-feel and a strong flavor profile from start to finish (more than one 4-ounce "taste" of this bad boy put a spin in the step of a few attendees).
In its sophomore year, the Portland Fruit Beer Festival brought in a whopping 4,000+ craft brew devotees (and their kids, in a nod to our great city's penchant for family-friendly drinking events), who enjoyed a taste of the region's many combinations of beer, barrels (occasionally), and fruit. The limited availability of the brews—many of them saw the light of day for the first and last time at the event—means it won't be easy to pick up your favorites at the local bottle shop. If you can't wait until next year for your fruit beer fix, festival organizer Ezra Johnson-Greenough recommends browsing participating breweries, who may be tapping into their "leftovers" in upcoming days. He also says that those who made it this year may have cashed in on the best deal yet—at only $20 for 12 4oz tastes of small-batch, high-end brews (and a commemorative glass), Johnson-Greenough came to the realization that he may have been under-charging just a bit.
We'll see what they come up with next year!