Market Watch
Angel Food Cake the Easy Way
Sometimes homespun and D-lish don't have to mean totally DIY. Angel food is one of those times.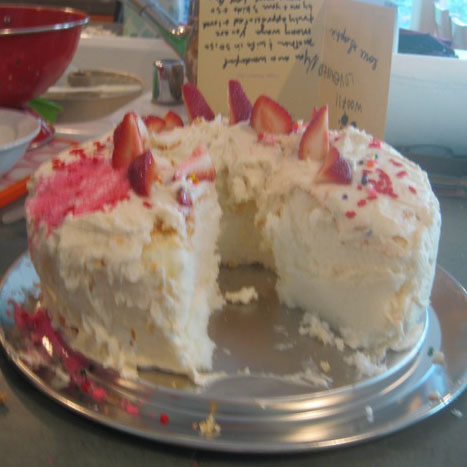 Crooner Kenny Rogers knew: "you gotta know when to hold 'em, know when to fold 'em." He wasn't talking about making cakes from scratch, but he could've been. Most cakes made from a box mix seriously suffer compared to their completely homemade compatriots, but angel food cake is not one of them. Especially when you factor in how time-consuming and tricky it is to make from scratch, angel food is the perfect cake candidate for box-treatment, leaving more time to create luscious homemade icing.
Angel food is appealingly fat-free (though not if you top it with my favorite icing, recipe below), since it contains only egg whites, not the yolks. But therein lies some of the delicate, lengthy process: separating all twelve of those eggs. (And what do you do with all the yolks? I won't even go there.) Then you have to treat the unsullied egg whites just right, whipping them into a soft foam. God forbid your bowl have a touch of grease on it; the whites won't get airy the way they should to provide the leavening the cake needs.
Cake baking is chemistry, after all, and I admit I've wrecked an experiment or two in the past. (Though wrecked isn't the right word; even my failed daisy cake, or "hard cake," as my then six-year old niece referred to it, was tasty in its own way.) But treating the dozen egg whites properly means whipping them until they "resemble a bowl of slightly translucent soft foam composed of tiny bubbles," as the Joy of Cooking poetically describes it.
And no, you're not done yet. The next step is gradually mixing in sugar, until "the foam will be creamy white and hold soft, moist, glossy peaks that bend over at the points" but are not, repeat not, "stiff." When that magical state has been achieved, you're ready to fold gently the wet and the dry for your final batter. But in this case, Kenny Rogers' knowing when to fold 'em still doesn't tell you how to fold 'em.
The practical choice for angels is to make cake from a box and the icing yourself, then go to town decorating. Fresh strawberries and other goodies from the farmers markets are just begging to be sliced and arrayed over a luscious layer of creamy, buttery, white Icing.
The Joy of Cooking claims that its Quick White Icing I is "the quickest of all," and I'd agree. Especially if you're baking with children, using the easy mix for the fat-free angel cake and putting your DIY time and energy into real homemade frosting is the way to go.
Quick White Icing I
In a medium bowl, beat together on medium speed:
2 cups powdered sugar, sifted if lumpy
4 tablespoons (1/2 stick) unsalted butter, softened, or 3 tablespoons hot heavy cream
Add and beat until smooth:
3 to 4 tablespoons milk, dry sherry, rum or coffee
1 teaspoon vanilla
1/8 teaspoon salt
Correct the consistency if necessary, adding:
Additional powdered sugar or liquid of choice (optional)
As Joy tells us, "if you like your icing spread thin, this quantity will stretch to cover a 2-layer cake." But, especially if kids are involved, who really likes their icing spread thin? The icing will keep (covered with plastic wrap) for 3 days at room temp or 3 weeks refrigerated (or 6 months frozen). Soften and stir or beat until smooth if not using immediately. And don't forget to lick the bowl.