Beer Bulletin
Live Drinking: Single Hop Fest
Small beer gathering pours hop knowledge.
This past Saturday, some very serious beer-tasting took place at one of the city's most laid-back breweries. The second annual Single Hop Fest at Amnesia Brewing saw a sizable but mostly well-behaved group of beer enthusiasts gather under occasionally ominous skies to taste a lineup of 13 local brews, each featuring a different single hop varietal.
In a city with a jam-packed summer drinking calendar, smaller festivals like this are easy to overlook; however, they often present a unique opportunity to actually learn something about beer—not to mention shorter lines. Each tap was accompanied by a laminated sheet of detailed information on each beer, plus a Mason jar of the respective hops for comparative sniffing. Attendees, most of whom seemed to be clad in T-shirts from obscure breweries in Montana and Utah, ambled too and fro, scribbling tasting notes and debating the merits of Amarillo versus Centennial hops. It was clear this crowd knew its beer… and liked what they were tasting.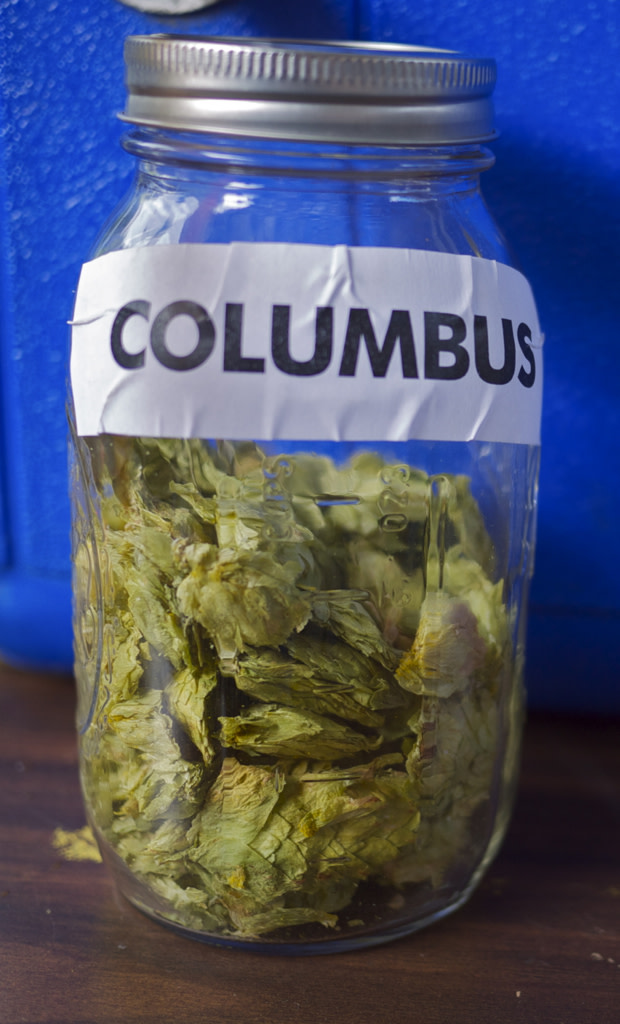 The beers may have been brewed with a single variety of hops, but most of the offerings were far from being one-note. Lucky Lab's Summit IPA was the lone stereotypical Northwest IPA, dominated by a blast of bittering hops. Terminal Gravity played the part of teacher's pet, brewing two versions of its Double IPA: one with Columbus hops and one with Simcoe, allowing tasters to compare the effect of different hops side-by-side FYI, the Washington-bred Simcoe hops imparted a mysteriously creamy flavor to the beer.
The favorite of both pourers working the taps—and yours truly—was Double Mountain's Cluster F#%k, which was indeed heavy on Cluster hops, yet brilliantly balanced by its Pilsner and honey malts. This is a beer I will definitely seek out in the future. Other highlights included Burnside Brewing's Meridian Rye, which featured a spicy flavor profile with a nice counterpoint from the fruity Meridian hops from Oregon. Amnesia debuted its Goldie Hops, a cloudy summer ale with Golding hops and a zesty, crisp finish. The one disappointing brew for my taste was Rogue's Freedom Hop Ale, which was described in the accompanying literature as "extremely balanced" but came across as overpoweringly floral. One festival-goer complained it was "like drinking a cup of roses." We may love our roses around here, but not in a tasting mug.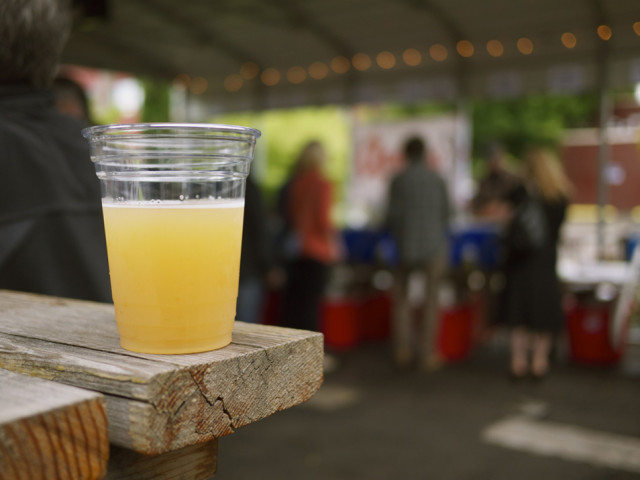 Even fanatical brew believers need to soak up their beer, and so Amnesia's usual brats-and-sandwiches fare was supplemented with a guest appearance by Olympic Provisions' foot-long hot dogs at the outside grill.
The Single Hop Fest serves to remind Portlanders that when it comes to beer tasting, quality trumps quantity every time. And the fun continues, starting Thursday, with the arrival of Portland Beer Week. On Friday, the Rye Beer Fest takes over Spirit of '77; Saturday and Sunday sees last year's beloved Portland Fruit Beer Festival return (in and around Burnside Brewing). So get drinking!